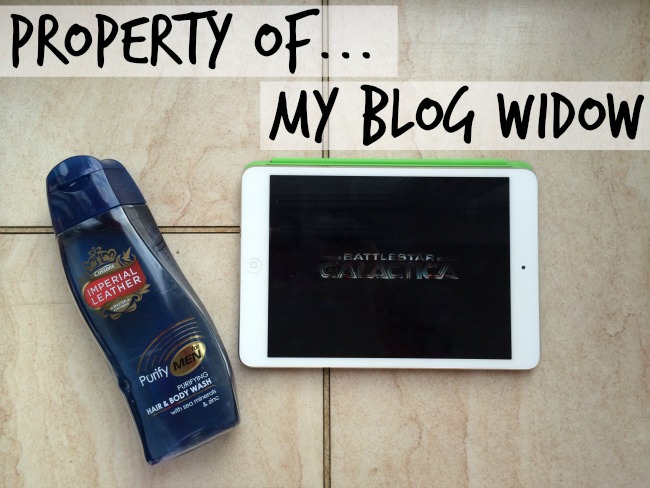 My husband, Mr P, is fantastic. I've probably mentioned it before. He's the kind of man who is happy to do 50/50 around the house (*cough* there's a chance he may do more than 50%) and he doesn't see parenting as my job, he sees it as something we're equally responsible for. Well, I mean really, what did you expect from me? I wouldn't have married a man who'd be the type to dart out to the pub, leaving me to cook dinner every night and put our daughter to bed, would I?
He's also really hands on. He takes the three year old swimming, plays rough and tumble, pretends he's a monster who's coming to eat everyone, makes tissue paper flowers to stick on a robot… You know, standard A* dad stuff.
But in the past year or so, I've started to feel a bit sorry for Mr P because he has to fight for my attention on a regular basis. Once our little girl is safely tucked up in bed, he often spends evenings in his own company, even though I'm there in the house with him.
Why? Because he is a blog widow. Night after night, once we have eaten dinner, instead of settling down together on the sofa to watch a box set on Netflix, I'll open the laptop and tap away on a blog post or tinker around with some element of my blog. Mr P, meanwhile, will watch Mad Men/Battlestar Galactica/F1 (aka stuff I'm not interested in) or go for a manly bubble bath while listening to some Podcasts.
I guess it's similar to being a football widow, so it's not a new concept, but it's new to us. Before my blog came along, we spent hours watching TV together and before we became parents, we'd go to the pub regularly or out to dinner, to set the world to rights over wine and pasta. Continue reading →