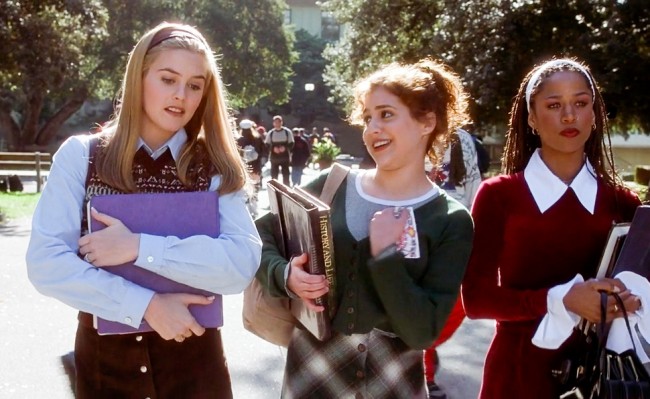 1. You read a well-thumbed copy of Judy Blume's Forever, after it had been passed around most of your class.
2. You had to decide whether you loved Take That or East 17 more. You couldn't love them both, that was against the rules.
3. But if the hot boys from school asked, you were totally into Pearl Jam and Nirvana.
4. You had a crush on all of the Mizz male models. especially Malcolm.
5. You wore Dr Marten boots and referred to them as DMs. If you were really cool, you had the cherry reds. With tartan laces.
6. It wasn't Saturday afternoon without a visit to The Body Shop to spend your pocket money on a kiwi lip balm. Or if you were splashing out, White Musk perfume.
7. You were addicted to playing Tetris on the GameBoy. And you may have owned a Tamagotchi.
8. You went to see Titanic at the cinema three times – and cried when Leo died, every time ("Jack! Come back!")
9. Saying "Not" at the end of a sentence never got tired.
10. You decided if you ever got a tattoo, it would be Mark Owen's dolphin or Mel C's celtic arm chain. Both totally amazing.
11. But you couldn't decide whether you'd rather have your eyebrow pierced like Howard Donald or a pierced tummy button (well, flashing a belly bar while wearing a crop top would be so cool.)
12. School holidays were spent watching Saved By The Bell (you really wanted to be Kelly Kapowski), listening to Pulp, Blur and Oasis on your Walkman and avoiding any homework or revision.
13. You loved Cosmetics To Go and pored over their newspaper style catalogue every time it was delivered. Bath bombs! Shampoos with comedy names! Amazing smelling products!
14. Over the knee socks were a totally legitimate fashion choice. Despite what your mum's withering look told you.
15. Every second Wednesday was all about Just 17. And the first pages you turned to? The advice pages, of course. Anita Naik and Nick Fisher were your gurus.