PAID PROMOTION WITH HELLO FRESH
Ask any busy parent what the ultimate family dinner is, and I bet they tell you it has to:
• Be easy to prepare
• Be quick to prepare
• Involve at least a couple of vegetables
• Be liked by the whole family
And this, my friends, is why the Hearty Sausage Tray Bake with Roasted Vegetables and Caramelised Onion Gravy from the Hello Fresh recipe hub is THE ONE.
We first discovered this dish when we chose it as a meal on our Hello Fresh subscription. But a couple of months ago, we paused our Hello Fresh subscription (and we've actually just set it to start up again from next week). When looking around for dinner inspo, we remembered this dish and looked up the recipe on the Hello Fresh recipe hub. Since then, it's become a weekly staple in this household!
So what's the Hello Fresh recipe hub, you might be asking. It's where you can find over 2,500 recipes with step-by-step instructions. From Miso Aubergine and Sesame Mayo with Jasmine Rice, Roasted Tenderstem and Pickled Onion to Speedy Creamy Chorizo & Sweetcorn Pasta with Kale. Anyone can access the hub – you don't have to be a Hello Fresh subscriber.
So, back to our Hearty Sausage Tray Bake! We had it last night and here's how easy it is to make…
INGREDIENTS
1 pack of potatoes
1 red onion (we used frozen, chopped red onion)
2 carrots
1 pack of sausages
1 courgette
Sprinkle of thyme
Chicken stock
Caramelised onion relish (we didn't have any and it's just as tasty without)
200ml water
METHOD
1. Preheat your oven to 200°C. Lightly oil a large baking tray (use 2 trays if you're cooking for 3 or 4 people). Chop the potato into 2 cm chunks (no need to peel). Trim the ends from the carrot (no need to peel) and chop into 1cm thick rounds. Halve, peel and chop the red onion into wedges (3 per half).
2. Pop all the veggies onto your tray(s) , season with salt and pepper, add a drizzle of oil and sprinkle on the dried thyme. Use your hands to rub the flavourings all over the veggies and arrange in one even layer.
3. Nestle the sausages among the veggies and bake until the veggies are so and golden and the sausages are cooked through, 25-30 mins. Turn everything halfway through cooking to make sure it all browns evenly. IMPORTANT: The sausages are cooked when they are no longer pink in the middle.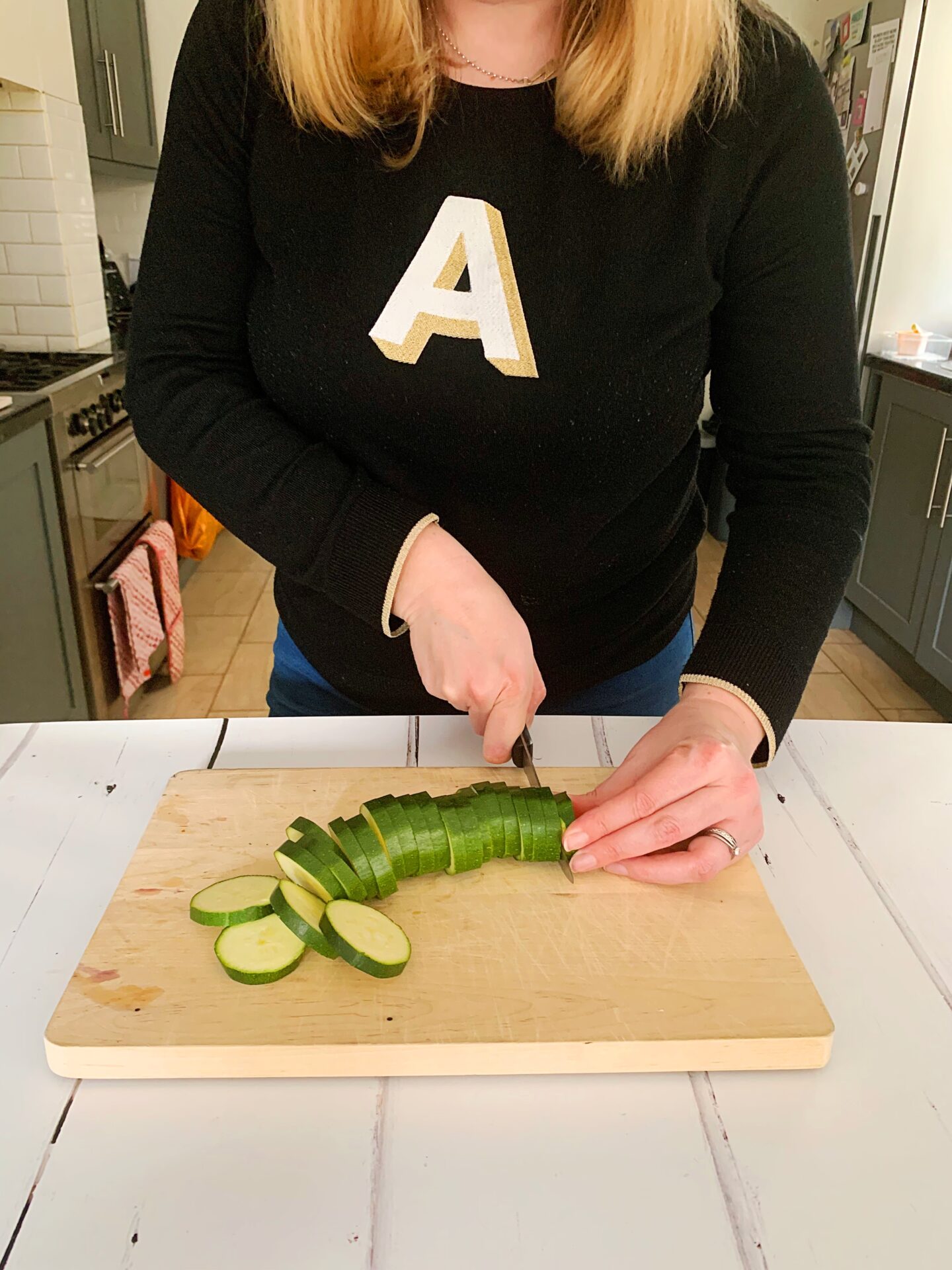 4. Meanwhile, heat a frying pan over high heat (no oil). While it heats up, trim the courgette and cut into 1cm thick rounds. Pop into the pan in one layer and dry-fry for 3-4 mins on each side. TIP: You want the courgettes to char so don't overcrowd the pan! Once ready, transfer to a plate; we will reheat them later. Allow the pan to cool before moving on to making the gravy.
5. Pour the water (see ingredients for amount) into the frying pan you used for the courgette and add the onion marmalade if you have some. Bring to the boil on medium heat then stir in and dissolve the stock powder. Simmer, stirring occasionally, until the gravy has thickened and reduced by a third, 8-10 mins.
6. Two mins before you're ready to serve, reheat the courgette by adding to the tray(s) in the oven. When everything is ready, share the roasted veggies between your plates and top with the sausages. Spoon the onion gravy all over. Tuck in!
If you like the idea of signing up to Hello Fresh, you can get £20 off your first box here!