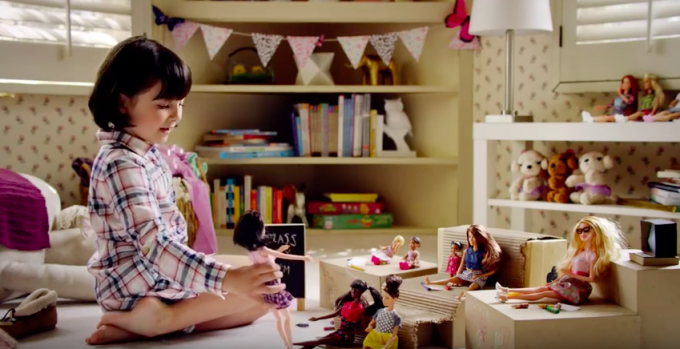 Regular readers of my blog will know that I feel strongly about equality. I'm a feminist (a proud one!) and I want my five-year-old daughter to grow up knowing she can work towards any career. We often have conversations where she tells me that pink is for girls and blue is for boys, or that girls can't play football as it's a sport for boys. I know she's saying it because she's repeating things she's heard other kids say – and because she's growing up in a world that still pushes gender stereotypes, despite our best efforts to balance things off. We've bought her a broad range of toys over the years – yes she has dolls, a kitchen, a play house, princess dresses and tea sets but she also has a train set, a football, super hero costumes, cars and puzzles.
Despite this, my daughter has gravitated towards pink, towards princesses, towards dolls. And I'm OK with that (I wrote about this a while back, over here). On a standard Saturday morning, you're likely to find her wearing a frilly, silky dress, a pink bejewelled crown, pushing her baby in its buggy, as she plays at going to the shop to buy groceries for the day. Sometimes she drops the baby off at nursery too, and goes off to work (in her princess dress – what will her colleagues say?!).
On her fifth birthday, recently, she was given her first ever Barbie doll. It was a moment which was met with mixed emotions from me. I grew up OBSESSED with Barbie. Totally ob-SESSED. I had My First Barbie, Crystal Barbie, Peaches 'n' Cream Barbie, Skipper, Ken, a silver car, a Barbie house – pretty much every birthday and Christmas for me from the age of 5 to 8 was all about Barbie. As the mum of a small girl, I try to be mindful of the body image issues facing young girls in particular, and I think that what's probably just as important as the toys she plays with, are the messages that come from me. Which is why I'm careful never to criticise my body or hers (or anyone's body for that matter) and why I talk to her about diversity.
Body image aside, when I see her play with her Barbie doll, I know that she's playing in her own way – Barbie can be a mum, a teacher, a police officer, a fire fighter, a shop owner, a bus driver or a doctor. Her Barbie doll is a vehicle for her imagination.
Mattel, who make Barbie, have launched a new campaign called Imagine the Possibilities, and the campaign video is amazing.

These girls are playing with Barbie just like my daughter does, and when I first watched the video, it brought tears to my eyes – mainly because I love the empowering message and I feel so strongly that girls should be encouraged to follow their dreams and ignore any sexist constraints that society tries to place on them….