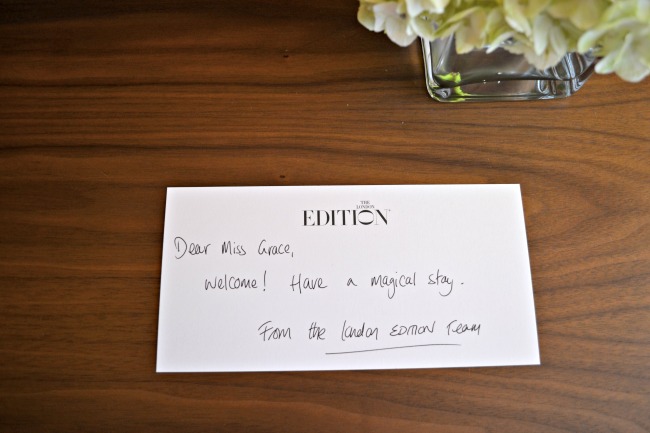 Kids today, hey? *rolls eyes* London Edition Hotel family style package
That phrase is usually used when talking about kids wearing hoodies and tearing it up in a shopping centre or two, but I mean it in a 'These kids! They don't know how lucky they are!' way. Yes, I fully realise this makes me sound 55. But it's true.
There are so many things that my three-year-old has experienced in her short little life so far, that I didn't experience until I was an adult. She's been to the Royal Albert Hall (something I didn't do until I was 22). She's been abroad (something it took me until I was ten to achieve). She's been to a festival (my first one was V97 when I was 18).
She has also now stayed in a five star hotel.
My posh hotel habit has had to go slightly on the back burner since having my daughter. Aside from the money aspect – we've been spending more on nappies, small boxes of raisins and entry to London Zoo than extravagant mini breaks – I've never considered 5* hotels as being particularly child-friendly. Until now, that is.
A few weeks ago, we headed into central London to stay at the London Edition. The Edition group of hotels is a new concept from Ian Schrager, the man behind The Sanderson in London, The Mondrian in West Hollywood and The Delano in Miami. He knows his hotel stuff. As well as being brimming with luxurious touches (and an awesome bar and restaurant… more on that later) the London Edition has a Family Style package which looks after the little ones as well as you.
What the three-year-old loved…
She had attention lavished upon her from the moment we arrived. At check-in, the staff used her name and chatted to her, complimenting her on her Rapunzel dress. The fact that she had a room of her very own went down well (we were given a Loft room with a connecting room) and you should have SEEN her excited face when she realised she had her own bathroom ("If you need a wee, you can use your toilet. But if I need a wee, I'm going to use MY toilet")….