At Christmas time, Mr P and I bought a National Trust family membership instead of buying presents for each other. Well, actually, we said we'd do this, but we haven't got around to actually buying it yet. We will, though! And I'm fully aware this makes me sound like an actual middle-aged person but there is something so NICE about National Trust properties. Beautiful scenery, impressive buildings, amazing history, and often fun activities for kids too. I get a strange sense of calm when I visit one.
Last week, Mr P and I took a cheeky couple of hours out of our day (I really should have been working…) to visit Morden Hall Park. Free to get in, it has a fab little cafe, a garden centre, an artist's studio/gallery, a rose garden, a stable yard, a beautiful white bridge and loads more interesting little nooks and crannies.
We started off having lunch (soup and a sandwich) in the Potting Shed cafe and then wandered around, enjoying the sunshine.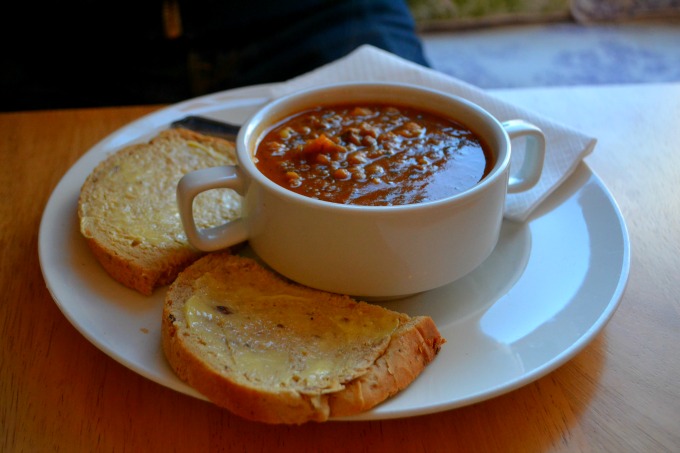 I was wearing my Joules National Trust collection Windermere coat – part of a country-inspired range and PERFECT for a chilly spring day out in the park – waterproof, cosy and covers the bum so you can sit on cold logs or rocks, in comfort. The lining of the coat – as well as other items like the silk scarf, wellies and brolly – has a gorgeous floral design. Joanna, the designer behind the print, explains, "I was really inspired by the incredible English heritage behind the National Trust. History and nature are rich and vibrant aspects of the National Trust and the work they do, so I used this to influence my design. I began by referencing old botanical encyclopaedias I found in the British Library, where botanists would paint intricate detailed studies of plants and flowers. This subject inspired me when I studied Fashion Design at University, and I was eager to take this forward into the National Trust print." Isn't it gorgeous?…