Five years ago, I was pregnant and excited about what was ahead. I knew my whole life was about the change beyond all recognition. My online shopping habits had already shifted from Topshop boots and Asos dresses to sterilisers, changing mats and nappy bins from Mothercare. I knew that the regular mini breaks enjoyed by me and Mr P would soon be a thing of the past (which is why we squeezed in a quick trip to Babington House when I was five months pregnant) but I knew I wanted to carry on holidaying in semi stylish places – the thought of going on an all inclusive package holiday would never even cross my mind.
Does that make me a holiday snob? Probably. But just in the same way I'm happy to shop in Lidl but someone else might only buy organic produce from Waitrose, we all have different things we're happy to spend money on, right?
But there's been a change. The all inclusive package holiday has evolved and you can now book holidays to beautiful resorts that will relax and revive you at the same time as keeping your kids deliriously happy.
Ikos Oceania in Halkidiki is one such hotel and the packages you can book through Sovereign Travel to the Greek resort are outstandingly fab. I recently spent a long weekend at Ikos Oceania – but it didn't feel long enough!
As soon as I walked into the hotel lobby (after being whisked from the airport in my complimentary transfer, organised by Sovereign Travel), I felt calm. The reception and bar areas have pale floors and walls, sheer white fabric hanging by the large windows and gorgeous pale blue chairs and sofas with beautiful flowers everywhere. It had a chilled out vibe, similar to a spa, and set the tone for the whole hotel.
I stayed in a one bedroom deluxe suite, which was huge and had a separate living room area with large sliding doors leading out to the sea view terrace. The large bedroom also had a door leading out to the terrace, as well as lots of wardrobe space and (pause for effect) the comfiest pillows I think I have ever slept on. I'm not even kidding. If I could have smuggled one of those bad boys out of the hotel, in my suitcase, I would have been tempted.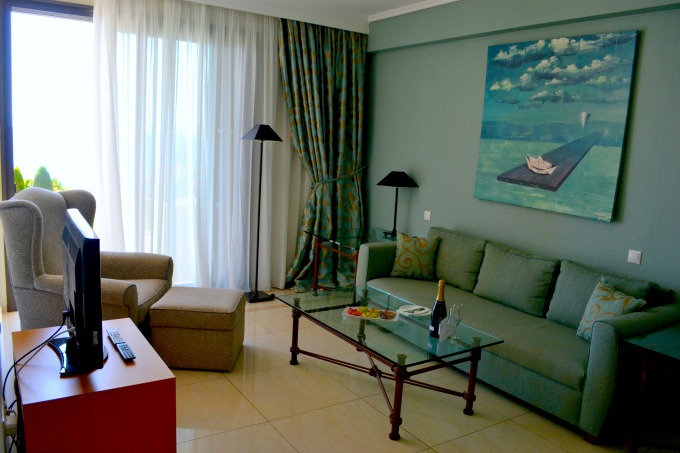 The view from my room was breathtaking – vivid purple flowers, the pool area and the sea. As well as the pool near my room, there's a main pool – an infinity pool, no less, which looks out to the sea, and an indoor pool by the spa area. Oh the spa! If the hotel lobby has chilled out vibes, the spa is zen-like. You can head to the spa to sit by their pool, perhaps read a book while the relaxing music plays gently in the background. You can also book treatments at an extra cost… I highly recommend the back, neck and shoulder massage.
Just hanging out, casually, in the infinity pool
…