We took our twin babies to their one year development check up, last week, and the room we were in had lovely big playmats and lots of toys laid out. Sitting there, with the babies, answering the health visitor's questions ("No, they're not counting to ten in French yet…. should they be?!") we noticed how enthusiastically the babies were both playing with the toys. We knew it was partly because… NEW TOYS! And anything different to babies or kids is very very exciting. But we also realised that the toys were a lot 'older' than the ones we have at home. We don't have many toys for the babies, really – a couple of Lamaze toys, a few crinkly/squeaky things, and some teething toys. I guess we've deliberately not gone OTT because we know they grow out of them quickly and as everyone knows…. they'd much rather play with a pack of wipes and a tub of Sudocrem.
But we came back from the appointment talking about how we should buy them a few new toys. And when I mentioned it on social media, I had lots of people send me a message to say "Can you give me some ideas on what to buy my baby? They're around the same age as yours and I'm stuck for ideas!"
So, I'm no toy expert (I'll leave that to Geoffrey the Giraffe, may he rest in peace) but here are some toys (and books) which I think are perfect for a 12 month old – but also worth buying for nine months and up!
*Please note that some of the below links are affiliate links which means that if you go onto make a purchase, a small % of that will come to me, at no extra cost to yourself. But these are all genuine recommendations from me!*
Kindsgut Stacking Cubes – these stacking cubes are made from cardboard but I'm told by a friend who had these for her daughter that they last well! They even have 1-10 in German on them so your little one can be fluent by their 12 month development check if you buy them early enough! Buy them here.
Melissa & Doug Match and Roll Shape Sorter – this is a brand that does great quality toys. We bought a few when my eldest was a baby and they survived chewing, bashing and all the usual small-person-assaults. This shape sorter looks ace and I love how it teaches them to match colours as well as shapes. Buy it here.
The Feelings Book by Todd Parr – I did a search for board books that help with feelings and emotions, and lo and behold, here it is! Haven't read it but it looks great, and a good one for angry toddlers who are working through all that emotion they are feeling, too. Buy it here.
Little Scientist Board Books by Lydia Ortiz – Four board books which each focus on scientists from different areas: Astronomy, physics, chemistry and the earth. You're never too young to learn this stuff, right? Buy it here.
Also! You can get Little Feminist Board Books by Emily Kleinman & Lydia Ortiz which look ace too, and great for girls or boys! Buy it here.
Activity Cube – When we took our twins to the health visitor, it was the activity cube which had them transfixed. Both spent ages moving the blocks along the twirly metal loops. This looks like a relatively reasonably priced activity cube, although there are loads out there and some go up to £75-100. Buy it here.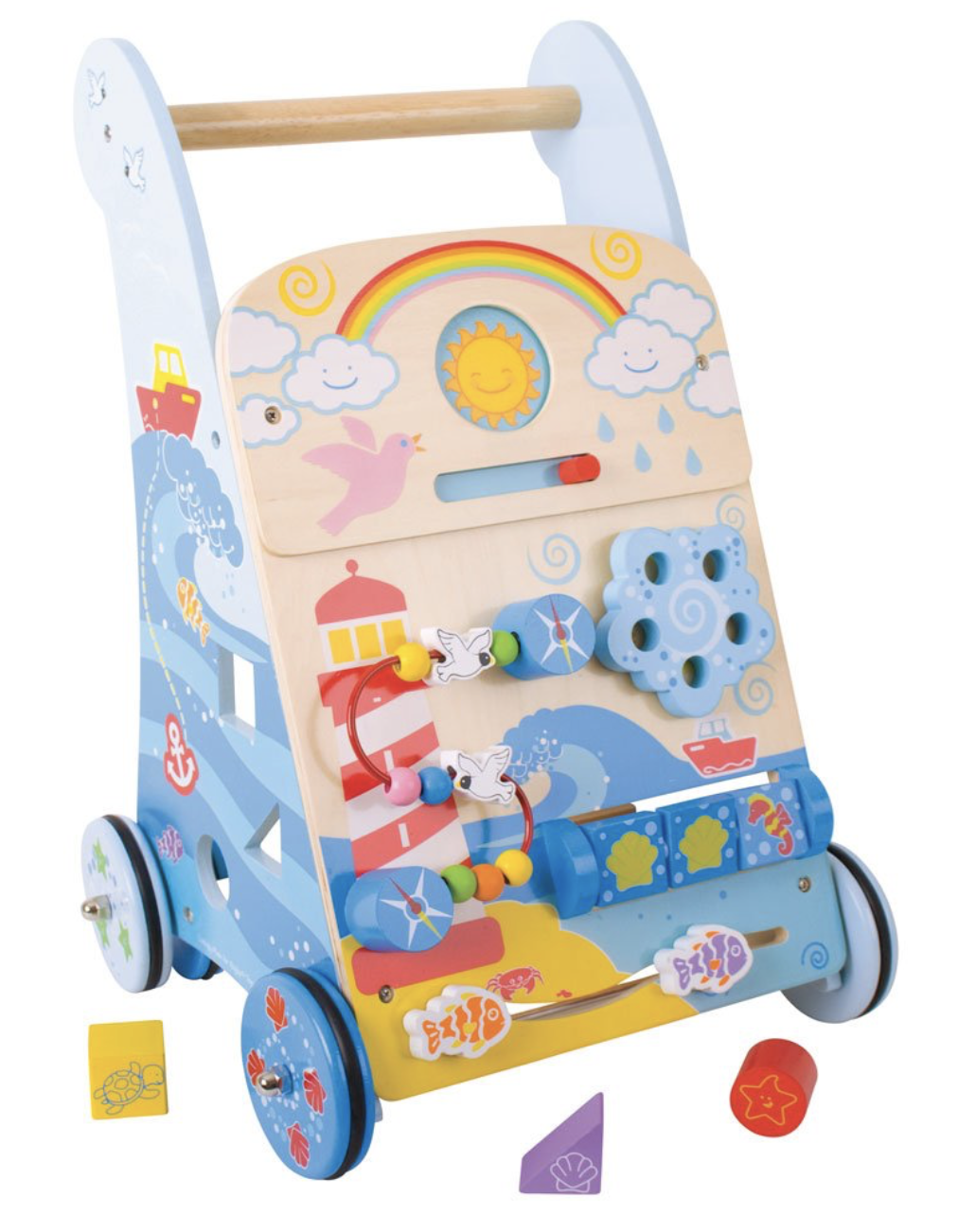 Big Jigs Marine Activity Walker – for those 12 month olds who are starting to walk or pull themselves up on furniture, this looks like a brilliant walker. Great for them to sit next to and play with, too. I love the seaside theme. Buy it here.
Grimms rainbow jigsaw – isn't this pretty? As well as being a rainbow, babies and toddlers can make lots of different shapes and learn about balancing with this toy. And it's not as pricey as I thought it might be. Buy it here.
Fisher Price Little Snoopy Pull Along – who has this as a child? I did! Pull along toys are brilliant for babies who are on the move – there are loads out there but go retro, I say! Buy it here.
Wooden Stacking Rings – this is on my twins' first birthday wish list (they wrote it themselves, you know, they're very advanced….) Love the simple design and colours. You can't really go wrong with stacking rings, can you? Buy it here.