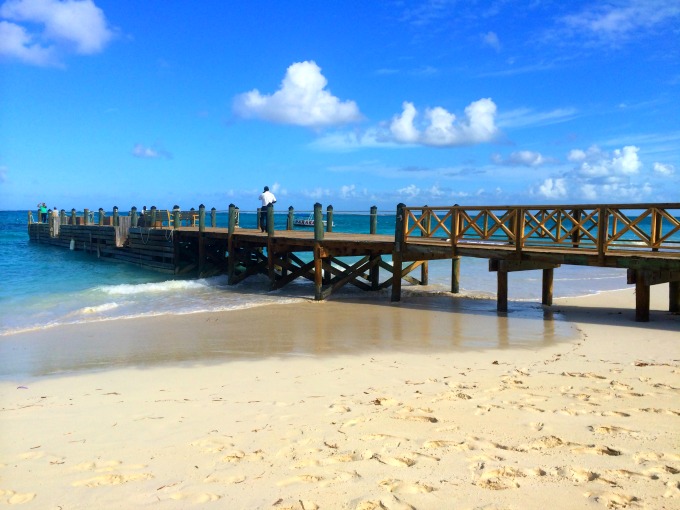 A couple of months ago, I'd never heard of Beaches. I'd heard of the parent company Sandals (everyone has heard of them and those romantic couples holidays, right?) But I had no idea the same company also has three resorts, aimed at everyone, called Beaches. Fast forward to now, and not only have I been on a Beaches holiday but it's safe to say, I've had one of the best holidays of my life at a Beaches resort.
I recently spent a week at the Beaches Turks & Caicos Resort Village & Spa with Mr P and the four-year-old. All three of us loved it and we'd thoroughly recommend it to any family. Here's why…
Who we went with
having lunch in one of the pizza restaurants
Our travel buddies were Katie, Mr E, Mads and LL – better known as the family from Mummy, Daddy And Me Makes Three. I work with Katie on family travel blog Space In Your Case, and we were both invited by Beaches to stay at their Turks & Caicos resort. (You should have SEEN us dance around when we received the email. We were at the Clarks press day and Katie actually did a lap of the room.)
The four-year-old loved having two little play buddies for the week, and Mr P and Mr E got on well too. Thankfully. Would have been a bit awkward, otherwise. You can read what Katie had to say about our stay here and here (and watch her fab videos.)
How we got there
We flew from Heathrow to Miami (just under ten hours) with American Airlines, then after a four hour wait in Miami Airport, we hopped on a short American Airlines flight (1 hr 20) to Providenciales in the Turks and Caicos Islands. The journey was thankfully smooth and all of the kids coped so well with the long day. Before we went, I was genuinely a bit stressed about the flight, wondering how I'd possibly entertain my four-year-old for ten hours (never mind the five hours after that). I didn't like to go on about it at the time, for fear of getting lots of "Oh poor YOU, worried about how you'll cope on the long journey to the CARIBBEAN" responses, but I was genuinely worried.
So it was such a relief to find the journey was actually fine. It's six years since I've done a transatlantic flight and in that time, I'm amazed at how in-flight entertainment has improved. We had a touch screen TV with dozens of movies and TV shows to choose from. The four-year-old watched Frozen, Tangled, a few episodes of Sofia the First and listened to a Disney music album. We also each had a plug socket and USB socket too, meaning we could charge iPhones and iPads. Such a brilliant feature when you're on a long flight and might lose power.
By the time we got to Miami Airport, the girls were as thick as thieves, running around together and playing games on the iPad. Only fighting a little bit (ahem) over whose turn it was.
a couple of iPhone snaps i took of Mads and the four-year-old at Miami Airport
When we got to Providenciales, the kids had been awake for 22 hours so I think they deserve a medal for being so brilliant. There wasn't a medal waiting at the airport, but there was a chauffeur driven car which whisked us away on the 15 minute drive to the Beaches resort, and as we got out of the car, we were given a cold wet flannel and welcome drink. They sure know how to make a weary traveller feel happy….