I recently went on a trip to Mallorca. It was one of the BEST and WORST trips I've ever been on. Why? Because it was such a luxurious few days, where every whim was tended to, every desire was realised, every dream was made a reality…. that I don't think I can ever go on a "normal" holiday again. Scott Dunn have officially ruined holidays for me.
Let me explain further…
The villa we stayed in was incredible. Las Palmeras is around a ten minute drive from the beautiful Pollença and only a 45 minute transfer from Palma airport.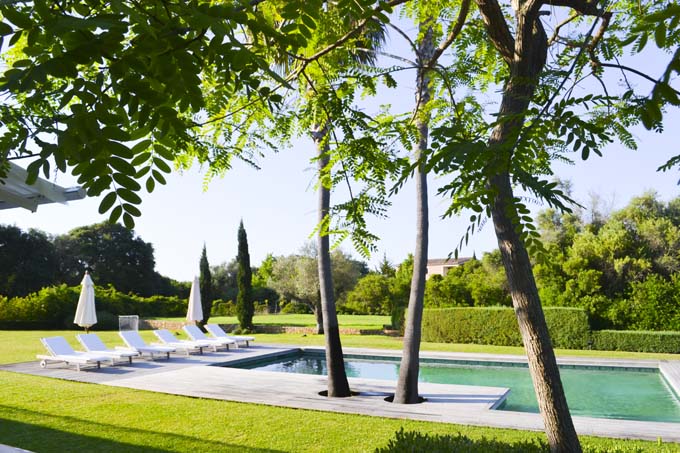 The decor in Las Palmeras is gorgeous – lots of white, neutral tones, with a mix of modern shapes and traditional features. Built in recent years, it could fool you into believing it's an old finca. There are fresh flowers in every room and big windows that allow the golden light to flood in.
Despite the pale palettes, the villa is totally geared up for families. The cream sofas have throws on them (I can just imagine how grubby they'd look after my four-year-old had put her mucky feet on them and got her sticky ice cream covered hands on the cushions) and there is an insanely well kitted out play room with toys, puzzles, books, costumes – you name it, it's there. There are four large en-suite bedrooms (including a master bedroom which has a walk-in wardrobe and sun terrace) so the villa would be perfect for two families or a multi-generation holiday.
The garden area of Las Palmeras has lots of grass to run around on, football goals, table tennis, trampoline, paddling pool and swing ball plus a gorgeous outdoor pool, which sits alongside two towering palm trees which the villa is named after.
But the beautiful villa is only part of the reason that this Scott Dunn trip was out of this world. The big thing that sets their holidays apart from the rest is the level of service their customers receive. Every villa comes complete with a small team of staff who are there to ensure your holiday goes smoothly. If you're anything like me, you don't feel hugely comfortable with the idea of having a butler or chef – it can just feel weird to ask other people to do things you're perfectly capable of doing ourselves. But the staff at a Scott Dunn villa somehow manage to be there, ready to help you in any way you might want, in a way that makes it OK. I can't really even explain how they do it!…