PAID PROMOTION WITH VISIT LONDON
It's that classic thing that many of us experience – we so often overlook what's on our doorstep, don't we? We live 20 mins train journey from Central London, yet there's so much of it that we haven't visited and so much of the culture that we haven't experienced. Because it'll always be there, right? What's the rush?
It's especially true in these times of lockdowns, tiers and restrictions. We've mostly stayed local since March, even as things re-opened between lockdowns, with us doing lots of park visits and garden playdates.
But sometimes it's good to seize the moment and make today the day you experience those things on your 'we'll do that one day' list. Last month, just before England went into a second lockdown, we spent a family day in London and we had the most incredible fun. I say 'family day' but it was just me, Mr P and the 10-year-old. We left the two little ones at home with their grandparents (our childcare bubble) because it's been so long since the 10-year-old has had us to herself for the day.
So what did we get up to? First, we headed to Tower Bridge. It's one of the iconic landmarks of London, and I've walked and driven across it lots, but I'd never done the tour. It was the perfect blend of educational and fun. As we climbed the steps, up to the top section of the bridge, we learned about its construction in 1894, costing over £1m, and about lots of the people involved in building it. At the top, we walked across the glass floor – which the 10-year-old LOVED. It was the strangest feeling, stepping out onto glass, looking down and not falling, even though my brain was convinced I would! There was a kids' activity up there too, and the 10-year-old made her first ever paper aeroplane to mark the time, in 1968, when Royal Air Force Hawker Hunter pilot Alan Pollock flew an unauthorised plane through Tower Bridge.
After our tour was complete, we made our way to Covent Garden, had a mooch around the Piazza and had lunch at Shake Shack. I think they might do the best burgers I've ever had, which is a big accolade. Shake Shack (named after the fairground ride at the end of Grease) started as a hot dog van in Madison Square Park, New York and quickly had queues around the block. It grew with locations all over the US and in 2013, hit London's Covent Garden. It was the perfect pit stop for us before heading onto…
A London bus tour! This was the part of the day that the 10-year-old was most excited about. The Original Hop On Hop Off Bus Tour picked us up from Piccadilly Circus and took us on a brilliant tour of the London sights. Due to hygiene and safety precautions, the audio commentary was live rather than via earphones – the 10-year-old struggled to hear the audio at times, but she managed to pick up enough to enjoy the tour.
Our last activity of the day was Madame Tussauds. Our first time there, and once we'd got over the initial feeling of 'OK, this is weird. These people look REAL. And they're staring at us', we had so much fun. There was something for everyone – Mr P had his photo taken with F1 legend Lewis Hamilton, I danced with Taylor Swift and the 10-year-old got to 'meet' One Direction. The Star Wars section went down very well too – the 10-year-old and Mr P recently watched every Star Wars movie.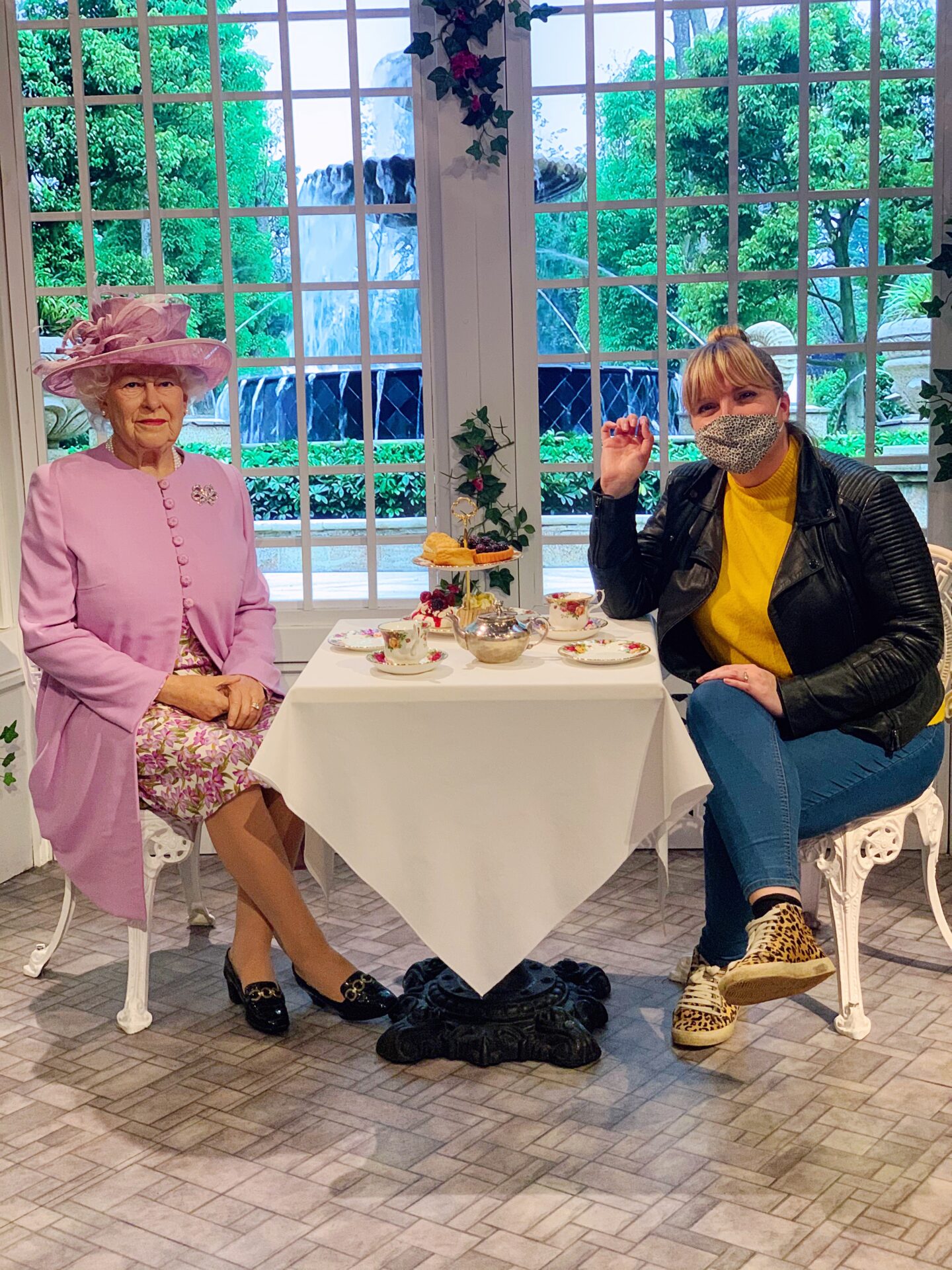 So was it possible to enjoy a family day out during these times of restrictions and social distancing? Yes!
Throughout the whole day, we were impressed by how the attractions had prioritised social distancing, encouraged mask-wearing and provided hand sanitiser. It felt like we were being looked after and not being put at any risk during the day. Likewise, the trains and tubes felt safe and everyone was wearing masks and keeping a safe distance from each other.
Our day in London reminded us how much there is to do, and how much we haven't done, as a family. The 10-year-old has asked if we can go up The Shard next, so now that restrictions have been eased, we're going to book tickets and plan another London day out. If you'd like to check out what there is to do in London with kids, check out Visit London where there are loads of brilliant Christmas ideas.