Apart from Central London (which is half an hour from us) we haven't done many cities as a family. We've been much more comfortable on a beach, or in a country cottage, where we can roam free a little and take things at out own pace. But last month, our day trip to Amsterdam, while we were on holiday in The Netherlands gave me a taste for city life as a family. It was hectic and hot but it was also fun.
So when we were invited to go to Paris for a couple of nights last week, I set aside all worries and fears about going to a busy city on my own with the five-year-old (Mr P couldn't join us because of work) and I said YES.
The trip was arranged by HomeAway, which is a great holiday rentals company, offering apartments, country cottages, seaside stopovers and more. They put us up in a fantastic apartment in Le Marais – such a beautiful part of Paris. We arrived in the city, by Eurostar ("Are we in France yet?" x 100) and jumped in a taxi to our apartment. It felt weird to be going through one of those huge wooden doors you see on Parisian streets – the ones you know lead to apartments and where French people live. Our door led into a gorgeous courtyard, with a gallery on one side and our building on the other.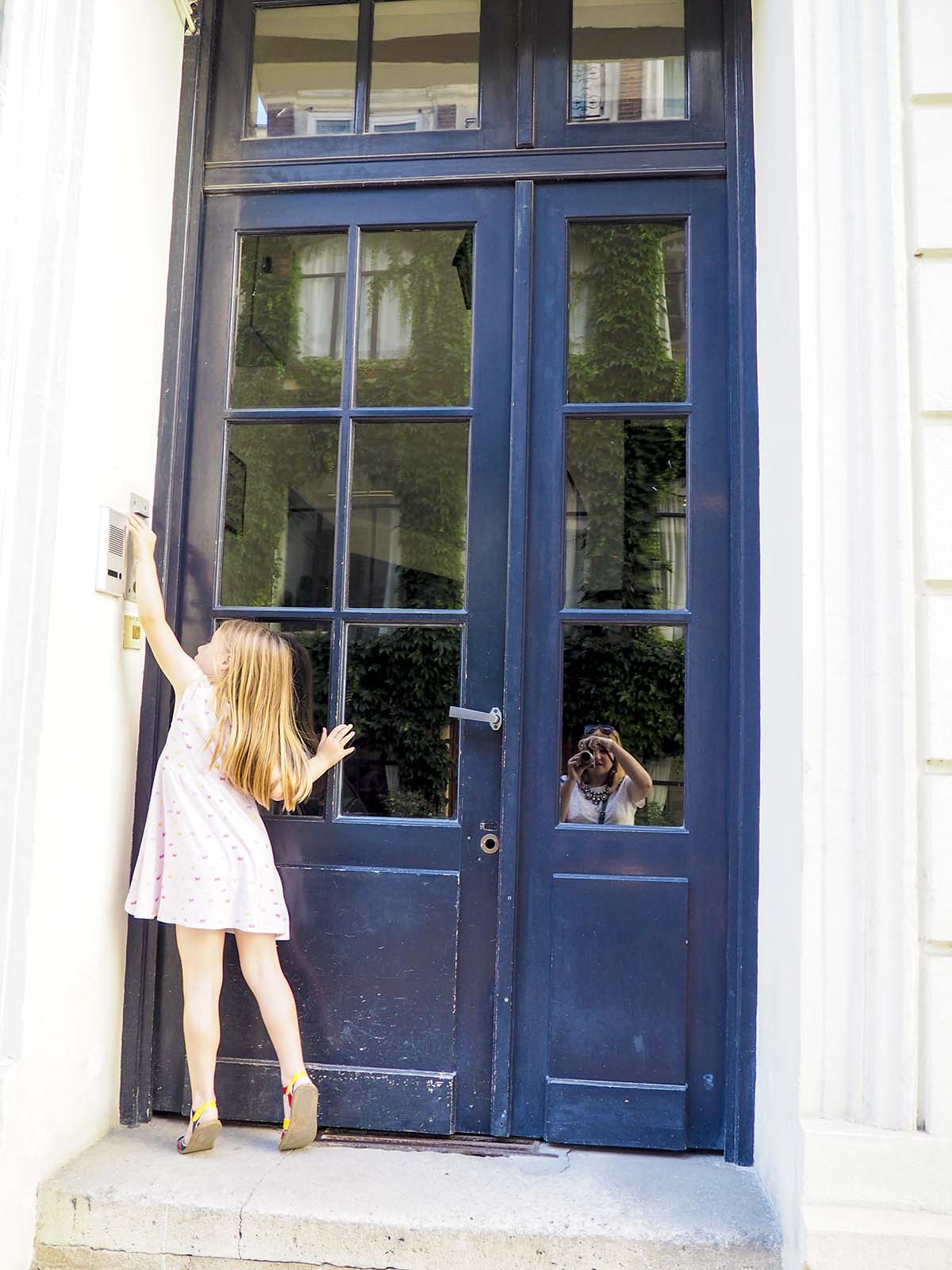 Once inside, we explored our small but perfectly formed apartment – it was 9pm but the evening sun was still streaming through the windows, giving the place a golden magical feel. We shut the shutters (so French!) to make it darker and I tucked the five year old into bed. The apartment had a bedroom with double bed, and also a sofa bed in the living room. I decided that we'd just share the double bed, rather than faff around with the sofa bed (although that did result in a small meltdown with the five year old wailing "I want to sleep in the sofa bed!" before I explained that a sofa bed really isn't something to get excited about.)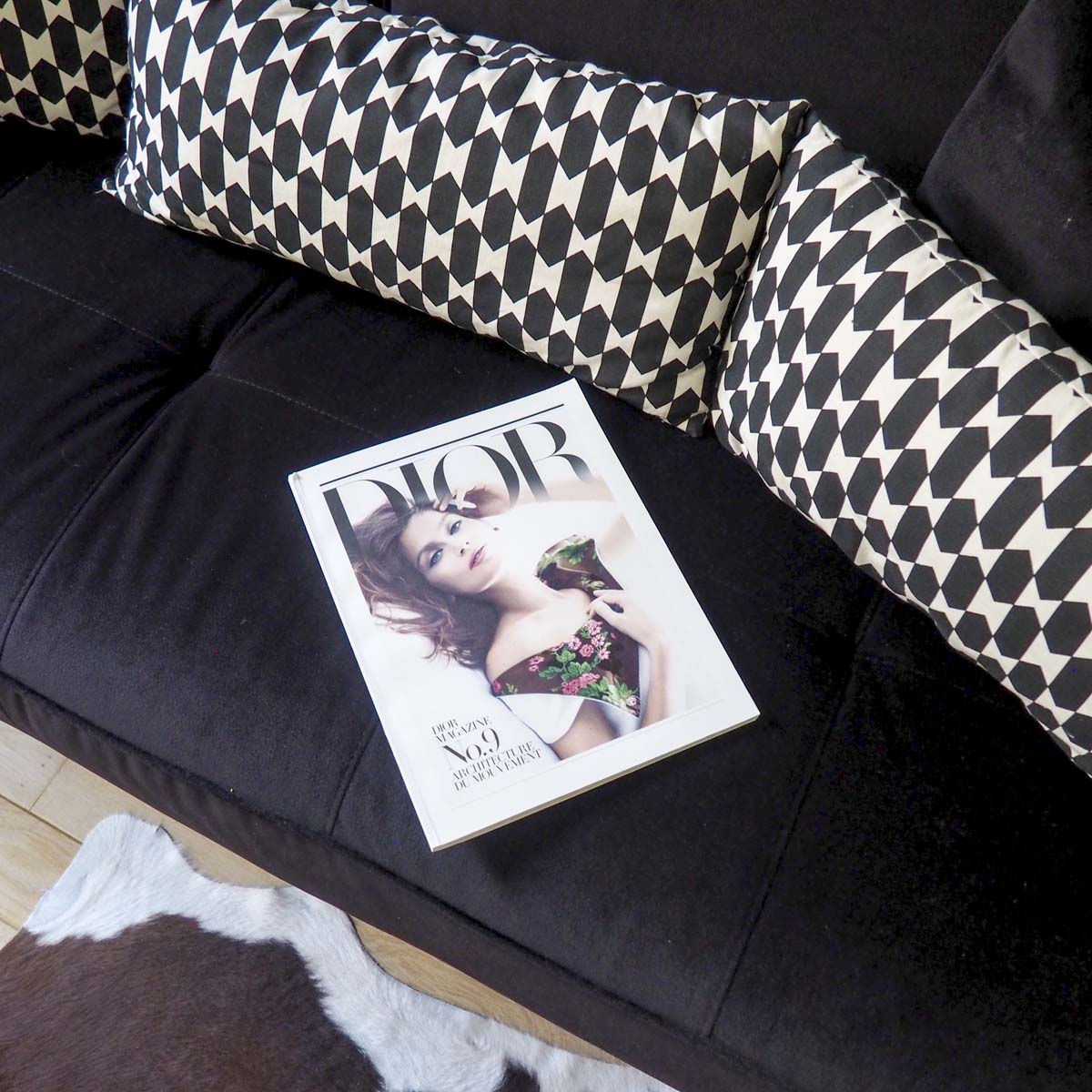 It felt lovely to have so much space, compared with a hotel room, and once the five year old was in bed, I could still sit in the living room and catch up on a bit of work (on the free wifi). After a restless night (note to self: never share a bed again with a child who likes to thrash around, punch and kick in her sleep…) we woke to a beautiful Parisien morning! We opened the shutters and early morning sunlight glinted through the windows.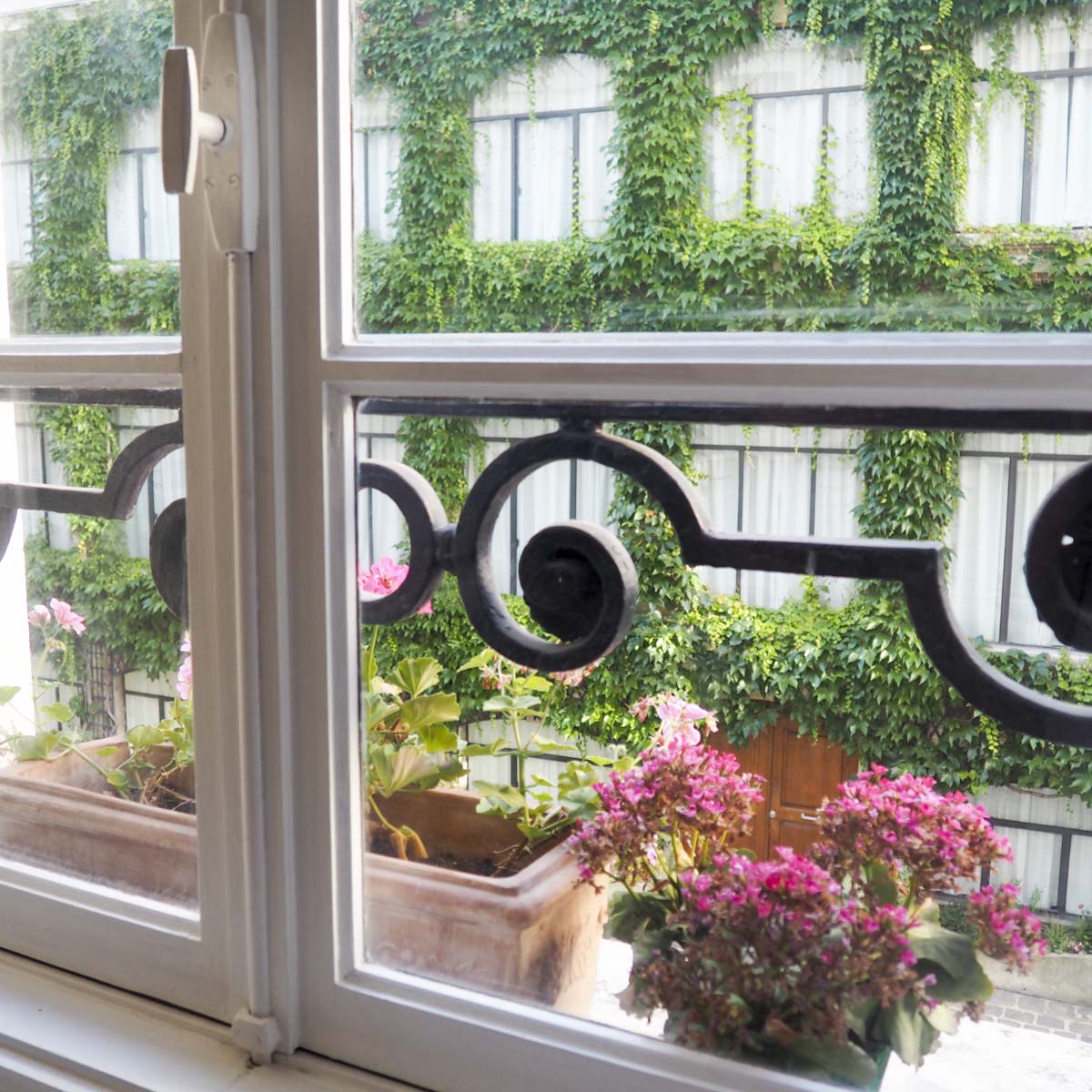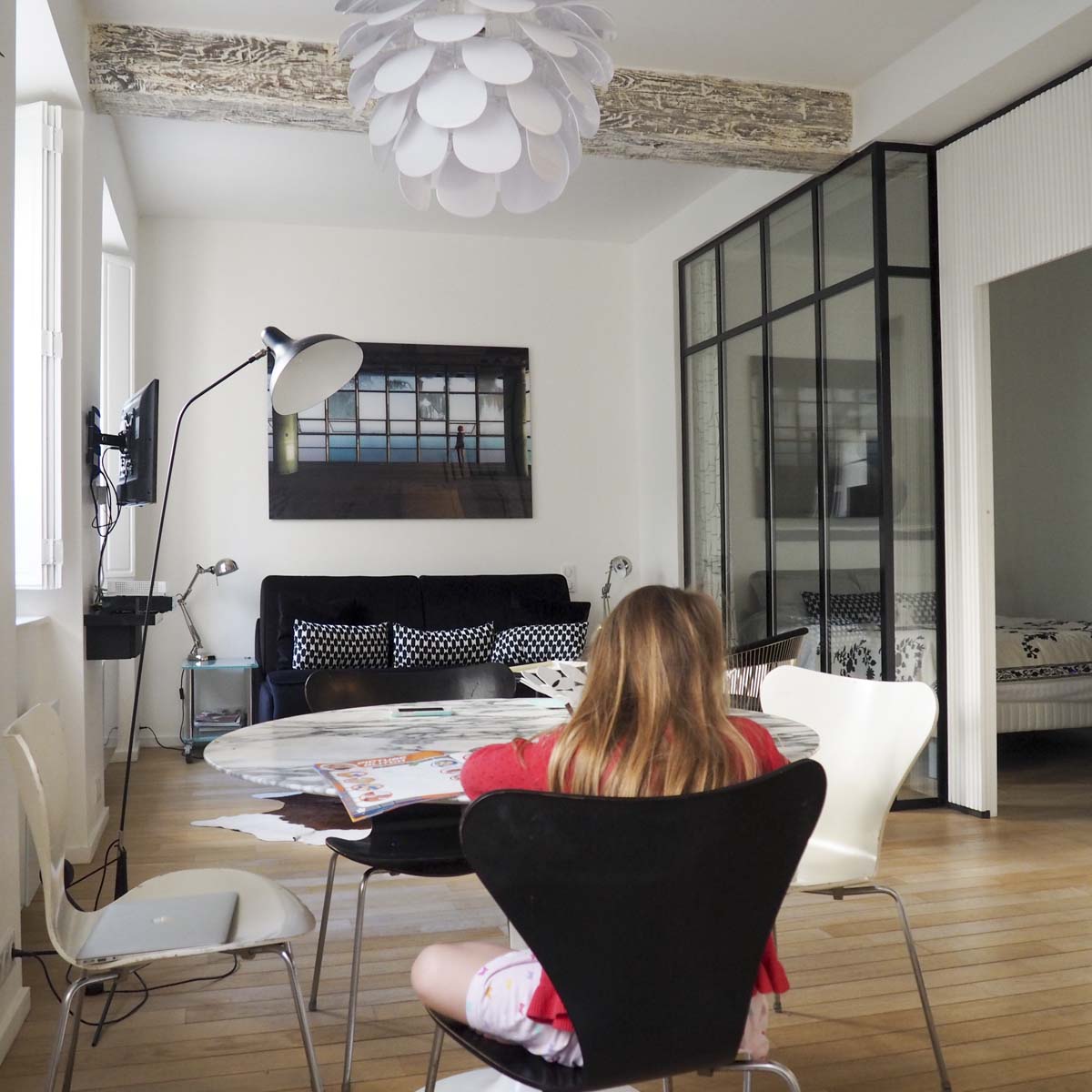 Because we'd arrived so late, I knew we wouldn't have time to buy any breakfast, so I'd brought a couple of croissants and bananas with me, which we ate pre-7am, and then we went out to look for a proper breakfast once we were ready for the day.
And what a fun day we had!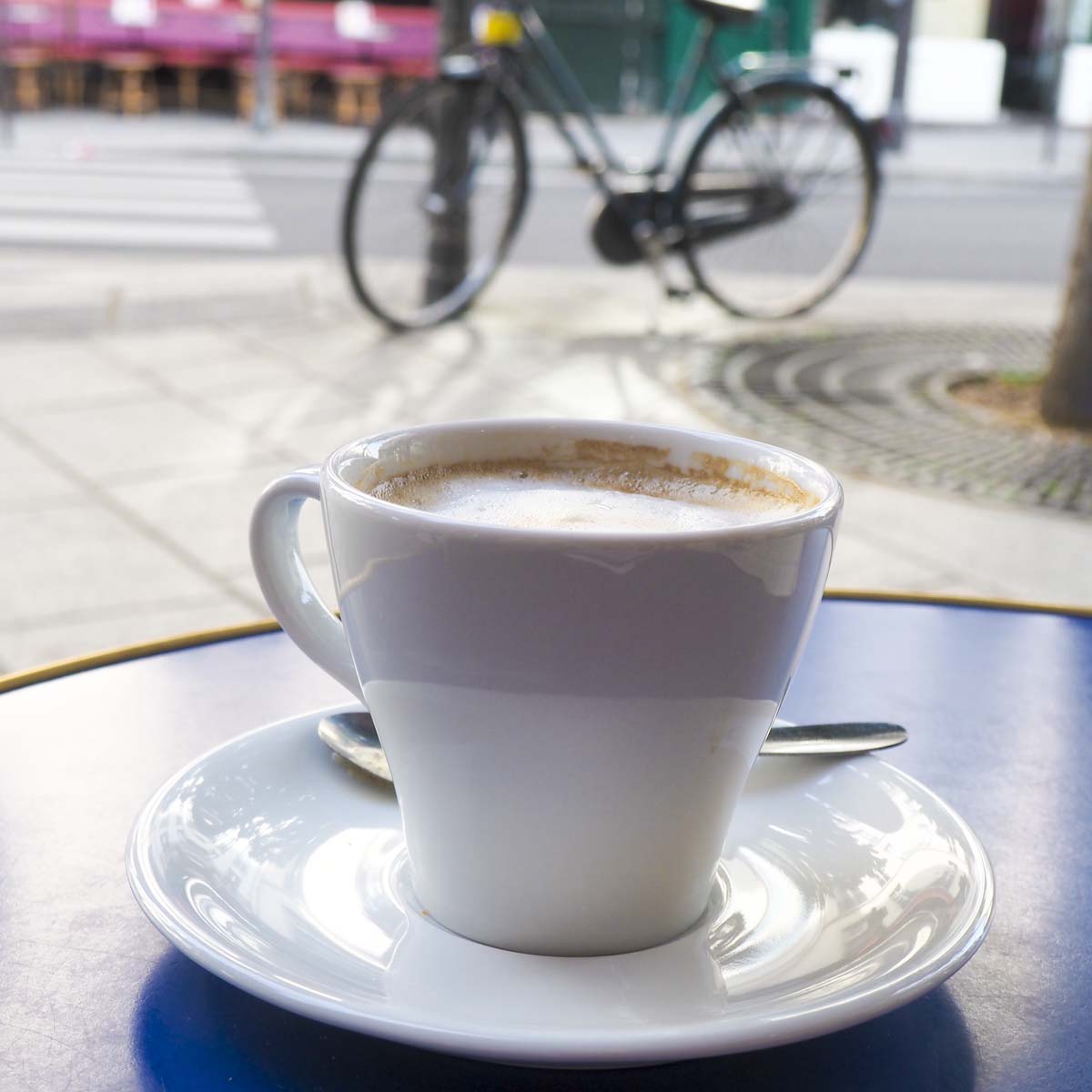 After a wander through Le Marais to the River Seine, we crossed a couple of bridges and then jumped on the Metro to Jardin du Luxembourg. There, we sailed boats across the pond (€3.50 for half an hour) and played in their fab play area (gated, safe, costs a few euros to enter).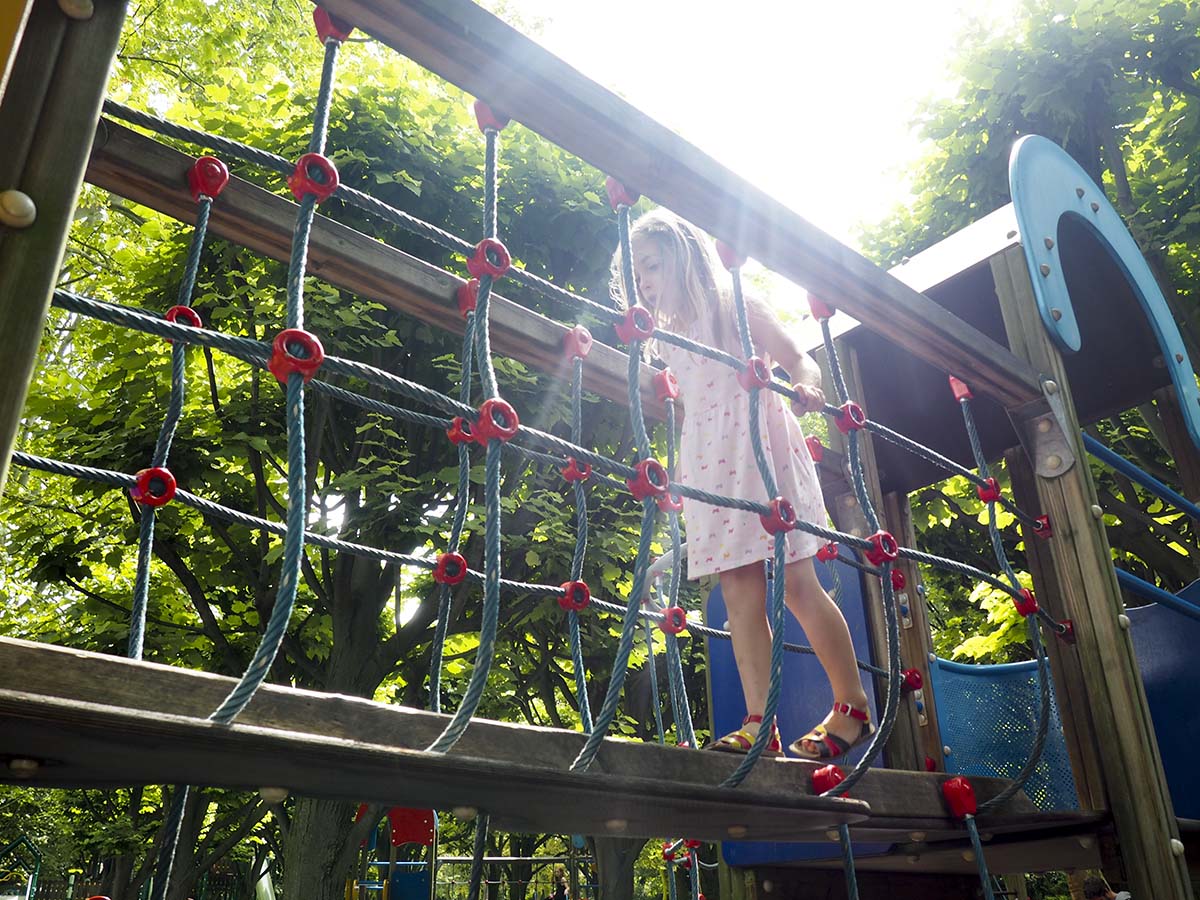 Then it was time to head to the Eiffel Tower. We'd been invited to attend a HomeAway event, in a pop-up apartment that they had created on the first floor of the Eiffel Tower. Having seen lots of photos of it (and watching Go Jetters on CBeebies), the five year old was in awe at how big the Eiffel Tower was. And what a treat to be going to an event up the Eiffel Tower!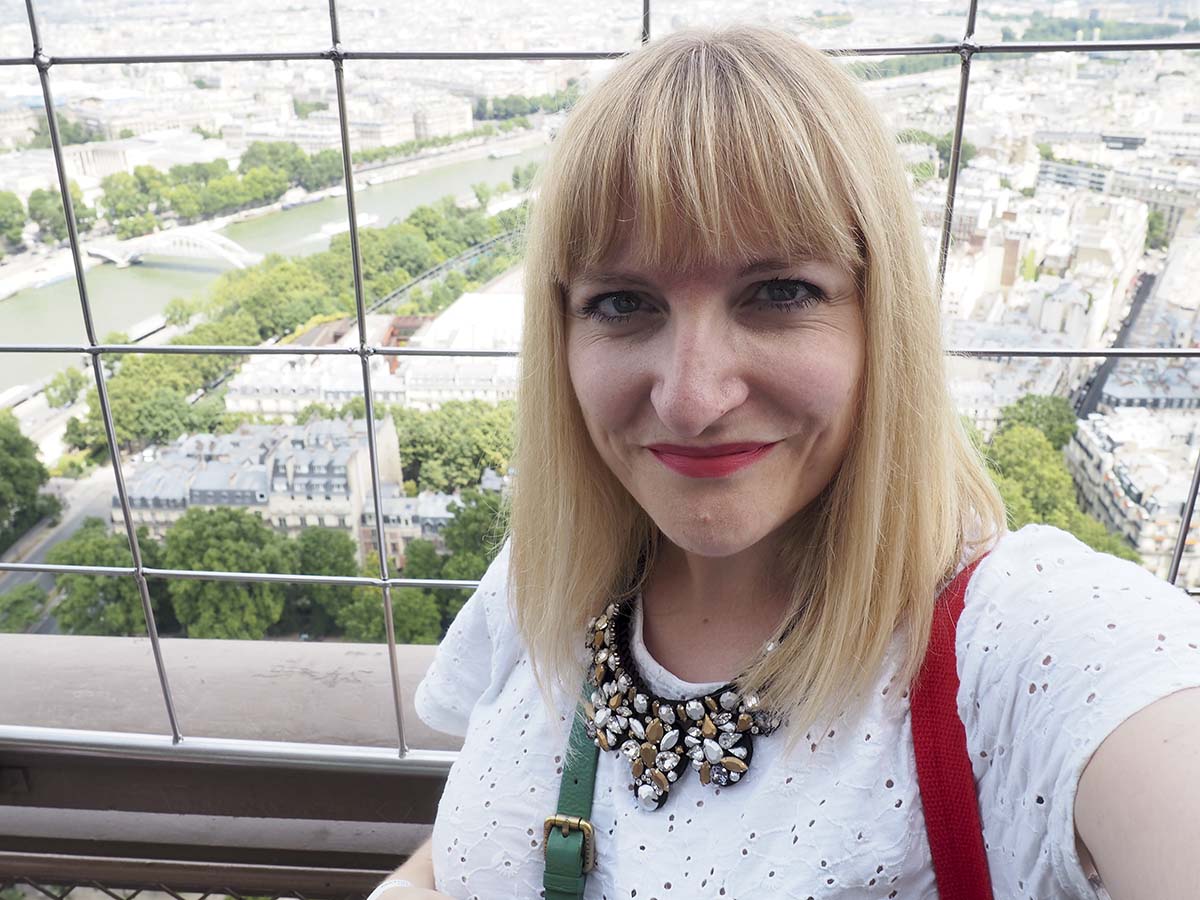 The event was fab – the pop-up apartment had lots of low tables and cushions for the kids to sit on, with colouring pencils, modelling clay and loads of craft materials. They were set a challenge of creating their dream holiday home. Feeling a bit shy, the five-year-old stuck to pencils and paper, drawing a house with a water slide, a big swing on the side, wings and a giant umbrella which could cover the house when it rained. Cute!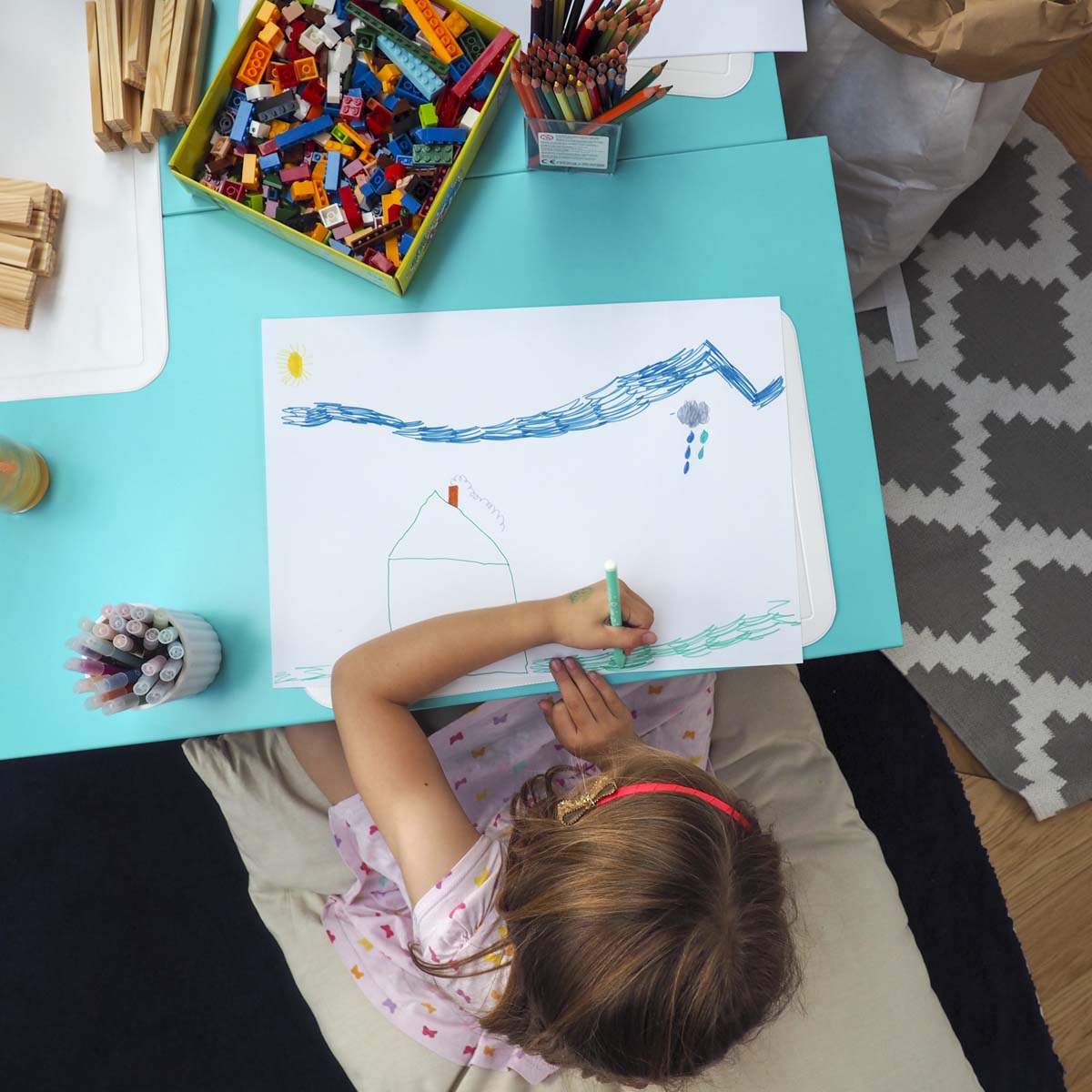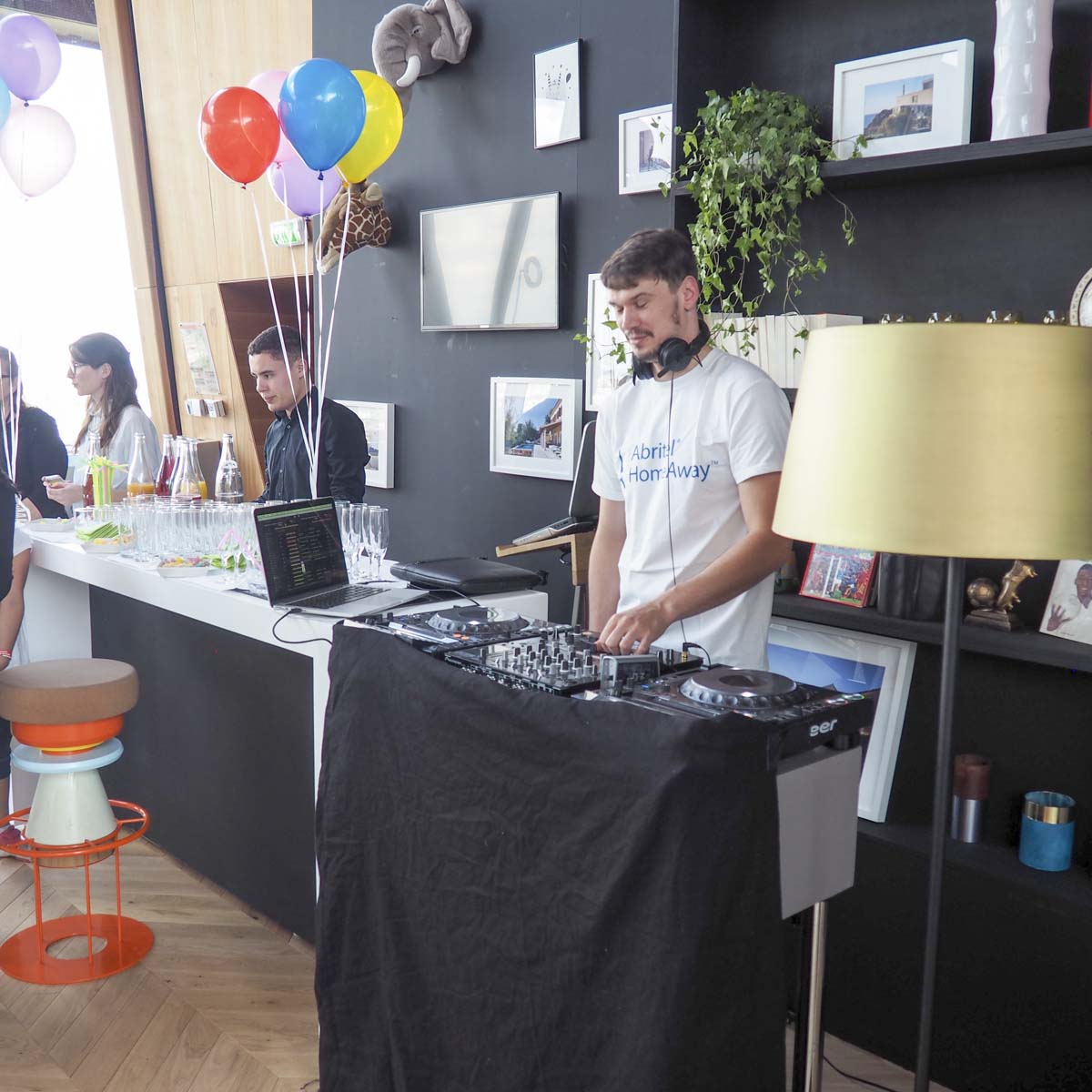 There were bloggers from all over Europe there, with their kids, and it felt like a real honour to be representing British bloggers (and families) at the event.
The following day, it was time to come home, but not before we squeezed in a visit to Les Art Decoratifs, where there is a Barbie exhibition. I loved reading about the history of Barbie, and the five-year-old loved seeing all of the different outfits and playing in the little play area they had. Win win!
So will I be visiting more cities with the five-year-old? Absolutely. I might not do one one my own with her any time soon – I'm not going to lie, it was stressful at times, navigating a busy hot European city on my own with a small child. But it was so worth it. She loved seeing how different Paris is, compared with UK cities, and hearing the language ("How did you know to say that to the taxi driver, Mummy?") and even just sitting outside a cafe, eating a croissant, watching the world go by (she was VERY excited when a school trip walked past us).
My tips on surviving a foreign city with a small child
Take lots of snacks – and if you're staying in an apartment, like we did, take even more snacks because you don't have room service or a restaurant to pop to, when your little one gets hungry.
Carry lots of water around with you – the water in Paris is fine to drink, it tastes different because of the mineral content, but it's safe. So fill up your water bottles and take them with you.
Make a plan for the day before you set off – if where you're staying has wifi, look up maps and addresses, plan routes and check opening times.
Research some eating places before you go. As lovely as the Marais is, it's not the easiest place to find a child-friendly restaurant at 6pm – it's mostly corner bars serving beer and wine or nice little bistros that don't serve food until later (and the French don't really do children's menus – kids there eat what the grown ups eat). So we ended up popping into a supermarket and boulangerie to buy some salad and bread for me – and Baked Beans for the five-year old! If I'd been more organised, I'd have worked out a few places near our apartment, which would have been suitable for an early dinner.
Head to a city centre park – most cities have at least one, and they're a brilliant place to have a picnic or just sit in the shade, playing I Spy for a little while.
Big thanks to HomeAway for inviting us to Paris for two nights. We had a brilliant time. As always, all views are my own. For details on how I work with brands, see my Work With Me page.