A few years ago (pre-motherhood) I loved inviting friends over for a dinner party. We'd dress up, put on some good music and spend the whole evening eating and chatting and drinking wine. We'd probably then end up playing Rock Band on the Xbox afterwards because as much as we thought we were grown up, having a dinner party, there's always time for Rock Band, right?
These days, dinner parties are less frequent non-existent, which is why I loved the chance to throw one, a couple of weeks ago, with Jacob's Creek. They asked me to think of a three course meal which evoked special memories for me (read more about why I chose each course over here) and they chose a wine to go with each course. Which was jolly nice of them.
It struck me, as I laid the table for my guests, how ill-prepared I am for a dinner party. I mean, back in the day when we held them fairly often, no one expected any bells and whistles. But now we're proper grown ups, we should really have place mats and napkins (with napkin rings I guess, if we're being dead fancy). So all of that has gone on my 'I should really buy that one day' list, and I went with a minimal look, with a simple jar of flowers adding colour to the table.
The light was fading when my guests arrived, and I took this grainy snap of me with my mum – both enjoying a glass of Jacob's Creek Reserve Chardonnay. Then we sat down for our starter – scallops with pea puree and pancetta. This dish reminds me of my first wedding anniversary, when Mr P and I went out for a posh meal in London and then stayed in the Soho Hotel.
I'm not sure I did this dish justice, in the presentation stakes, but I don't pretend to be Nigella Lawson, I'm just me! And it tasted good, so that's what counts, right?
Our main course was steak with triple cooked chips. We served it with roasted Chantenay carrots (my favourite of the carrots) but I made a total gaffe and forgot about the Bearnaise sauce. Whoops! Actually, though, it was testament to the steak that we didn't actually need the sauce. Mr P cooked it to perfection (medium rare for me) and we ate it with Jacob's Creek Reserve Shiraz. It took me back to our honeymoon, when I ate steak in a treetop restaurant in Port Douglas, Australia.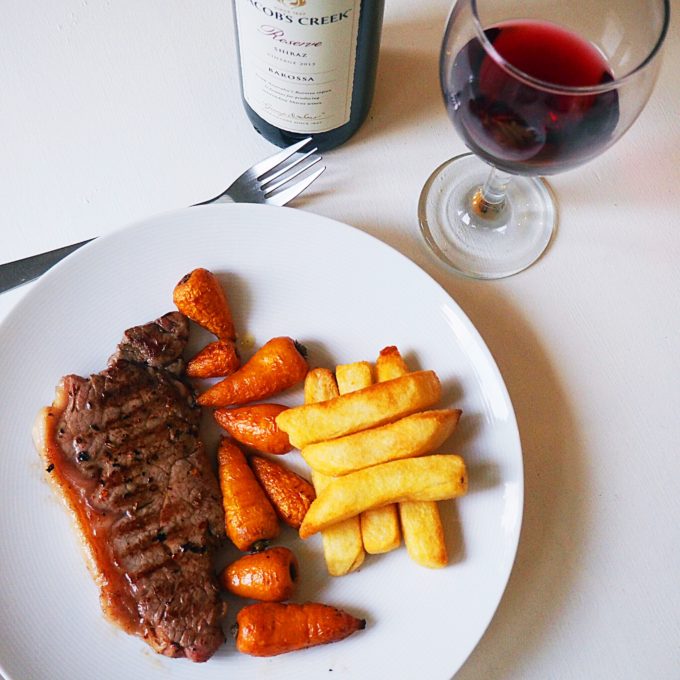 Next came the cheese board… usually my favourite course of all and one that reminds me of the Neal's Yard Dairy cheese that Mr P bought for me when I'd just had our daughter, because he knew how much I'd missed unpasteurised cheese during my pregnancy. But at the dinner party, by the time we'd eaten our steak, and finished the bottle of Shiraz, it was gone 11pm and we were all pretty full up! So we ended up enjoying the cheese – and some more Jacob's Creek wine – the following day.
WIN 3 BOTTLES OF WINE
To help you create your own meal of memories, like me, Jacob's Creek are giving you the chance to win three bottles of wine. To enter:
Retweet this tweet (click through to RT)
Comment on this post, telling me about a dish you've eaten that reminds you of a special time, or a family tradition. Include your Twitter name too, so that I can see you've done part 1!
Good luck!
This post has been commissioned by Jacob's Creek and as always all views are my own.
Terms and conditions:
1. Entry is open to all UK residents, age 18 and above, excluding anyone professionally associated with the Promoter or giveaway host.
2. One winner will receive three bottles of Jacob's Creek wine. The prize is non-transferable and there is no cash alternative.
3. The prize draw starts at 9pm BST on 18th July 2016 and closes at 11.59pm BST on 1st August 2016.
4. Entry is free and must be made by retweeting the set tweet and commenting on this blog post, saying what your favourite meal of memories is. To enter the competition, a public Twitter account is required for the duration of the giveaway.
5. The name of the winner will be published on this website within 7 days of the giveaway closing.
6. The winner will be drawn at random from the valid entries and they must have fulfilled the necessary criteria to be entitled to the prize.
7. The winner will be contacted by the host within 48 hours of the closing date.
8. In the event that the prizes stated become unavailable, the Promoter reserves the right to substitute a prize of equal value.
9. The Promoter's decision on all matters is final and binding on all entrants. No correspondence will be entered into.
10. By taking part in this competition you agree to be bound by the competition terms and conditions.
11. The Promoter reserves the right to disqualify any entrant and / or winner in its discretion and without any notice in accordance with these terms and conditions.
12. This promotion is not sponsored, endorsed, administered by Twitter and Twitter is not associated with this promotion.
13. The Promoter is: Pernod Ricard UK. Building 12, Chiswick Park, 566 Chiswick High Road, London, W4 5AN