On my recent quest to find new things to wear that aren't skinny jeans and sweatshirts (see how I've been getting on here and here), I've been going into shops that I don't usually go into. If you're anything like me, you have your favourite fashion brands that you know serve you well, and you stick to them – they're safe! They're like a comfortable friend – you walk in, you know the store layout, you know whether their jeans will fit or get as far as your knees before you have to admit defeat.
But I've pushed myself out of that comfort zone, and one of the first stores I visited, that I hadn't before was FatFace. I went in to my local branch a couple of weeks ago (see my Instagram snap from the changing room) and was really surprised by how many lovely things they had.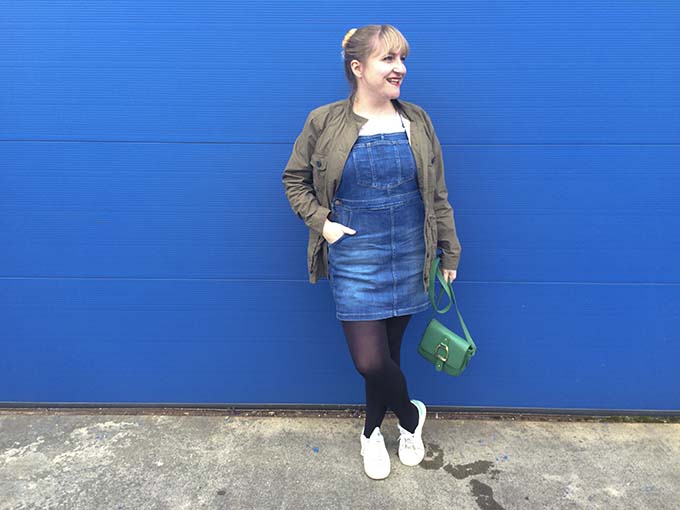 I have far too many coats and jackets, but this khaki number is the PERFECT spring jacket. It's really lightweight so if you sling it on, and then the sun comes out during the day, you don't melt. But it also keeps you warm when it gets windy and chilly.
The denim dungaree dress is my new favourite thing. I didn't think I could pull off a dungaree dress – after all, I have hips and a bit of a tummy. But this one looks OK on me, right? I wore it to my friend's birthday BBQ last Sunday, with a Breton top underneath and I felt like me, but a bit trendier.
The five-year-old has a real thing about matching me, at the moment, and she asked if she could have a denim dungaree dress too. BLESS HER.
Mumbles jacket, £50 c/o FatFace
Denim pinafore dress, £45 c/o FatFace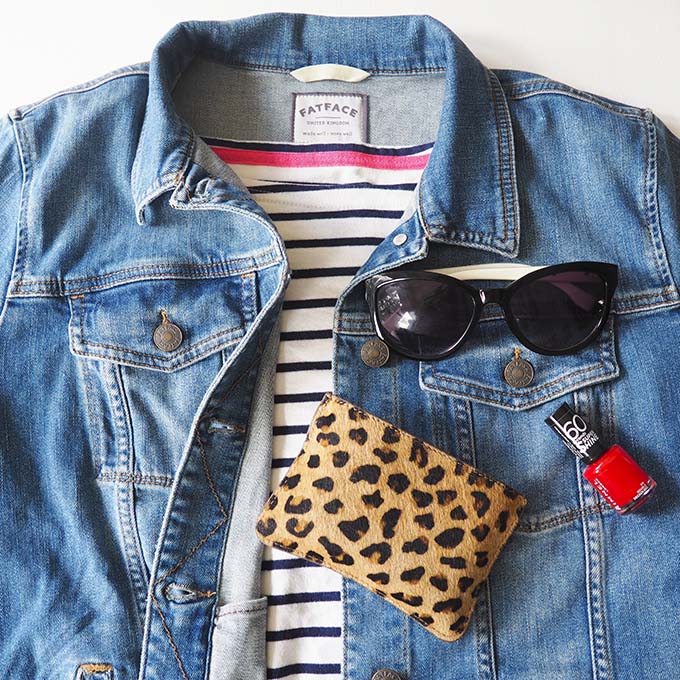 Pennymoor mid-denim jacket, £45 c/o FatFace
One of my absolute style staples every spring and summer is a denim jacket – they're just so easy to wear with so many outfits. They might not be cutting edge in the fashion stakes, but I think they have a cute quality that never really dates. This denim jacket from FatFace is a classic – soft fabric, roomy and with a Breton and red nails, looks top!
Durington Kimono, £45 c/o FatFace
Saunton cami, £20 c/o FatFace
Worn vintage super skinny jeans, £45 c/o FatFace
This is the waistcoat knit that I tried on, in FatFace a couple of weeks ago! It's not the kind of thing I usually wear, but I really love it! Worn with a cami top that has the prettiest edging detail, and skinny jeans, I think it would be a great festival look for the summer (we're off to Camp Bestival – which I'm VERY excited about.)
Sudbury top, £25 c/o FatFace
I'm wearing this gorgeous white broderie top with the denim dungaree dress above, but you can't really see it, so I took another photo because it's really too pretty to miss. It has short sleeves and a little pocket on the front – perfect for a night out if you dress it up with a statement necklace and pretty shoes, or just wear it with jeans and sandals this summer.
FatFace have the motto 'Washed in Happiness' and I can safely say that this selection of outfits really does make me happy – and as far as a shopping experience goes, they get it spot on. Big changing rooms with plenty of hooks and places to pop your clothes (one of my biggest pet hates is changing rooms with nowhere to put your clothes when you take them off!) and the staff were SUPER friendly (and no, they didn't know I was a blogger when I went in, they were just being nice because I was a regular customer!)
So thank you FatFace for giving me a spring that's Washed In Happiness!
This post has been written in collaboration with FatFace and as always, all views are mine. Please see my Work With Me page for details on how I work with brands.