The Mothercare A/W13 press day was my idea of heaven. A chance to browse around the upcoming clothing collections and check out the toys that every kid will be going gaga for come Christmas. Gorgeous dresses, snug winter boots and super cute prints were everywhere we looked. And there were more than a few things I wished came in adult sizes.
While there, I got to chat to Jools Oliver, who talked me through her Little Bird range, which is JUST gorgeous. The fawn print babygrow from the first collection she designed for Mothercare has been bought by me as a gift for more than one friend. The fawn design was inspired by an original 1970s winceyette nightie with a fawn embroidered on it. "It was from Mothercare," Jools told me. "My sisters wore it, then I wore it and all of my four kids have worn it. It's lasted incredibly well. But now it's folded up and packed away forever," she said sadly. "Well, unless I have another one! I am only 40," she added with a smile.
It got me thinking about buying cheap supermarket clothes (something I'm a massive fan of) versus buying clothes that will last and can be handed down children and even generations. "I do a bit of both," Jools told me. "I run to Sainsbury's and pick up clothes but then it's nice to have some special clothes, isn't it?" And the great thing about Little Bird is that the clothes look like they were bought in a small independent boutique but actually, the price isn't far off supermarket clothing.
During our chat, I asked Jools if it was true she'd had a pair of Little Bird kids' shoes made in a larger size for herself. Ellie over at The Mumday Times spotted Jools wearing yellow sandals that looks remarkably like the mini pair in her range. "It's true!" she laughed. "They were made for me in my size, and then I was photographed by paps wearing them. There's a t-shirt Jamie really wants in an adult size, and we had some rainbow pyjamas made for the whole family last year."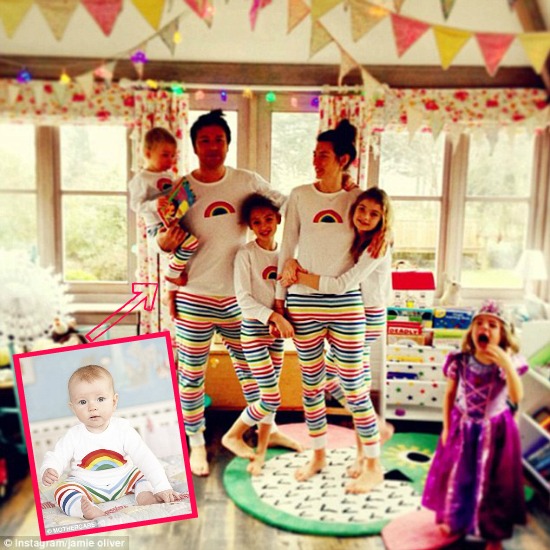 Jools was just lovely and you really get the feeling she is passionate about the Little Bird range. Elsewhere at Mothercare, they have some gorgeous bits and pieces coming into store for autumn. It was the footwear that really caught my eye – I can't wait to wrap my toddler up warm with one of these pairs of boots…