I'm lazy.
There, I said it. I only exercise because I have to, my favourite hobby is watching TV and I'll always take the bus if I can, rather than walk.
I'm especially lazy when it comes to cooking. It's not like I can't cook – I've been known to whip up a mean lasagne and my Spanish pork and chorizo stew is amazeballs. I just think it's all a bit of a faff and I'd rather watch Jamie Oliver or Nigella on the telly cooking than do it myself.
When I was a new mum, it was great to have a genuine excuse not to cook. We lived off M&S ready meals and what I call "stick in the oven" dinners. But two years on, we're still living that way. The nearest we come to cooking now is doing bangers and mash, fajitas or a chicken stirfry.
Around ten years ago, I used an online company called Leaping Salmon a couple of times. They delivered fresh ingredients and a recipe to you, for you to create an amazing home cooked meal without the hassle of shopping for it (and even using brain power to work out what to cook and what you actually need to buy). It was great!
Leaping Salmon shut down – sad face. But a couple of similar services have launched recently – happy face. One of them – Dinnr – kindly sent me a meal to try. They deliver to your home or office (only Central London at the moment) between 3pm and 6pm and say the food should be totally fine as it's packed, until about 8.45pm.
So… was it easy? Yes, in that I didn't have to really think about dinner – a brown paper bag with all the ingredients for Mustard Chicken, Leeks with Tarragon and Crispy New Potatoes arrived and I took it home. (I missed my train though and had to get a different train and then wait for a bus, so by the time I got home at 8.30pm, I was tired, pissed off and hungry. But I'd promised hubby I'd cook. So cook I did. Well, once I'd taken some photos of the ingredients, obvs…)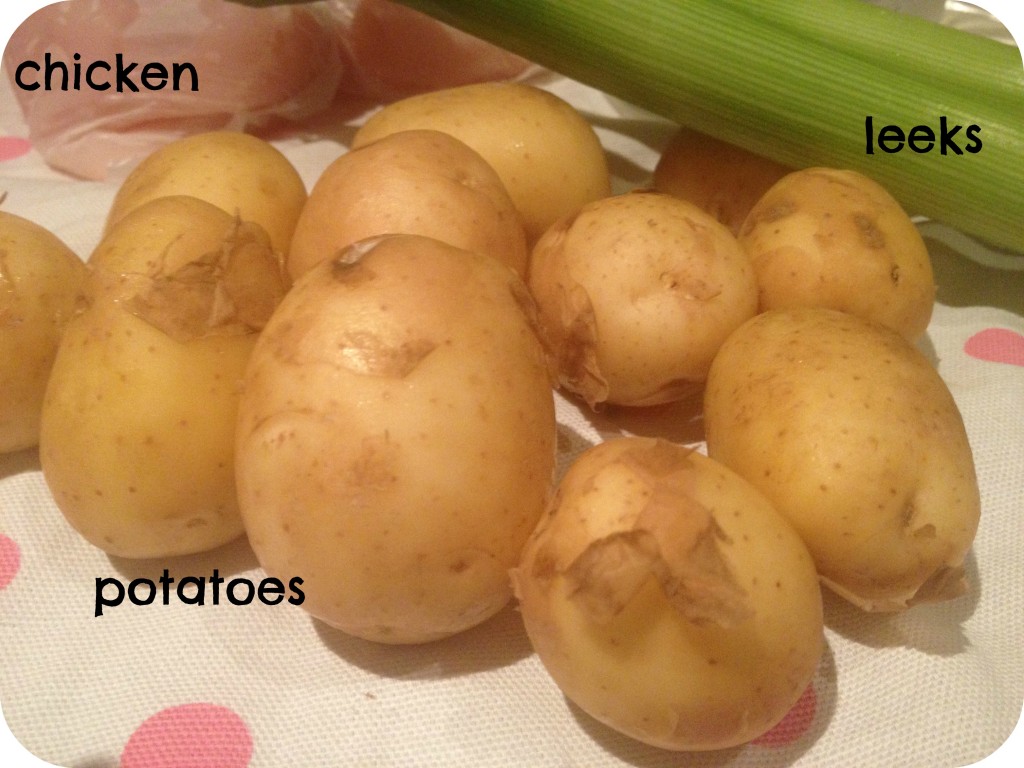 I did get in a mild flap, trying to make sure I was following the recipe properly – I forgot to make the stock and wasn't sure I had enough time to wash and chop the leeks whilst also making sure the chicken didn't overcook/burn. But mild flap aside, it was straightforward and even a bit fun.
And it might not have looked anything like the picture on the Dinnr website (seriously, it looks like I cooked something totally different – why is my leek sauce so thick and creamy but their's isn't?) but it tasted NICE. Oh and they even threw in a tea light in a holder, some matches and two chocolates. Win.
 *Pasta image from http://pinnedrecipes.com/