There aren't many family breaks that combine gorgeous interior design, rolling hills and adrenalin-filled fun. Last week, we spent a few days at The Old Temperance Hall in Kingsley, Staffordshire with Sykes Cottages. This place was less of a cottage and more of a huge impressive dream home. Which is unsurprising when you discover that the owners bought the hall five years ago and spent all of that time completely remodelling it to become a five bedroom family home.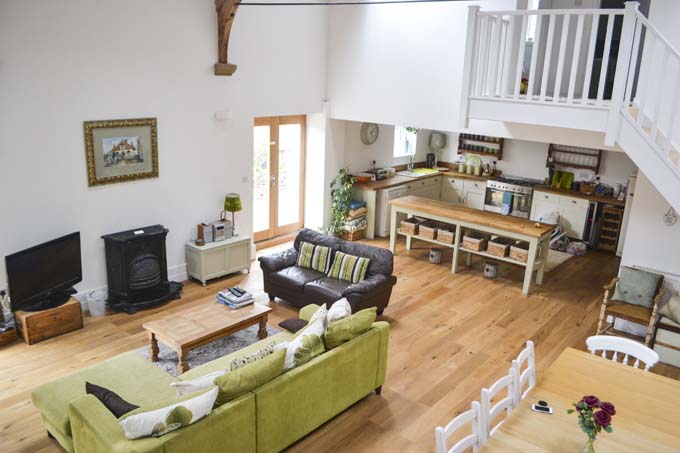 So what's this place like? Well the main living space and kitchen is totally open plan with skylights on the roof, letting in loads of light. Yet in the evening, it still manages to feel cosy. The kitchen has a range cooker and large fridge freezer, and there's a utility room off to the side with a washing machine, microwave and more storage, plus a shower room and loo. The clever design of the house means you go up one set of stairs to get to the master bedroom, with ensuite and roll top bath. You go up the other staircase to get to two more bedrooms (a twin and a double) plus a small bathroom. On the ground floor, towards the front door, there are two more bedrooms (a twin and a double).
Mr P outside our bedroom
Our few days there were brilliant. We went with my good friend Katie and her family (check out Katie's gorgeous blog) and The Old Temperance Hall was the perfect place for us to stay – because of the layout, it felt like each family had our own 'wing' and then there was loads of space downstairs for the girls to hang out and play. The four-year-old gets on so well with Katie's little ones, Mads and LL. In fact, her and Mads acted a bit like sisters, in that they would be thick as thieves one minute, giggling and plotting away and the next minute, they'd be falling out and refusing to share a toy.
Taking advantage of the free wifi
Once the girls had gone to bed each night, we'd crack open the wine and cook ourselves some dinner – it's a great space for having a big old meal like fajitas and then carrying on the night with some more wine and silly games. The cottage has some board games there for you to play, but we played a fun quiz game instead.
The best thing about the location is how much there is to do for families. On our first day in the Peak District, we went to Trentham Gardens (on the recommendation of another blogger friend Kerri-Anne) which was incredible. You're driving along, in a built-up area, and suddenly it's there with acres of parkland, a lake, wild flowers and ace things for kids like an adventure playground, zip wire, climbing wall, boat rides and a maze. We didn't try it but there's also a barefoot adventure where kids take their socks and shoes off and squelch through mud!
Navigating the maze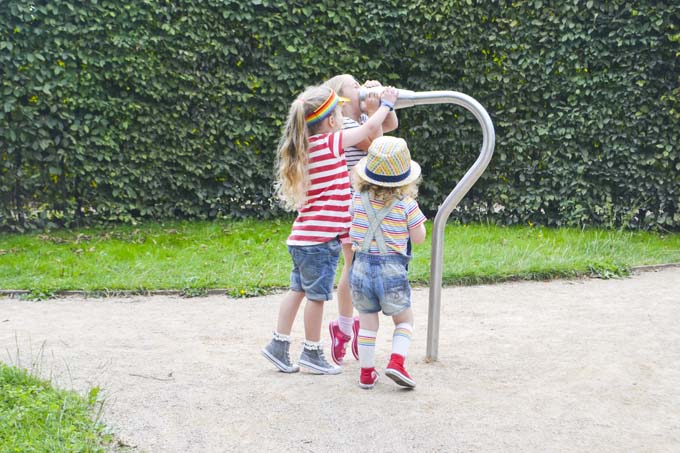 I couldn't believe it when the four-year-old climbed the wall with ease – no fear at all! Trentham Gardens is the perfect place for a picnic too – they even have a little picnic supplies hut with sandwiches, drinks and snacks. We found a spot near the lake and popped the picnic blanket down.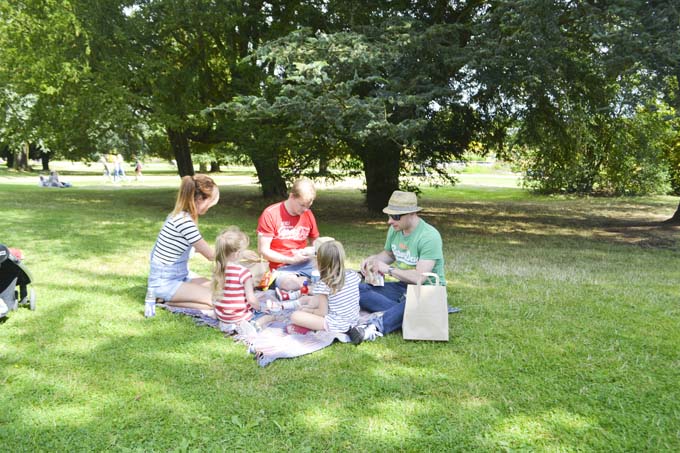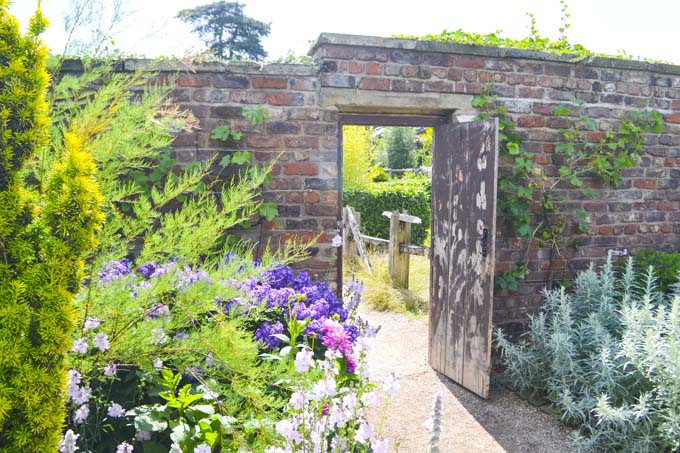 The secret garden at Trentham Gardens
Also near Kingsley is Alton Towers! We have Merlin Annual Passes so we actually went to Alton Towers on three different days while we were staying there. Our passes got us into Alton Towers an hour before the gates open, so we were able to get onto some of the popular rides without queuing for too long.
The four-year-old LOVED CBeebies Land and other favourite rides around the park were the Runaway Goldmine Train and the River Rapids. Mr P spent a couple of hours one morning going on all of the 'big' rides like Nemesis and Rita, while the four-year-old and I pottered around CBeebies Land some more. We did go and watch him ride Oblivion though – there's a fab viewing platform right at the point where the right plummets into the ground, and it was amazing to be able to see Mr P hang there for a few seconds and wave to him before dropping down.
trying to get a group shot with the four-year-old on the carousel but kept getting the timing wrong!
The Old Temperance Hall has a lovely outdoor area with a large picnic bench and beautiful flowers. The weather was mixed while we were there, so we didn't sit out there much but on warmer weeks, I can imagine long lunches outside while the kids play.
I think it's the attention to detail that makes this place special. Inside, there are lovely little vintage-inspired touches that make it stylish but homely.
We had a fantastic time in the Peak District – if you'd like to see more of the cottage and our adventures, you can watch the short video below.

7 nights at The Old Temperance Hall starts at £795 plus a refundable £200 housekeeping bond. Find out more and book over on the Sykes Cottages site. Big thanks to Sykes Cottages for inviting us to stay at The Old Temperance Hall for the purpose of this review. All views are – as always – my own, and you can read more about how I work with brands on my Work With Me page.