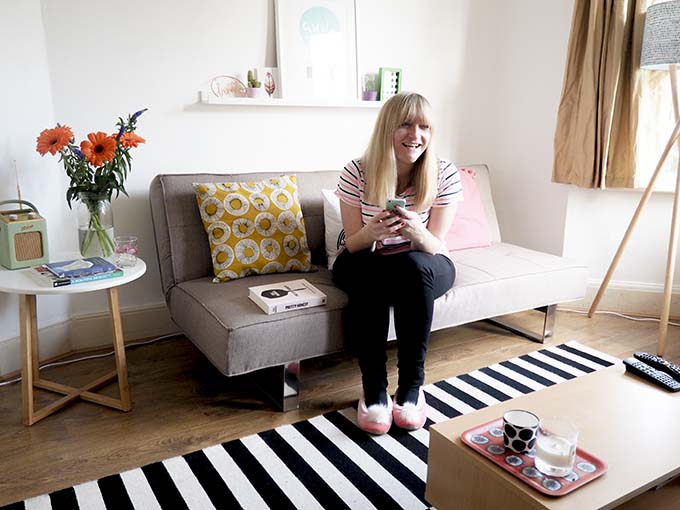 If you're anything like me, Christmas is a rather hectic (but lovely!) time with lots of people visiting, family coming to stay and the house fit-to-burst with people and fun.
We're lucky enough to have a guest bedroom but at Christmas, it's handy to also have a sofa bed for extra guests. Let's be honest, though, it's really easy for someone who's staying on your sofa bed to feel a bit like they're, well, sleeping in your living room. Obviously, that's because they are actually sleeping in your living room, but there are some easy ways to quickly turn your living room into a temporary bedroom for them. It'll make your guests feel much more at home and less awkward about it all.
Try to make the bed linen fit in with the room decor, rather than having a clashing duvet cover. You'd probably make your guest room decor work together, so why not apply the same rules for this room. I've gone for a black and white print duvet, to tie in with the rug and borrowed accent colours from the cushions and pictures.
Have a small table next to the sofa bed – there's nothing worse than having nowhere to put your phone/watch/jewellery when you're staying at someone's house. This white table acts as a side table when the sofa is being used as a sofa, so it's ideal. Have a clock in the room, to help stop that disorientated feeling that's so easy to get when you're staying at someone else's house.
Pop a lamp on it, so that your guest doesn't have to do that mad dash from the room light switch to bed, using their phone as a torch. Also, make sure you have somewhere for your guest to easily plug in their phone charger and any other devices they might have, like a tablet or camera.
Have somewhere to easily store away duvet and pillows during the day – we've got this chest by the window which acts as a little window seat but is ideal for the bedding to be popped into, each morning, and easy for the guest to get it out at bedtime. It's also a great idea to have a slim (but warm) duvet so that it can be stored in a small, compact space.
Have a throw on the bed which can be used as an extra layer, if it's a cold night. It can be popped on the sofa during the day, too, for any cosy afternoon Christmas movie sessions.
Keep your clutter to a minimum, even if it means moving things to another room for the duration of the guest's stay – remote controls, newspapers, magazines, DVD boxsets you've been watching, should all go.
Ensure there is a mirror and somewhere for them to pop their toiletries. Give them a hairdryer, a jug of water by the side of their bed and even a bathrobe and slippers to add that hotel touch.
No one likes living out of a suitcase! Put hooks up so that your guest has somewhere to hang things like their dressing gown or their clothing on hangers. We've got these brightly coloured hooks which can be popped over the living room door.
Pop a vase of fresh flowers in the room, to welcome your guest. Some good books might go down well too, for some bedtime reading.
Removing the coffee table, if you have one, might be necessary, to open out the sofa bed. If that leaves you short on table surfaces, consider buying a folding table like this pink one (above) which is really easy to fold up and store away under the stairs.
You'll probably have a Christmas tree up, and some decorations. Be careful not to go OTT, as your guest might feel like they're sleeping in Santa's Grotto. And remember to turn your tree lights off each night to help create that restful ambiance a bedroom should have.
Give your guest their own set of keys, so they feel welcome and like they can come and go, as they please.
Look for a sofa that is easy to convert into a bed – this is the Flip sofa which is £299 from DFS which is one of the nicest sofa beds I've seen, and it's really easy to convert into a bed (none of this 'pulling off the cushions and trapping your fingers in the mechanism' malarkey, the back just flips down to create a flat bed.) DFS has over 1,000 options for sofa beds to suit everyone's taste and budgets – and many of them are still available to order for Christmas delivery.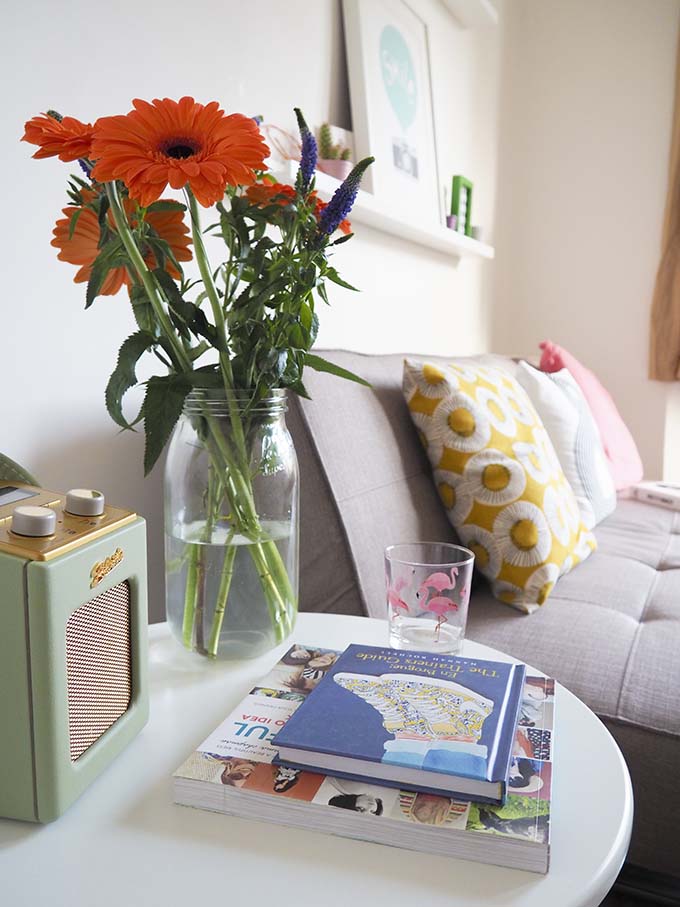 So what do you think? Do you have any other tips that you'd add, for making a guest feel welcome when they're sleeping in your living room?
This post has been written in collaboration with DFS – see my Work With Me page for details of how I work with brands. Big thanks to DFS for asking me to work on this – I had so much fun styling these photos!
Like this? Pin it to Pinterest!