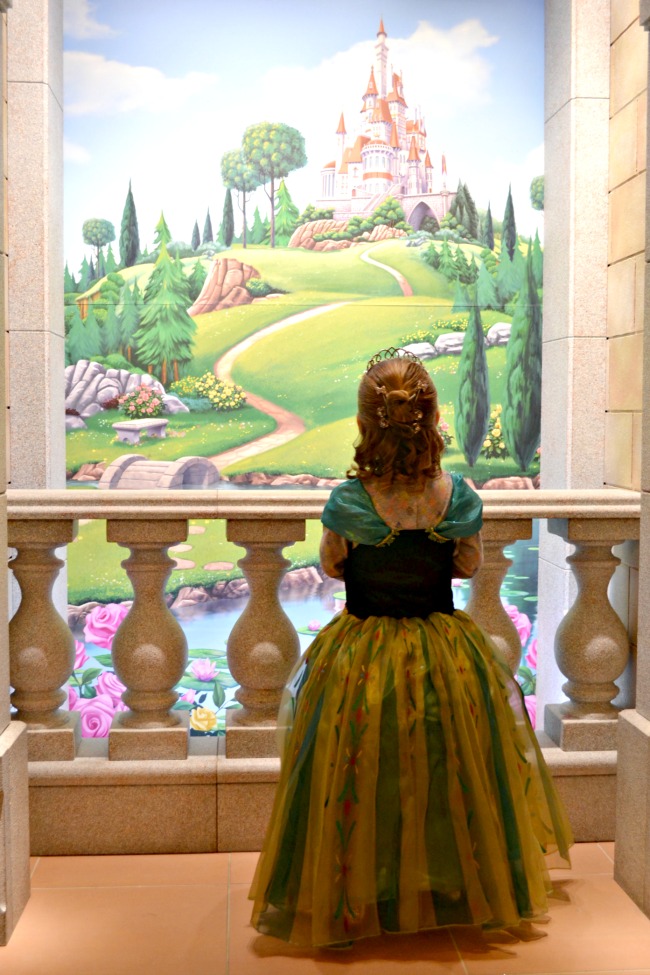 This conversation has happened at least four times in the last year….
Me: "I could just buy everything in the Disney Store. There's something so magical about going in there."
Other mum: "Me too! And have you seen there's a boutique in Harrods where they turn little girls into Disney Princesses?"
Me: "YES! The Bibbidi Bobbidi Boutique. It looks AMAZING. But have you seen how much it costs?"
Other mum: "Yes…. do you think it's worth the money?"
This, dear readers, is a question I have pondered lots recently. Is it sheer INSANITY to pay between £100 and £1000 for an hour of fun or is it impossible to put a price on ACTUAL MAGIC?
In case you haven't heard of it (where have you been etc) the Bibbidi Bobbidi Boutique transforms little people into a Disney princess (or a knight if you prefer) with a hairstyle, nail polish, face paint and a brand new princess outfit. The transformation is done by a Fairy Godmother In Training and you leave with a regal sash and a large photo of your little one, sitting on a large throne (plus other stuff like princess make up, shoes and toys if you choose a more expensive package).
I took my four year old along to try out the Bibbidi Bobbidi Boutique in order to find out if it's worth the money (the things I do for you guys….) and here's what happened.
When you arrive at the Bibbidi Bobbidi Boutique reception on the fourth floor of Harrods,  the staff greet you with the warmth and humour you would expect from a Disney experience – one lady knelt down to the four-year-old's level and called her a princess, which got big smiles from all of us. She was given a lanyard with her name on it and an electronic tag which we were told would buzz when they were ready for us. "It's magic!" said the lady and the four-year-old totally believed her. Five minutes (and a lot of "When will it buzz?" questions) later, it buzzed and we headed back.
There, we met our Fairy Godmother In Training, Heather. She was just BRILLIANT, kneeling down to chat to the four-year-old, calling her Princess and asking her if she was ready for her magical transformation. She led us through some doors and we were faced with a magical mirror. The four-year-old had to say a magic word to make the Fairy Godmother appear in the mirror and then again to make the doors open into the Boutique. All the time, the Fairy Godmother In Training was fantastic at chatting to the four-year-old, and making her really believe that actual magic was taking place and that she was making it all happen with her magic words!
Inside the Boutique, there were lots of little girls being transformed and we were shown to our area – there's a lovely sofa area opposite each salon chair, for family members to sit in, so we plonked ourselves down to watch…
After choosing a hairstyle from a book (she went for the half updo with curls) and a face paint design from another book (she went for classic roses) it was time to put on the princess gown. Our Fairy Godmother In Training led us to a changing room, but when she opened the door, it was empty. Sad faces all around. But after a quick magic spell by the four-year-old, when we looked again, a beautiful dress and pair of shoes had appeared!
We had the Frozen themed Coronation experience – priced at £300 –  so the outfit was Anna's beautiful Coronation dress and a gorgeous pair of gold sparkly shoes. The other options for a Frozen experience are Snow Queen (where they are transformed into Elsa – cost £300), Adventurer (where they are transformed into Anna in the winter outfit she buys from Wandering Oaken's Trading Post and Sauna – cost £300) or The Collection (where you can choose between the three and can take all three home – cost £750).
The non-Frozen options are: Knight (they get a Knight t-shirt and sword – cost £50), Courtyard (they get a princess t-shirt and tutu skirt – cost £100), Crown (they can choose between six deluxe princess dresses – cost £200), Castle (same as Crown but they get the princess t-shirt, toys and a princess suitcase too – cost £500) or the mother of all princess packages, Royal (they get to choose between three exclusively designed ball gowns, the t-shirt, toys, the suitcase, a crystal Cinderella slipper and a photo album from the day – cost £1000).
But anyway, back to our day…. we popped the dress and shoes on her (the shoes were a bit small but our Fairy Godmother In Training was very quick to get us a larger size) and she sat back in her salon chair, ready to be transformed. As the Fairy Godmother In Training painted her nails (alternate pink and purple, since you asked) and curled her hair and painted roses on her face, she chatted away, asking about the four-year-old's favourite princess and singing Frozen songs.
She asked the four-year-old about pre-school and who her friends were. Other Fairy Godmothers In Training came by, and cooed over the four-year-old's sparkly shoes and joked around, asking if she was getting a princess beard and moustache painted on. Every moment she was in that chair, the four-year-old felt special.
Once the sparkly tiara was in place, then came the big reveal – the Fairy Godmother In Training span her around to face the mirror, and the four-year-old actually gasped and laughed as she saw a real princess looking back at her. After a few photos by the balcony and Christmas tree, she went to her royal coach and then her throne for a few more photos (you get to keep the photo on the throne and can buy lots of others).
Upon leaving, we were given a bag of goodies – an Olaf soft toy, Anna and Elsa dolls, a small make up bag, a scroll and a large photo. But the best thing we left with was a huge smile on each of our faces.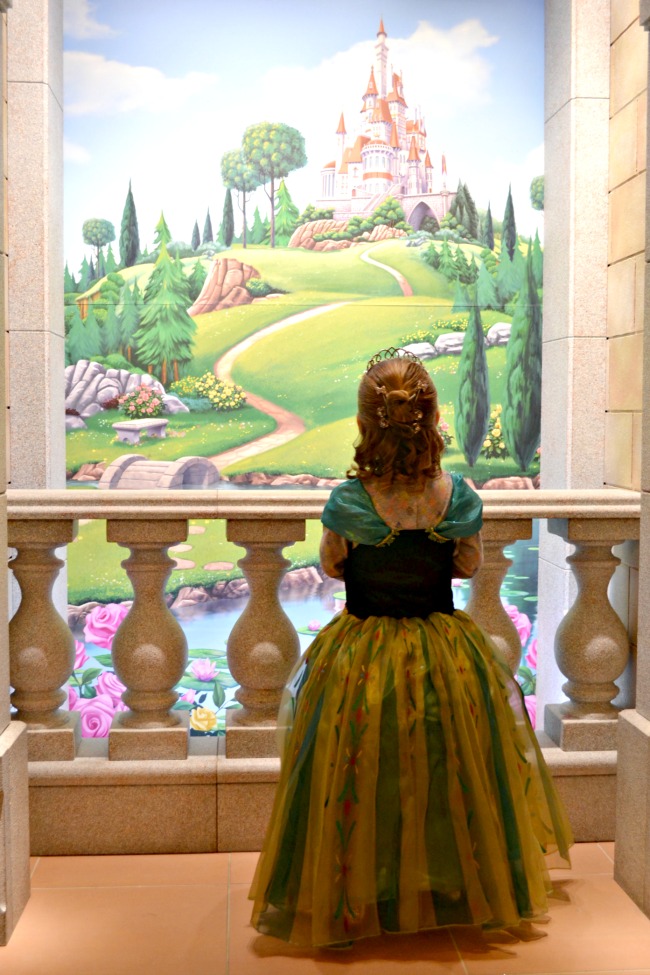 So was Bibbidi Bobbidi Boutique worth the money? It's SUCH a tricky one, because £300 for just over an hour's experience is a lot. But… it was so utterly magical and special. The four-year-old hasn't stopped talking about it, and it was so lovely to watch her completely enthralled by the magic of it all. She really did believe that she was casting magic spells and making things happen.
So my verdict is this… if you have a princess obsessed child, then get a few relatives to club together to pay for this. It's a lot of money but it is something a child will remember for a long time. Making a day of it will elongate the experience – spend some time wandering around Harrods, eat at the Disney café (also on the fourth floor – their Mickey shaped pizza is fab) and even head over to Hyde Park for a run around.
So for a birthday or special occasion, I say… yes, Bibbidi Bobbidi Boutique is worth the money.
Find out more and book over on the Harrods website.