If someone were to ask me what makes the perfect family holiday in the UK, I'd say somewhere chic, cosy and picturesque with loads of things to do for kids. Somewhere that makes you lose all sense of time and makes you forget that there's anything going on in the world outside of where you are. We recently spent a week at Clydey Cottages in Pembrokeshire – a place that is just magical for kids. Owners Jacqui and Dewi have genuinely thought of everything when it comes to keeping kids happy but have added special touches for the grown ups too. They have three kids themselves, so they're pretty much experts on what makes families tick. Here's our review – in the form of a diary from our stay…
Friday
After a long journey (8 hours – eek! Thank you to the closed A48 and subsequent diversion!) we arrive at Clydey Cottages a little weary and shell shocked. We're greeted by a friendly face in the form of Jacqui. She directs us to the car park and meets us there, before escorting us to The Farmhouse. "This must be Grace!" she says, getting a smile from our three-year-old (who, ten minutes earlier, had been having a small tantrum in her car seat).
Jacqui gives us a quick tour of the Farmhouse. "You must be exhausted so I'll show you around, then leave you to settle in and we can catch up tomorrow," she says – this lady knows how to treat weary travellers!
The Farmhouse blows us away. Large rustic kitchen, massive living room with log burning stove, a games room that leads out to a private garden with hot tub (yes, really…) four bedrooms, an ensuite, a shower room and a family bathroom with a big posh bath in it. Oh my.
Jacqui leaves us to it, we put Grace to bed, and then tuck into some of the very generous welcome hamper – biscuits, Welsh cheese and some red wine that we brought with us. I find a guest book and leaf through it. I spot a comment from the Kay family, written a few months earlier. Yes, apparently Vernon Kay, Tess Daly and their kids stayed in the Farmhouse back in the summer. Well, if it's good enough for them…
Saturday
Following a disrupted sleep (Grace decided she wasn't keen on sleeping in her room….ugh) we wake up and enjoy a lazy morning with breakfast around the large kitchen table before heading to the indoor swimming pool, on site. Walking into the pool area is like walking into a sauna – which is great for young kids who hate being chilly when swimming.  We swim and splash and jump in – completely alone so it's like a private swimming session. What a treat. There's a hot tub, sauna, loads of pool toys to play with and some baby essentials too like a playpen and a change table/mat. When we've had enough, we shower (loads of towels available to use) and head back to the Farmhouse for lunch. We stop off at Clydey Cottages reception where a few basics are available to buy (fresh croissants, milk, eggs, wine etc) and pick up some paracetamol for Mr P.
After lunch we make some posters to welcome our friends, Katie, Martin, Mia and Yasmin who are arriving from Kent that afternoon. Covering the kitchen table with newspaper, we get busy with poster paint and brushes.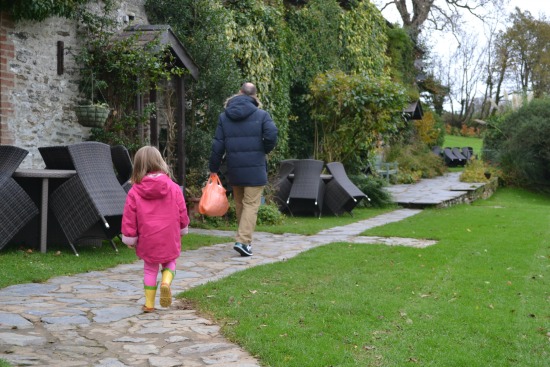 Posters dry and taped to the front door, our friends arrive after a long drive and we light the log burning stove in the living room. Kindling and logs are supplied – you just need the skill to keep the fire burning! This became a bit of a challenge during our stay with various theories and kindling-stacking patterns tried out each day.
The kids' tea time shows how perfect the kitchen is for a large group – we cook different things for the three girls and there's enough room for everyone to be cooking, microwaving, feeding and chatting without us feeling like we're tripping over each other. Better still, there are lots of brightly coloured plastic kids plates, bowls and cutlery in the cupboards. Next, it's bath time. All three kids go into the large roll top bath together and they love the nonsense – the heated flooring in the bathroom keeps them cosy as they sit, wrapped up in towels, brushing their teeth.
Once the kids are all in bed, it's time to cook some pasta for ourselves and open that bottle of Prosecco from the welcome hamper in front of the fire. And relax…
Sunday
Up and ready early, we leave the Farmhouse at 9.30am in time to feed the animals (something that happens every morning at 9.30am here.) As we assemble outside the front door to double check we're all there, Farmer Malcolm (the resident farmer) walks past. "Hello! Grace and Mia? Are you coming to help me feed the animals?" He glances at the sleeping baby in the buggy "And that must be Yasmin?" I'm impressed. Farmer Malcolm knows the names of the kids before he's even met us. It makes the kids feel really happy and comfortable as we all head down to the farm animals.
Clydey Cottages have a lovely farm area with donkeys, pigs, goats, guinea pigs, rabbits, hens, sheep and Shetland ponies. Feeding them takes around 90 minutes, with Farmer Malcolm taking the kids (and parents) around each set of animals. He loads up plastic forks with food (carrots, apple or cheese usually) and hands the forks to the kids to offer to the animals. He's brilliant at making sure everyone has a turn and he somehow remembers everyone's name.  When it comes to the hens, the children get to collect their eggs as well as feeding them. Farmer Malcolm is very good at allowing each child to pick up an egg, telling them to be very careful as they place it in his basket.
Animals fed, we wash our hands (plenty of signs around reminding us) and bundle the kids in the car. We head off to find a local pub, recommended by Jacqui and Dewi. 10 minutes later, we arrive at The Nag's Head where we have roast lamb and play in their fantastic outdoor play area.
The kids are so tired when we get back to the Farmhouse, they all have a nap, and us grown ups have a well earned cup of tea and slice of cake. The rest of the day is spent playing dominoes by the fire and watching DVDs.
Monday
After feeding the animals with Farmer Malcolm, we head to the outdoor play area – there are swings, slides, a house and a climbing frame for the kids to explore. Mia and Yasmin try out the new trampoline while Grace heads to the area with Little Tykes cars, ride-on tractors and bikes.  It's amazing that there are so many different things to keep them occupied.
It starts to rain so we grab our swimming gear and head into the swimming pool. A few other families join us – people we recognise from the animal feeding. The kids play together and it's lovely to be somewhere that everyone is so friendly.
After swimming, we check out the games room. Despite it being aimed at older kids, our little ones (3,3 and 1) all have fun. The older girls play air hockey and Yasmin plays on a large foam hopscotch mat. The games room also has a large selcection of DVDs to borrow – I have a good look through the titles and see everything from The Notebook (yessss! Gosling ) to In The Night Garden. We borrow The Gruffalo and Happy Feet to watch later with the girls.
We have lunch then head out in the car to the nearby Tesco in Cardigan, where we pick up a few supplies. It takes 25 minutes to drive there, through winding lanes and country roads. In Kent, driving 25 minutes to the nearest supermarket is unheard of, but we really don't mind it, as it adds to the feeling of being cut off from the real world. The girls all snooze the whole way there and back – this country air is tiring them out.
Later on, back at our Farmhouse, I discover Mr P, Martin and the girls in the conservatory/games room, playing on the Wii. The boys are definitely enjoying it more than the little ones – we soon discover that it's actually pretty hard for a 3 year old to grasp how to use a Wii. The girls spot some board games and spend the next half hour playing Operation before we cook sausages and mash for everyone's tea.
Tuesday
"What shall we do today, girls?" I ask at breakfast. "Feed the animals!" they say. This is becoming a morning ritual – even in the rain. We bundle ourselves up in waterproof gear and head out to meet Farmer Malcolm.
Afterwards we get out of the rain and check out the on-site indoor play room. We actually gasp when we walk in – it's huge. And brilliant. At the front, there are comfy sofas for the grown ups to sit on, there are glossy magazines to read and free hot drinks. There are two large soft play structures – one with a climbing frame and slide, the other with hundreds of balls, a tunnel and punch bags to swing and hit. Through the back of the room are a large number of toys – ride on cars, dolls' house, blackboard and chalk, construction toys, a dressing up box, a tea set – pretty much everything you could think of. I sit reading Sunday Times Style magazine, feet curled underneath me on the sofa, while the kids play. Mr P points out a large TV with Sky Sports on it – perfect for the footie-loving dads. The attention to detail here is second to none.
I realise that I've left my phone back at the Farmhouse – usually I'd never go anywhere without my phone, but here, I'm so out of the habit of using it (there is zero mobile phone reception) that I don't even think about taking it with me. There is free wifi at Clydey – handy for planning day trips and checking maps – but we don't use it much.
Wednesday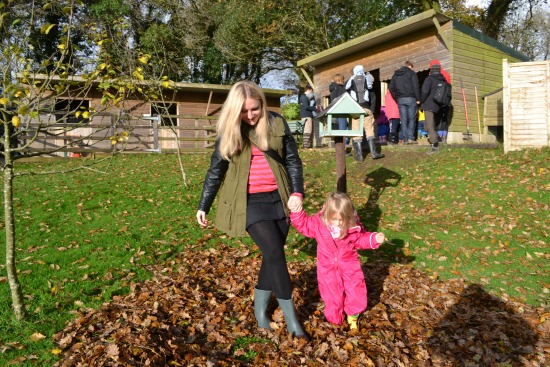 We start the day by feeding the animals (yes, I can tell, you're surprised) and then head out for the day to a soft play centre in Cardigan. First choice was the nearby Folly Farm but we discover it's only open at the weekends in the winter. The girls run around, tiring themselves out, and we have lunch before heading back to the Farmhouse to watch DVDs and snuggle on the sofa. Later, we go swimming again and I raid the on-site freezers and pick up some healthy meals for the girls' tea. Clydey Cottages have a selection of Cook frozen meals, frozen fresh bread and organic ice cream in freezers – guests simply help themselves and write down what they've taken so that the bill can be settled at the end of their stay. Such a brilliant idea when you have families staying who might want something quick to cook for dinner. The freezers are situated in the laundry room, where there's a bunch of equipment for guests to borrow – I spot wellies, umbrellas and baby carriers. I have another "Wow, they've thought of everything" moment. That afternoon, I see Jacqui and she asks me where we've gone during our stay so far. I find myself struggling to remember. I know we've left the site a few times, but I realise we've spent most of our time there at Clydey Cottages. "People often come and don't leave Clydey Cottages at all during their stay," she smiles. What a treat to be somewhere that has so much to offer. Interestingly, this also means that we have hardly spent any money while we're here. Staying here isn't cheap (a week in the Farmhouse in November is £1500) but once here, you spend next to nothing. So considering you can fit 2 or 3 families in the farmhouse, it works out around the same as a week at Centerparcs.
Thursday
It's dry and sunny today, so we take the opportunity to visit the coast. We set off with only a vague idea of where we're going and end up in beautiful coastal village, New Quay. We brave the wind, building a quick sandcastle, before retreating to a cafe to have fish and chips. The friendly staff tell us they can often see dolphins from the window, and the girls spend some time watching for them.
Another drive along the coast and we come to a pretty cove – by now, the children are all asleep so we jump out of the cars to take a few photos and then head back to Clydey Cottages where the girls play in the indoor playroom again. Before the kids' tea, we brave using our private hot tub for the first time – it's freezing outside but we get our swimming gear on and get into the warm bubbling water. It feels amazing. The girls love it too (although baby Yasmin can't get in, because she's still in nappies).
It's our final night at Clydey – we consider cooking a big meal but then realise we have so much amazing food in the fridge-freezer, we create a little 'leftovers' picnic of garlic bread, cheese and crackers, crisps, houmous and crudités and wash it all down with some wine. We reflect on our week and decide we could do with another 3 nights here. We haven't even had time to take advantage of their on-site spa treatments! A week just isn't enough.
Friday
Our bags are all packed and while the dads take the kids to feed the animals one last time, I load up the car and check out at the Clydey reception office. I join the others as they're feeding the hens and we say one last goodbye to the animals before we head onto the road. Jacqui reminds us that we are welcome to stay around all day and use the facilities, but with a long drive ahead of us, we decide to get going.
Back home, friends ask us how our holiday was. "What did you do?" they ask. "Um, well not much!" I reply, and I realise how perfect that is. Clydey Cottages is somewhere you can go and do loads but not much, all at once. It's a truly special place for families.
• Our week-long stay at Clydey Cottages was arranged for the purpose of this review. A huge thank you to Dewi and Jacqui from Clydey Cottages for making us feel so welcome.