Five years ago, this very month, I celebrated my 30th birthday in Las Vegas then headed to Los Angeles for a few nights. In Vegas, we stayed at The Mirage, ate the best steak, went to see Penn & Teller's show on the Strip and shopped in Barney's. In LA we stayed at the Chateau Marmont, drank martinis, shopped at The Grove and ate at The Ivy. It was a dream holiday and I'd love to go back one day. Of course, Las Vegas and LA with kids is a very different kind of holiday to going as a couple.
3 Things We Did In Vegas As A Couple…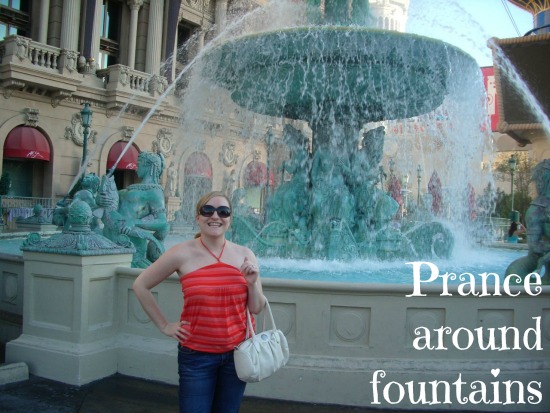 3 Things We'd Do In Las Vegas As A Family…
Watch the volcano erupt at The Mirage Hotel – OK OK, so we did this loads when we visited Las Vegas as a couple, but it's even more fun for kids. Between 6pm and 11pm every night, this theatrical spectacle kicks off with rumbling and flames, lights and music. Seriously cool.
Walk through the Shark Reef Aquarium at Mandalay Bay Hotel – there are 1200 species in this aquarium and the tunnel you can walk through with all of them surrounding you is breathtaking. Perfect for kids who like sharks or other sea life (and how many kids don't?)
Go on Happy Feet: Mumble's Wild Ride 4D at the Adventure Dome, Circus Circus – this 4D cinematic ride sees the Happy Feet characters come to life. There are also carousels, rollercoasters and plenty of other rides to keep the whole family happy.
3 Things We Did In Los Angeles As a Couple…
Three Things We'd Do As A Family In LA…
Disneyland – When we visited Disneyland as a couple, we got a cheap ticket that allowed us in after 4pm. As a family, we'd do it properly – arriving when the gates open, booking a character breakfast in one of the restaurants, planning the best route around the main rides and attractions. I love Disney theme parks so this would be top of my to do list.
Go on the Ferris Wheel on Santa Monica Pier – I love Santa Monica. It has a real community feel and it's just so lovely to walk through as you head to the beach.
Visit American Girl Place at The Grove – I've never set foot inside one of these uber stores, so they may well be hell on earth but the concept is cute… you can buy dolls (including one wearing PJs that match your child's) and have lunch with your dolls and (er…) have your doll's hair styled in a salon. Could be kinda fun?
This post was written in association with Travelbag. And it's got me seriously hankering after a holiday in the US.