It can be really tough to think of gift ideas for kids in the family or your friends' children – especially if you don't have kids yourself. Since becoming a mum, I've learned about so many new brands and websites selling stuff for children, and I've learned what makes kids of different ages tick.
One newly-married friend of mine has been begging me to write a series of posts on presents to buy kids of different ages (she readily admits that she bought ten Gingerbread blankets from Mamas and Papas ready to give to various friends after reading this post of mine). So here's the first in a series… 10 presents that a one-year-old will love. Read it and avoid being that person who buys a one-year-old a skateboard. Nobody wants to be that person, right?
1 & 2. Every self-respecting one year old needs some melamine dinnerware to eat spaghetti hoops (or quinoa, if you're that way inclined) from and bash on their table, making a big old mess for Mum to clean up. This Design Letters Melamine Cutlery Set is £23 from Scout And Co Kids and the Design Letters melamine bowl is £9 from Scout And Co Kids.
3. When you're learning to walk (or even if you're still crawling, or in the case of my daughter, bum-shuffling), pull-along toys are ace fun. I love the range from Djeco. This Djeco Scouic Pull Along Toy is £13.99 from Cissy Wears.
4. Speaking of Cissy Wears, while I was visiting the store recently, I spotted a range of books for babies that are inspired by classic novels. The most outrageously middle class thing ever, yes? And genius. This Little Master: Shakespeare Romeo & Juliet book is £5.99.
5. I've just bought this fox romper suit for a friend's baby. The stripes are unisex and woodland prints are everywhere right now. Sense Organics fox romper, £18.00.
6. Tights for boys! These totally rock – why should girls be the only ones who get to wear comfy warm tights? Buy these Little Titan Superhero Tights for £15.99 from The Pippa And Ike Show and make a one-year-old boy you know very happy.
7. One-year-olds need a stylish bedroom too, and these Ferm Living Little Dorm Shelving units, £60, from Scout And Co Kids, will keep lots of small toys and books neat and tidy. And look how pretty it is!
8. Stacking boxes are a sure-fire winner for a nearly-walking or just-walking tot. They can build them, knock them over, build them, knock them over – you get the picture. These ones have brilliant designs that create an extra puzzle for the child as they get older – they have to put them in the right order to create the character. Djeco Totem Cubes, £17.50, from Eeny Meeny Kids.
9. This clever wooden rocking horse has a back support which you can use when your tot is small and then remove as they grow. Tell me this won't look amazing in a playroom. I dare you. Janod Caramel Rocking Horse, £110, from Little Citizen's Boutique.
10. You can buy these gorgeous battery operated night lights from lots of places. They add a warm glow to a child's nursery and they're not too pricey. Rabbit Night Light £6.50 from Cox & Cox.
WIN! WIN! WIN!
But wait! There's more! The lovely people at Scout and Co Kids have given me a Ferm Living Little Dorm Shelving unit worth £60 to give away to one lucky winner. HOW amazing? Scout and Co Kids are a fairly new brand run by some seriously cool mamas. Stocking design-led products for babies and children, I pretty much want everything on the website.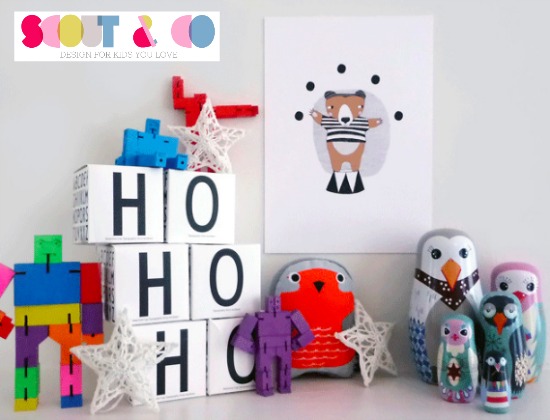 Enter below using the Rafflecopter entry box….
a Rafflecopter giveaway