There aren't many hotels that I've stayed in for one night and wished that I could stay for a whole week. But that's exactly how I felt as we left Woolley Grange in Wiltshire a few weeks ago. We had spent just 20 hours there, and I could easily have stayed for days.
In a nutshell, Woolley Grange is all low ceilings, wooden beams and log fires. There's a friendly warmth as you walk into the reception area and in the lounge, elderly couples having afternoon tea mix well with toddlers stomping through in wellies, carrying sticks and other treasures they've discovered outside.
We stayed in the John Baskerville room, which is on the first floor and is split level – you walk into a living area (with single camp bed for the four-year-old) and go upstairs to a bedroom and large bathroom. It was ideal, as the little one enjoyed having her 'own room' and it meant we could have our own space too. In our bedroom, the four-year-old found a small chair in the corner, and declared it 'her chair' before promptly plonking herself on it with the iPad to watch CBeebies.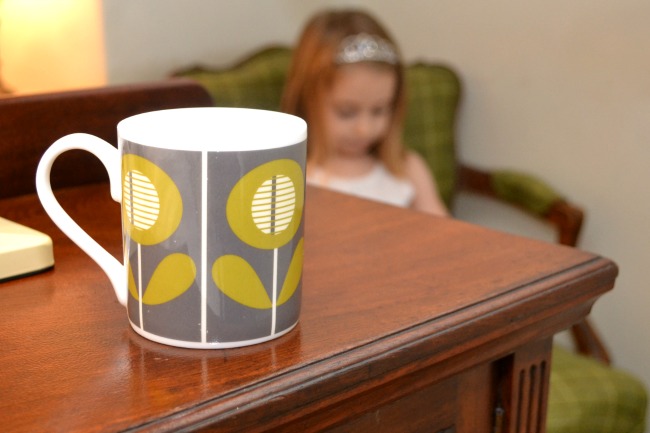 As soon as we arrived, we realised we'd left the four-year-old's suitcase at home (OOPS) but the reception staff were really helpful in directing me to a nearby Sainsbury's where I could buy her some clothes, PJs and toothbrush. While I drove there (through Bradford Upon Avon which is TOTALLY BEAUTIFUL by the way, especially in the purple twilight) Mr P took the four-year-old swimming.
The hotel has a listening service, but we decided to all dine together at 6pm and were shown to a table in a cosy little room off the main restaurant where there are four other families eating too. It sounds odd, but we've only recently 'discovered' eating dinner as a family. We were so used to giving the little one an early tea and then cooking for ourselves while she's in bed, that it didn't occur to us to eat together until recently. Now, we make a point of eating dinner together every day she's not at pre-school, and we wanted it to be the same on holiday.
The food was fab – the four-year-old was brought humous with carrot and cucumber sticks while we ate our starters and then I had a gorgeous burger while she dined on beans on toast (special request for beans to be in a separate dish: adhered to). The four-year-old enjoyed watching the other families and children eat, and when she heard a nearby little girl ask for ice cream, her eyes lit up. She sweet talked the waiter into bringing her two scoops with chocolate sauce and sprinkles and we finished our wine while she ate it.
After dinner, it was well past the little one's bed time but all we had to do was wander upstairs to our room, brush her teeth, tuck her in, and she went off to sleep. Meanwhile, we opened a bottle of red and put Sons Of Anarchy on Netflix, upstairs in our room. Pretty prefect, no?
The next morning, after an early start *cough 5.30am* from the four-year-old, we had an epic breakfast – which always makes up for an early rise, doesn't it? I had poached eggs on muffins and the little one had Coco Pops (always her 'holiday breakfast' treat) before sitting on Daddy's lap and tickling him, to make him laugh.
After brekkie, we spent half an hour wandering around the vegetable garden and kids' play area. Chickens strutted around, ducks waddled and the four-year-old ran amongst them with a big smile on her face. The two play houses in the garden were being occupied by hens but were decked out with tables and chairs for little ones to play with. Even on a cold November morning, it was a fantastic place to hang out in. There's even a proper old tractor for kids to sit on and pretend to drive.
We were really sad to leave Woolley Grange after just one night – if I'd stayed longer, I'd have hung out in the lounge area by the crackling fire, with a hot chocolate. I'd have taken the four-year-old to watch a movie in the cinema room. I'd have had a treatment in the gorgeous spa (shoulder back and neck massage, please). But that's OK, we'll be back!
• A night at Woolley Grange starts from £180 for a family room. Book at woolleygrangehotel.co.uk. Huge heartfelt thanks to Woolley Grange for inviting us to stay for the night. We loved it!