Why is Abbie Pethullis my next mum in The Twelve Mums Of Christmas? Because, in a nutshell, she's one stylish mama. Having known magazine writer Abbie pre-baby, during her pregnancy and now as mum to 17-month-old Buddy, there's no one better to share some of her styling wisdom with other mums….
Describe your pre-baby look, Abbie…
"Pre-baby I was ALL about the heels. I wore heels every day. With denim shorts and tights, little dresses and tights. Skinny jeans and heels were my day-to-night uniform. I'd always dress casually and dress my look up with my beloved heels. I was a devoted Topshop, Zara, Whistles and ASOS groupie."
Did you give up the heels when you were pregnant?
"As soon as I found out I was pregnant, reluctant to give up the heels just yet, I invested in some (very comfy) chunky wedge heeled ankle boots from ASOS which I wore so I didn't feel frumpy. My midwife wasn't impressed when I turned up wearing them to an appointment (or when I dared to mention Victoria Beckham wore heels when she was pregnant) and I have to admit even I was defeated by them by my second trimester."
 Describe your pregnancy look…
"My pregnancy look was Topshop leggings with a long t-shirt or an M&S long vest with a Whistles scarf and statement jewellery. My husband Jodie bought me a YSL statement ring for my birthday and it's the one thing that made me feel a bit glam every day. I was pregnant in summer so I spent a lot of time in a black stretchy ASOS maternity dress, Sam Edelman leopard print flats and a long, fringed Topshop kaftan or a little vintage kimono jacket I bought for a fiver on Camden market."
Did you shop from maternity ranges or just stick to regular clothes?
"I was adamant I didn't want to wear anything pregnant that I wouldn't wear if I wasn't, so I stuck to Topshop, Zara and ASOS. I bought denim shorts from Topshop maternity and I did treat myself to a pair of J Brand maternity jeans but I didn't wear them half as much as my Topshop leggings – they just never felt very comfy, despite the stretchy waist band. Sometimes I think it might have been easier if I did just buy a few key items from proper maternity ranges because I spent a lot of time trying to make non-maternity clothes work, which only made me feel rubbish about myself."
Were there any brands you WISHED did a maternity range?
"Whistles! It's my go-to shop if I have a party or something big to go to, but sadly, I had to make do with their accessory line until I'd had my baby. But actually looking back it's probably a good thing. I'd have only spent a fortune on clothes I thought I needed and really you're only in your maternity clothes for such a short time, you only need a few tops and bottoms."
What's your top pregnancy style tip?
"I found a few looks that worked and felt comfortable and wore them pretty much every day, it's definitely not about variety when you're preggers. Just find something that works and then add a different scarf, necklace or sandals and hope no one's noticed you're wearing those damn leggings AGAIN." 
Describe your mum look. What did you wear in those early days when Buddy was a newborn?

"A week after I gave birth, in a moment of sleep-deprived madness, I ordered a pair of high-heeled leopard print ankle boots from Topshop online, in a bid to stay true to the old me. I thought I'd use my pushchair as some sort of high-heeled support system and that I'd totally be wearing them to all my baby groups. Yeah, it didn't take long for them to get relegated to the back of my wardrobe with my honeymoon bikinis. I also bought a bright red cashmere jumper from Whistles, thinking it'd be great thing for a breastfeeding mum to wear. Of course I was wrong. It was impractical, I was permanently hot and what kind of idiot buys something that's dry clean only when dealing with a newborn? Er, me, online shopping with one hand and expressing with the other. Massive fail."
So, have you adapted your 'old' look to be more baby-friendly now?

"Yes, now I wear trainers every single day. Instead of skinny jeans and heels I wear my trusty high top black leather Converse or my Nike Blazers. I've found it really liberating and I love it that Buddy and I can leave the house and go on an adventure all day and my feet don't hurt. It's such a novelty for a reformed heel addict."
Do you still feel like the old Abbie?
"Even though I've had a baby, I still feel like the same me, and although I've happily ditched the heels, I still like the same clothes and wear my pre-mum clothes. There was a moment the other day when I was crawling round a soft play in some leather shorts and tights that I felt a bit wrong, but in my defence, leather's wipe clean and you don't need to iron it. I say more mums should embrace leather!"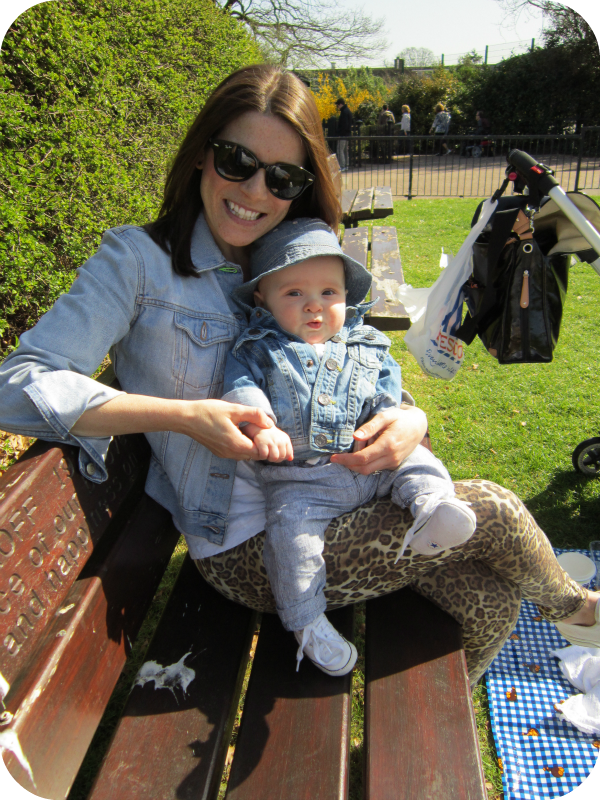 What's been your biggest splurge since becoming a mum?
"Before my maternity money ran out, I treated myself to a very guilty purchase. I saw a mac in the window of The Kooples, couldn't afford it and then obsessed about it for weeks. It went in the sale and I obsessed some more. In the end I rang the store and they told me they only had one left in the country in my size, at the other side of London. So I got on the train with Buddy and bought it on my credit card. I felt so bad. But I wear it every day and it makes me feel smart and still a bit cool when I'm humming the theme tune to Waybuloo to myself. My mum uniform's a stripy T-shirt, skinny jeans, my dream mac and my trainers. The last thing on mums' minds is what they're wearing and knowing I have my fail safe uniform means I can get up, get out and not feel crap all day, in five minutes flat. After I've spend 45 minutes trying to change, clean and dress my son that is."
What's your favourite family Christmas tradition?
"I am so excited for Christmas with Buddy this year and already I've started doing things with him that I did with my mum and dad, I'm so nostalgic about old family traditions, everything has to be just the way it was for me when I was growing up. He'll have an 'end of the bed' present which he can open before we go down stairs to see if 'he's been', but only after breakfast. Then we'll open pressies while watching Elf (it's the law, he is called Buddy) before having Christmas dinner with all my family. There's going to be over 20 of us so luckily Buddy's not phased by a lot of very noisy people! Then we'll collapse in front of the TV and play with all our new toys, or the boxes probably!"