Regular readers will know of my obsession with avocado – I love the stuff. On toast, sliced, mashed, with eggs, with bacon, with feta cheese… there are so many ways to enjoy the avocado, but there was one way that I hadn't tried, until now. Yes, in a smoothie!
I'd seen lots of smoothie recipes that involved avocado, and I'd read that it gives them a lovely creamy texture but I was suspicious. Could it really be added to a fruity smoothie, without it tasting – y'know – avocadoey? I've long been a fan of banana-based smoothies (my favourite one has banana, oats, almond butter, coconut water, chia seeds and spinach in it) but I knew, when Russell Hobbs asked me to try out their 3 in 1 Ultimate Juicer, it was time to have a go with avocado.
ZESTY AVOCADO AND APPLE SMOOTHIE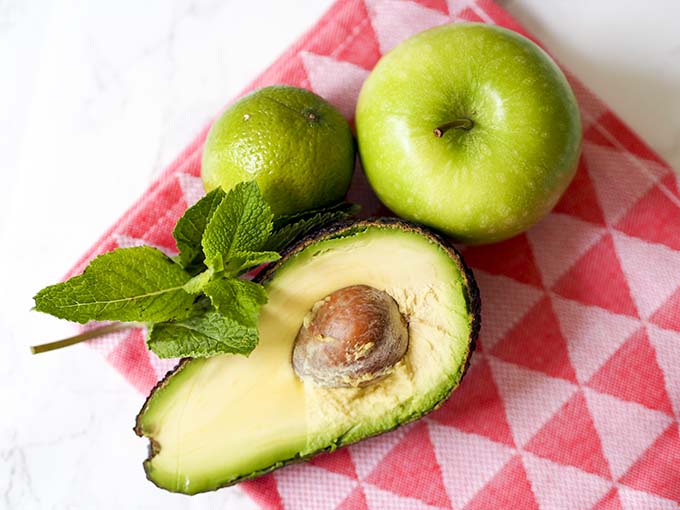 Ingredients:
1 Granny Smith apple
Handful of spinach
Half a large avocado
1 lime
2 sprigs of mint leaves
1 tsp of chia seeds
1/2 tsp of spirulina
225ml coconut water
Method:
Start by pressing the lime to extract the juice – the brilliant thing about the Russell Hobbs 3 in 1 Juicer is that it presses, juices and blends so you don't need lots of different kitchen gadgets (ideal if you don't have much kitchen space). I used the citrus press to juice the lime and then switched over to the juicer attachment, to juice the spinach leaves and the apple. The juicer separates the juice from the pulp and skin, and adds it direct to the same cup that has the freshly squeezed lime juice in it.
Next, I switched to the blender attachment – using the same cup that had my lime juice, apple juice and spinach juice in it, I added the avocado, mint leaves, chia seeds, spirulina and coconut water. A quick 45 seconds blend, and it was ready!
And guess what? I'm a total avocado smoothie convert! It tasted delicious – like REALLY good. It was fresh, zesty and moreish. Perfect for a healthy kick start on a summer morning, it has lots of immune system boosting vitamin C, the spirulina has lots of B vitamins, beta-carotene, vitamin E, manganese, zinc, copper, iron, selenium, essential fatty acids and antioxidants, while chia seeds are the highest plant based source of omega 3 fatty acids, as well as being great sources of iron, calcium, magnesium and zinc, all of which are essential to a healthy body as they regulate blood oxygenation, metabolism, skin and bone health, as well as keeping your skin clear and glowing! Both avocado and coconut water are rich in potassium which can help lower blood pressure – it's also GREAT to help a hangover, so this smoothie would be perfect for the morning after the night before!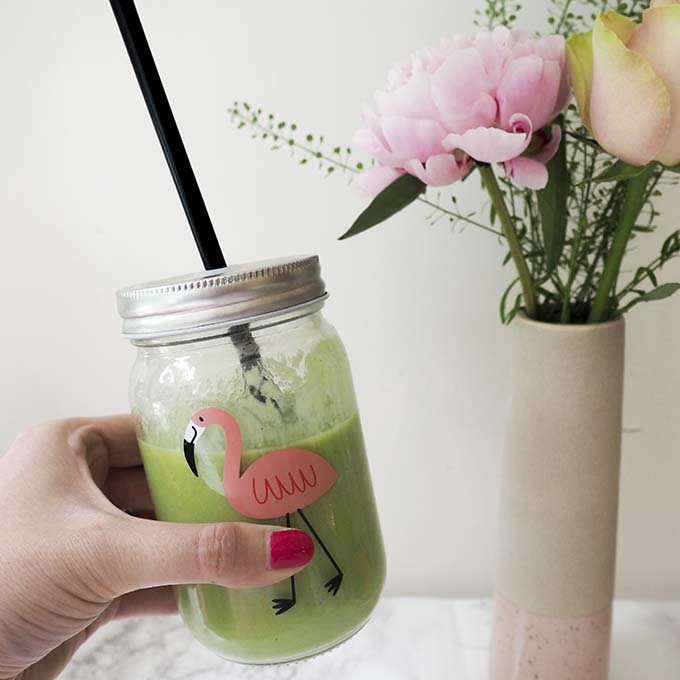 While I enjoyed my smoothie, I chucked lots of the 3 in 1 Juicer into the dishwasher – most of the elements are dishwasher safe, which is a huge plus point for me. I love how much easier it was to make this in the Russell Hobbs 3 in 1 Juicer than if I'd used my old blender – I would have had to squeeze the lime by hand, and wouldn't have been able to juice the apple and spinach in the same way. Cheers!
The Russell Hobbs 3 in 1 Juicer is £129.99 RRP, available from Argos and russellhobbs.co.uk. This post was commissioned by Russell Hobbs and as always, all views are my own. For details on how I work with brands, see my Work With Me page.