ADVERTORIAL
Family festivals are one of my favourite things to do in the summer… sitting on the grass with a Pimm's in hand, watching some live music or a kids' science show, wandering around and happening across a kids' story session in the forest, embracing our inner child and covering ourselves in glitter and facepaint – I mean, you can't beat it, right?
But we live in the UK, and as every Brit knows, we can't ever bank on the weather being good. We're well used to a BBQ turning into a kitchen gathering while a lone man with a golf umbrella cooks some meat outdoors. We've all planned a picnic in the park that's ended up being eaten under a large sheltered tree, or in a soft play centre. But us Brits also like to show how hardy we are! We don't need sunshine to have fun! We can grin and bear it!
So Camp Bestival 2017 was a slightly different experience to usual – instead of sunshine there was rain, instead of grassy fields, there was endless mud.
Despite the wind, rain and mud, we had a brilliant time at Camp Bestival – read about our weekend in more detail here – and while we took lots of waterproofs to keep us dry, we managed to get away with wearing some summery outfits as well as the more practical ones.
My favourite outfit of the weekend was the one I wore on Thursday, before the heavens opened!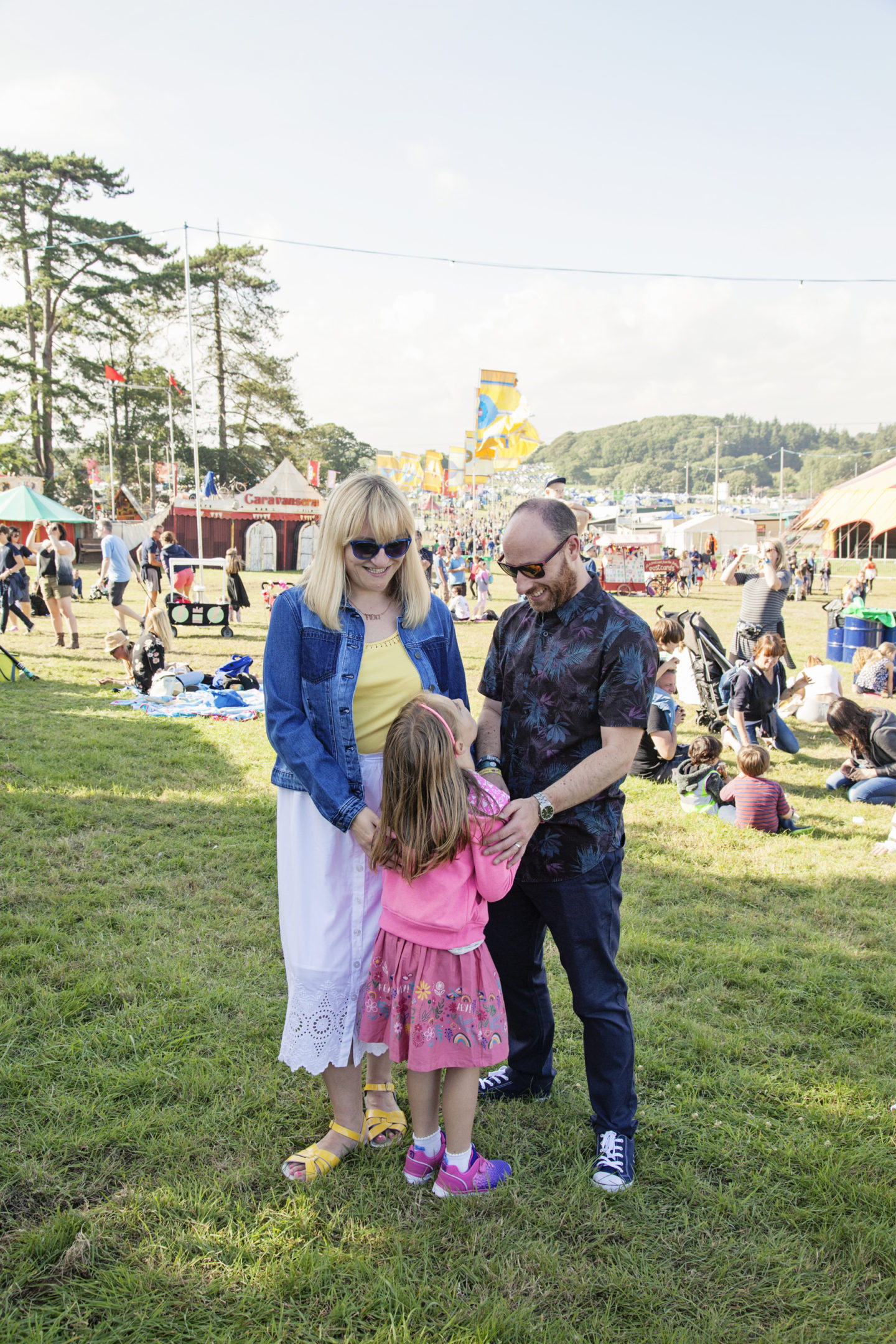 ME – Denim jacket, yellow vest (available here in black), white skirt all Tu Clothing
MR P – Blue chinos, Hawaiian shirt and trainers all Tu Clothing
THE 6 YEAR OLD – T-shirt, floral skirt, hooded top and trainers all Tu Clothing
It seems crazy to think that I was wearing sandals with this outfit – from Friday onwards, the whole festival was a mud bath!
Tu Clothing at Sainsbury's was a brilliant place to get everything we needed for Camp Bestival. Mr P loved his chinos (better than wearing jeans he said, as they dried more quickly after being rained on) and even though the shirt wasn't the kind of thing he'd usually wear, he says it's one of his new favourites.
The six-year-old is fairly easily pleased when it comes to clothing, but she was thrilled with her skirt and hoodie (which is exactly the same as her friend Mia's, she says) and the trainers were brilliant on day 1, before the mud came.
The brilliant Charlotte from Emily Gray Photography took the photos above for us, on our first day at Camp Bestival, but here are a few more snaps from the rest of the weekend, when it was all about wellies and waterproofs…
My Tu Clothing denim dungaree dress was perfect for the weather – it was still quite mild in temperature – and I wore it with a long-sleeved pink tee from a past season at Tu. These wellies were BRILLIANT, but totally by accident. I got them because I loved the stripes (if you can't rock a Breton welly when you're a mum, when can you?) but then discovered that they are really comfortable. You know how most wellies have no padding/shape to their sole and you're basically walking on a thin piece of rubber between your foot and the ground? Well these bad boys felt springy and slightly moulded to fit your feet, which meant that even after hours of wading through mud, my feet didn't hurt. Yay!
Skinny indigo jeans – Tu Clothing // Wellies – Tu Clothing
I loved this yellow vest top – the detail at the top is so pretty and it complimented my flower crown (which I've had for years).
This red gingham top is very cute and I even managed to wear these navy trainers while it was dry for a few hours.
Is there such a thing as too many stripes? I'm not sure there is so I wore a Breton tee with my Tu Clothing indigo jeans and wellies on this particularly soggy day.
We also took lots of pairs of shorts for the six-year-old, just in case the weather reports improved dramatically, but she didn't get the chance to wear them but this flamingo waterproof coat didn't leave her for most of the weekend, which you will have seen if you watched my Instagram Stories from the weekend.
If you want to see more from our weekend and see my Family Festival Dos and Don'ts, then check out the below video!
This post has been commissioned by Tu Clothing – for details of how I work with brands, see my Work With Me page.