I'm not a happy camper. What I mean is, I don't love sleeping in a tent. Growing up, I can think of two occasions when we went camping as a family and my memories are mainly of being in a tiny tent with my family, trying desperately not to touch the sides of the tent, for fear of the dampness from the rain outside coming into the tent. It was hot, stuffy and damp in there. Our bags were piled into the middle of the tent ("Don't let anything touch the tent sides!") and it was impossible to move around without bumping into something or someone.
Those camping trips were big group trips, with our church, and some friends had a caravan. Ah caravans… now you're talking. They were like mini houses, with tables and chairs, space to move around and yes – you could touch the sides all you like, none of that rain water was coming in. They even had awnings attached to them, giving you a little outdoor space to sit in. Caravans I could get on board with. I have a strong childhood memory of sitting playing cards in a friend's caravan, listening to the rain come down outside and it just felt so COSY.
So it's probably no surprise that as a grown up, family camping trips have been strictly off the agenda. And it's also no surprise that when we arrived at Trevella Park in Cornwall, on a grey drizzly July morning, to stay in a caravan, I had a big smile on my face.
While Mr P was obsessively checking his weather app to find out if the whole week would be a washout, I didn't care. It could have rained all week, and I'd have been happy.
As it turned out, we did see some sun. And we had a fantastic few days.
Trevella Park is split up into a few different sections – holiday homes (static caravans) in one field, lakeside lodges (which looked well posh) by the lake and then a couple of fields with safari tents, geodomes and space for you to pitch up your own tent or park your camper van or caravan.
Our static caravan looked out onto a children's play area and outdoor swimming pool, so as we sat on our decked balcony, drinking Pimm's the sound of kids' laughter and fun filled the air. Even after our little one had long gone to bed, kids would be on the swings and slide, running around – you could just tell they were being allowed to stay up past their bedtime and thrilled to be playing outside so late.
It reminded me of my own childhood holidays and actually, Trevella Park just feels like it's filled with those nostalgic moments. Families having BBQs outside their caravan or tent, saying hello to their neighbouring families, children making new friends in the pool, helping each other onto the zip wire in the adventure playground, munching sausage and chips in the café, playing pool in the games room. The four-year-old loved interacting with older kids (she was totally in awe of one 12-year-old who made sure she always got her turn on the zip wire) and was happy just watching them all muck around in the pool, at times. Mr P might have had a go too…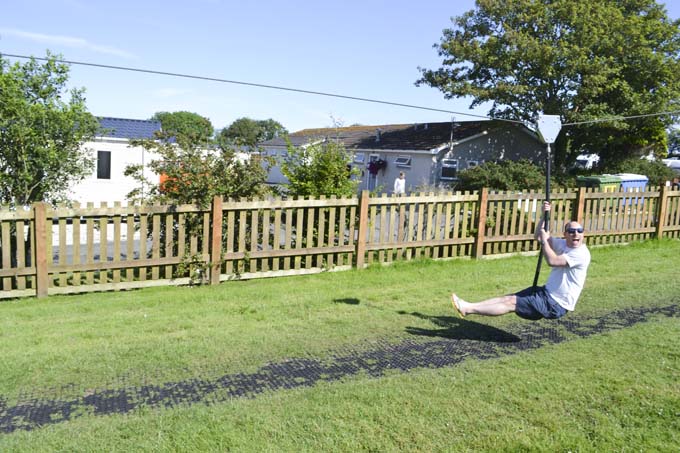 Our caravan felt like proper luxury – with two bedrooms, an ensuite, a shower room, and a large open plan kitchen and living room, it had patio doors which opened out onto the decked balcony plus a flatscreen TV, iPod docking station, everything a kitchen could need (bar the actual food), linen and towels. It's all done in that classic caravan shade of beige, and won't win any interior design awards any time soon, but there's actually something so safe and predictable about being surrounded by so much beige.
On-site at Trevella Park, there's a shop which stocks lots of basics – brilliantly it's very reasonably priced – and a café which is open for breakfast and dinner, serving things like bacon rolls, burgers and pizza. There's also a launderette and for any campers in tents, shower blocks and loos.
Having tea in the caff
As well as the play area outside our caravan and outdoor swimming pool, there's an adventure playground and crazy golf – which costs a bargainous £1 a game. The pool is heated and fenced in, with guests accessing it by typing a security code into a locked door. I loved this as it meant small children couldn't wander in, without their parents noticing.
Playing crazy golf
During our time at Trevella Park, the weirdest thing happened: It actually felt like time slowed down a little. We were there for four nights, but it felt like a week. We did things like visit the Eden Project (highly recommended – a great way for kids to 'see' the rainforest without the pricey airfare), spend the day at Dairyland (another top day out, especially on a wet day as they have a large indoor play centre with awesome vertical-drop slides) and hang out on Watergate Bay beach, watching surfers and building sandcastles. We used App For Cornwall to find nearby attractions, and brilliantly, it downloads maps and info to your phone so you can access info even if you can't pick up a phone signal.
The Eden Project
Larking around on Watergate Bay
Chilling out in Watergate Bay hotel
Our days tended to begin and end with a play in the adventure playground at Trevella Park, or a splash in the outdoor pool, or both. Having them on our campsite meant the fun didn't have to end when we got back at the end of a day.
As well as the fun stuff, Trevella Park is really pretty to wander around. There are beautiful blooms everywhere – you can tell the gardeners really take pride in them – along with palm trees and lush green grass everywhere. As soon as you arrive at Trevella, in fact, you are greeted by an entrance lined with bright pinks and purples.
There are two lakes, where you can go fishing (there's even a little bait shop) or just wander along, taking in the lily pads, swans and thistles. It's really peaceful down there, and feels like you could be miles from the nearest campsite.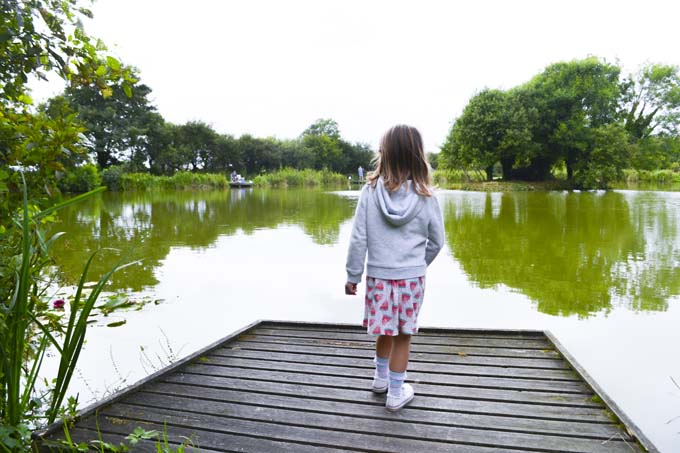 Every night, once the four-year-old was tucked up in her bed, we would crack open a bottle of wine and either sit on our decking enjoying the last of the sunshine, or on the rainy days, sink into the sofa with the radio on. I love holidays where evenings are easy – no babysitters are needed and we can just relax while the little one sleeps.
We loved our stay at Trevella Park so much, we discussed staying longer. We were all up for asking whether we could extend our stay when we realised that our cat sitter wouldn't be able to look after our cat for extra days. But we're not too worried… I'm sure we'll be back another time (and next time, I'm tempted to try a Geo Dome tent!)
•Thanks to Trevella Park for inviting us to stay with them for four nights. Four nights in a Superior 2-bed caravan on the same week in July 2016 costs from £488.
SPECIAL OFFER
If my review has tempted you to visit Trevella Park, I have an offer code you can use to save up to 25% on holidays in 2015.
For holidays taken between 29th August and 23rd October, quote FAMCORA to save 25% on static caravans and glamping.
For school holidays in August and October half term, quote FAMCORS to save 10%.
To book, go to www.trevella.co.uk.