Continuing my short series of posts on the Ultimate School Run Outfits (see outfit 1 over here), today, it's all about what I wear on a cold wet day. I'm sure you'll agree that when rain is tipping down, the key ingredients for a successful school run outfit are:
Waterproof jacket with hood
Warm sweatshirt
Jeans
Trainers
On a really wet day, I'd even substitute the trainers for wellies. Don't judge me. On some days, it's got to be done. For me, the hood is an essential part of this outfit – I can't be doing with faffing around with an umbrella on the school run. I need to have my hands free to carry the book bag, PE kit and hold my little one's hand when crossing roads.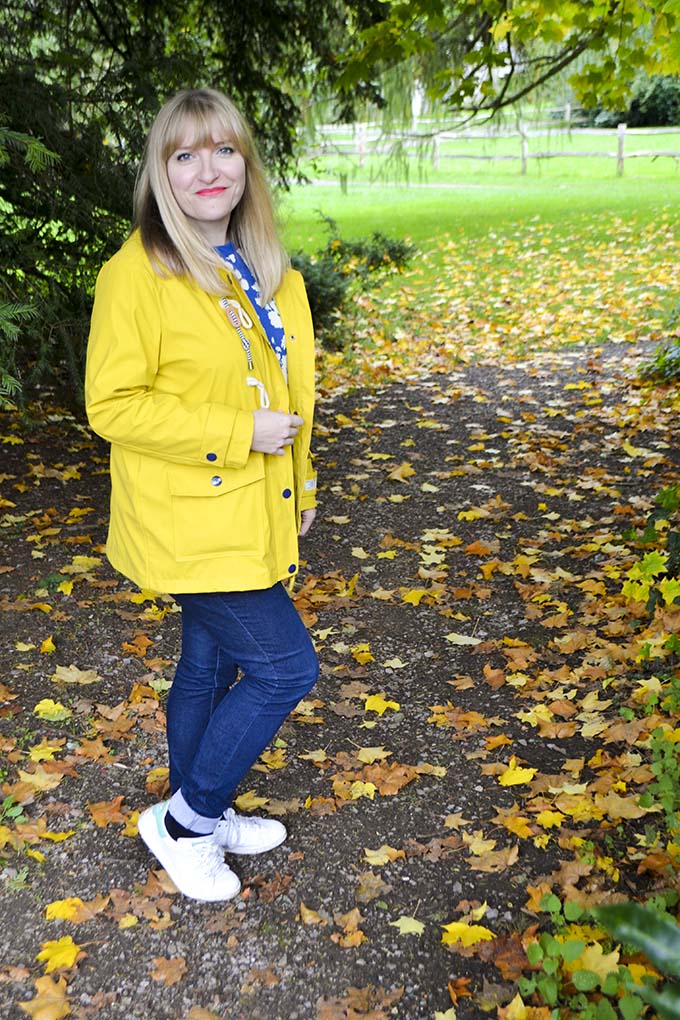 Yellow Blighty jacket, £99.95, c/o Joules (past season – get similar one here – Coast Jacket, £79.95)
Raglan sweatshirt, £49, c/o Boden // Ultra Stretch Jeans, £34.95, Uniqlo
Adidas Stan Smith trainers, £65, ASOS
At the moment, my absolute favourite waterproof jacket is my yellow one from Joules. On the dullest of days, it can brighten my mood and when I'm doing the afternoon school run, my five-year-old can easily spot me waiting in the sea of parents in the playground. It's got a lovely soft cotton lining with a blue and white stripe so it's really comfy to wear.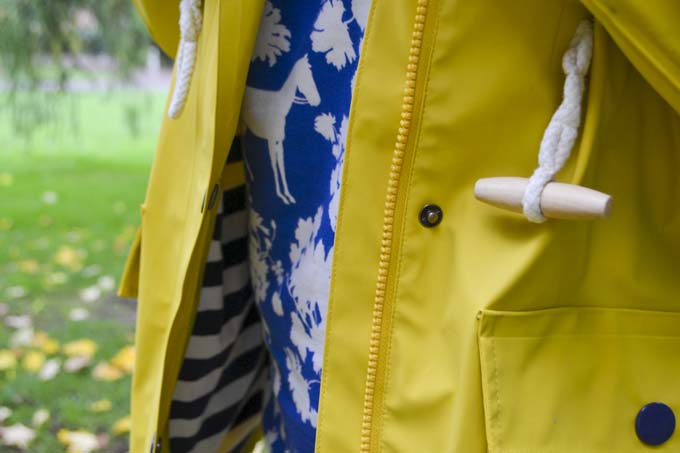 Sweatshirt and jeans is my fail-safe outfit for working from home and doing the school run. On colder days, I add a vest or t-shirt layer underneath but at the moment, it's not really cold enough for that. I've had my eye on this Boden sweatshirt for a few weeks and couldn't decide between the blue and grey colours. Love the mix of the floral, dog and horse print on it.
Mini Cranleigh bag, £125 c/o Village England
I've also been trying out a new lip colour this week – I usually don't bother with lippy when I'm on the school run, but for meetings and nights out, I'm a fan of MAC's Lady Danger. This week, I bought my first ever pink lippy (No7's Blushing Rose)  – what do you think? Can I pull off a pink lip?
The third and final post in my school run outfits series is coming soon (I know, try to contain your excitement, folks!) and will be my favourite outfit for those days when I'm dashing from the school run to a meeting.
Big thanks to Katrina from Cool Bananas for taking these photos and to Joules and Boden for your help with this post!