I feel like I have lots in common with Donna Air, the next mum in my Twelve Mums Of Christmas series. She used to star in Byker Grove, I used to religiously watch it. She used to be in 90s pop duo Crush who toured Japan, I love Japanese food. OK, so perhaps it's all a bit tenuous but one thing we do have in common is a love for gorgeous girlswear. Mum of one Donna recently linked up with designer Markus Lupfer to design a range of girls clothing for Designers at Debenhams under the name donna&markus. And it's uh-mazing. Here, I chat to Donna about the range and spending Christmas with her little girl, Freya…
Donna, how does it feel to have your own girlswear range?
"It's so exciting! I've loved working with Markus and to see the collection hit stores just in time for Christmas is just brilliant. I'm really happy with the range and think mums will love it too."
How did the collaboration with Markus come about?
"Markus and I have been friends for a while now – and I've always thought his signature style would translate so easily to childrenswear. It's so fun and quirky. I just said to him one day: 'We have to do this!' It was important to both of us that the brand should be accessible to all mums – so working with Debenhams was the perfect fit as it meant we could offer quality at an affordable price point."
How much input did you have in the designs?
"Markus and I worked together on all designs. We were inspired quite simply by children! Their quirky sense of humour, words they say like 'cool', funky animals and of course Markus' signature love of sequins. Children like looking cool, but in clothes they can play in, so we've made sure all the pieces tick both these boxes and are comfortable and well made."
How did you feel when you first saw a finished piece?
"We were both thrilled. It's so satisfying to see it all come together after so many months of planning."
Which is your favourite piece?
"Now this changes on a daily basis – but at the moment I'm just loving the blue 'cool' jumper."
What does your daughter, Freya, think of the range?
"She loves the whole collection and says I've actually managed to make the colour pink cool – which I'm very happy about! It's not easy to find clothes that girls love and that mums are happy with too – but this range I think perfectly combines what both want."
How do you balance your career with being a mum?
"I just go day by day and do my best. I am quite organised and very adaptable which helps a lot. And I will delegate the not so important things allowing me to prioritise mummy stuff and work stuff."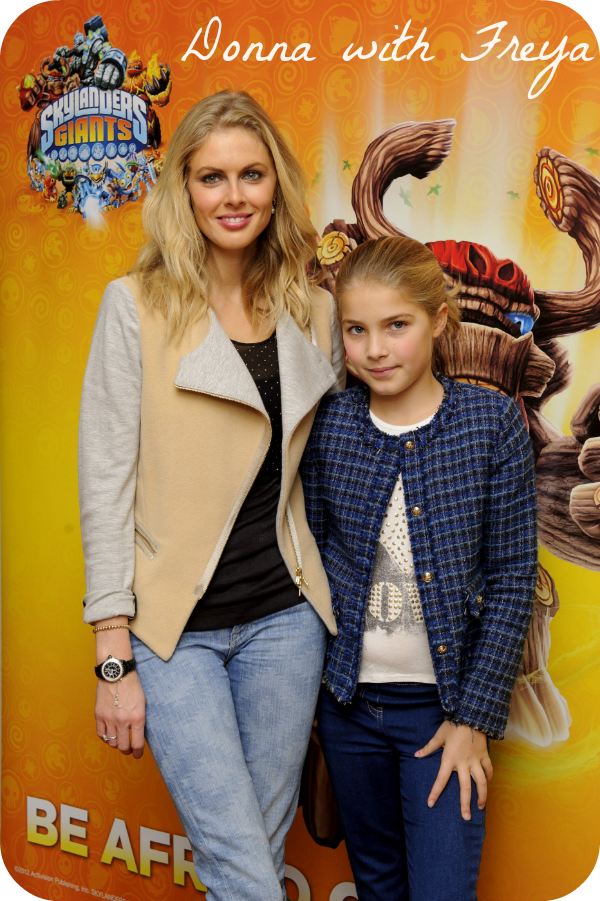 How would you describe your family homelife in three words?
"Hectic cosy, fun"
How will you be celebrating Christmas this year?
"I have Mama, Sister, Daughter and Brother all to stay. I'll be doing the cooking with a help from some great food suppliers, of course. Why make dessert when you can buy it so good?! I'm looking forward to my meringue roulade from Finn's Chelsea!"
Who will be cooking Christmas dinner?
"Me and no doubt, Mum and my sister will interfere. We are all bossy in the kitchen but I wouldn't have it any other way!"
What's on your Christmas wishlist?
"To get to the bottom of my to do list. So I can sit back relax and take stock."
And what's on Freya's Christmas wishlist?
"May be easier to say what isn't on the list! iPad Nano, clothes, jewellery and leggings from donna&markus. She has most the knits but not the leggings yet!"
What's your favourite family Christmas tradition?
"Bacon sandwiches on Christmas morning and spoiling little girls!"