Sometimes, when you're working hard every day, and everyone in the family has been run down with colds and bugs, and you've had lots of busy weekends rushing around seeing family and friends, it's good to just….
Stop.
Last month, it became apparent that both me and Mr P were in need of some TLC and a breather from 'real life', and what better way than a family mini break in the countryside? So we packed up our car and, along with the three-year-old, we headed for The Ickworth in Suffolk. Part of The Luxury Family Hotel group, The Ickworth is housed in the east wing of Ickworth House. The beautiful building was designed by an Italian architect in the 18th Century, and was the home of the Earl of Bristol. Sold to the National Trust in the 1950s, the east wing was kept as a family home for the Marquess of Bristol until 1998 when it was sold to the National Trust… who have since leased it to the Luxury Family Hotel Group. Which might feel like a bit of a school lesson, but it shows the real history that this amazing place has.
The Ickworth is one of those hotels that manages to strike a perfect balance between being truly lovely for the grown ups and welcoming kids with open arms. As you walk in the grand entrance, friendly staff greet you and so does a large basket of toys with a sign explaining that they can be borrowed and enjoyed during your stay. A sign in the reception area tells you that there is a hotel dog, who is very child-friendly, but mustn't be fed by guests. Children's laughter accompanies the clinking of china tea cups and saucers, drifting through from the lounge areas.
While we were being shown our room – we stayed in the lovely Herbert room – I could feel my shoulders sink lower and any 'real life' stresses drift away. I immediately spotted Orla Kiely mugs with our in-room tea and coffee and a fab purple retro-looking phone… and knew this place would serve us well for the next couple of days.
As soon as we were left alone in the room, things went something like this:
1. Three-year-old bounced on the large double bed
2. Three-year-old ran around, and asked where the stairs were (it was her first time staying in a hotel room…)
3. Three-year-old got changed into her swimming costume (I think she was trying to tell us something)
The swimming pool is a two minute walk from the main building, with unisex changing rooms, lockers, hairdryers and complimentary bags for your wet cozzies. The pool itself is fairly basic, in that there isn't a shallow end and there aren't lots of toys and games for kids, but with our arm bands on, jumping into the water was the best fun ever, so it didn't matter too much. While we were there, sun was streaming into the pool area (huge windows means it's flooded in natural light) so I spent a good ten minutes floating on my back in the sun, while Mr P entertained the little one.
As well as swimming, there are lots of fun things to do with kids. There's a bike shed with bikes of all sizes (some with stabilisers too) which you just sign out when you want to go for a ride. There's a walled 'Fairy Garden' with a large trampoline, swings, slides, playhouses, cars and scooters (we spent a lot of time in here, and played at least eight games of hide and seek.) There's also space to just run around in at The Ickworth – large grassy areas that were surrounded by bright yellow daffs when we visited. Inside, there's a lounge area that feels ever so grown up to sip tea in, but then you notice the kids toys at one end – a vintage Little Tykes table and chairs, Lego, a rocking horse, a chest of books and soft toys. We sat on the large sofa with a hot drink while the three-year-old had a whale of a time exploring it all. There's also a cinema room which shows a children's movie every evening at 6pm. We watched Monster's University, sitting on giant beanbags one evening, before tucking the three-year-old up in bed. For older kids, there's a games room in the basement, with air hockey, pool and games consoles to keep them entertained.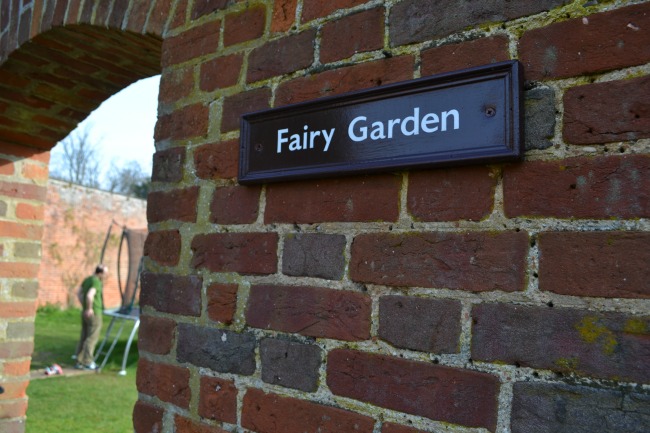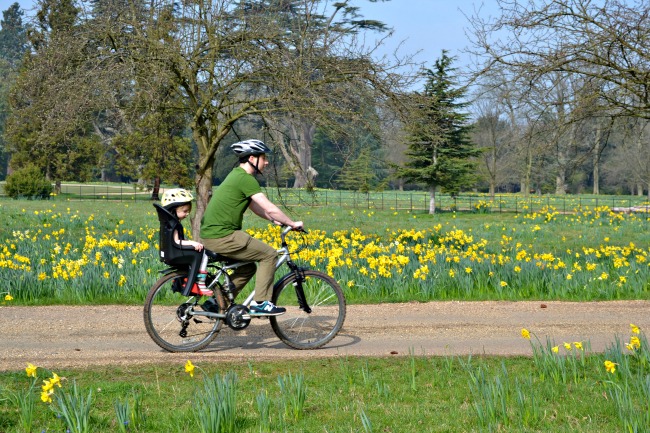 If you wander past the main Ickworth House building (still owned and run as a National Trust building) there are 1,800 acres of land to explore, whether you're going for a gentle saunter or fancy trying out geo-caching. Oh and if you've forgotten to pack your wellies, there are lots available to borrow at the hotel reception. We spent an hour or so at the adventure playground in the National Trust parkland – it has an ace zip wire for over 5s, but we put our three-year-old on it and held onto her as she hurtled along. There's also a couple of cafes – a regular indoor one which serves hot meals in a bright and buzzy room, and the Porter's Lodge outdoor cafe which serves sandwiches, jacket potatoes and ice creams.
Back at The Ickworth, the dining options are The Conservatory, which serves breakfast, lunch and dinner and the adult-only fine dining restaurant Frederick's. The former is great for family dining – it's relaxed and because most people in there have kids, it doesn't matter if your one is banging cutlery on the table or singing loudly. They make you feel so welcome, with a selection of brightly coloured plastic cutlery, bowls, plates and cups available to help yourself to. I'd say the food in The Conservatory was the only thing all weekend which I didn't fall in love with. The menu is great (particularly the pasta dish for kids with hidden veg!) but I wouldn't write home about most of the things I ate. Oh apart from the waffles and maple syrup at breakfast. I'd have sent a postcard home about those bad boys.
One of the genius things about The Ickworth, however, is the listening service they offer, which allows parents to tuck their little ones up in bed, and then head downstairs for a drink or to dine in Frederick's. I'll admit, I've always thought I'd never leave my child in a hotel room, even if someone is listening in, but the set-up is so slick at The Ickworth that we felt relaxed and confident to try it. After reading some bedtime stories and then switching the system on in our room, we checked in with the reception staff who monitored the room and said they would have a listen if there was any noise. If it was clear we were needed, she'd come and fetch us from the restaurant. However, the three-year-old happily fell straight asleep. Brilliant, because it allowed us to enjoy our posh meal. As well as being posh, it was properly delicious – steamed scallops with black pudding and apple puree, followed by roast fillet of beef with ox cheeks, rosti potatoes and spiced lentils (so good I Instragrammed it… see below.) It was all washed down with a few glasses of red wine. The brilliant waiter suggested we order a bottle, and if we didn't finish it, he'd keep it for us to finish the following night.
On our second day at The Ickworth, we realised why it's a place that all parents of young kids should visit at least once, if they can. We discovered the creche. As if our child wasn't having enough fun already, she got to spend two hours in the most amazing fun-packed room ever. Immaculately clean and tidy, the Four Bears' Den has every toy you could wish for – a shop area, a kitchen area, a 'baby zone', dressing up costumes, a craft area… you name it, they have it. When we've tried to drop our daughter off in a creche before, she's become clingy and distressed. Not this time. She bounded away from us, towards the fun with a quick backwards glance and a shout of 'bye!'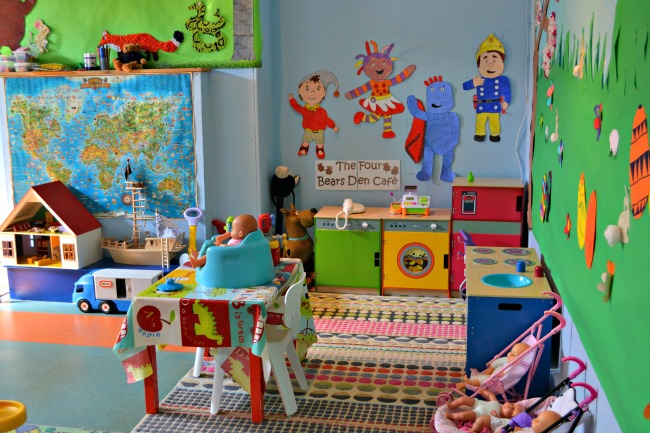 While she was having a fantastic time, I headed to the spa for a Tranquility full body massage and after an hour, I left in that slightly dazed, wobbly-legged way that you do, and joined Mr P in the lounge for a tea (and lots of water, after being advised to by my beauty therapist. And as every spa-lover knows, drinking lots of water means you can then drink lots of wine that evening. It so does!) When we picked up our cherub from the creche, she begged us to take her back the next day! I'm not even kidding. So I booked myself in for a manicure…
After 48 hours of fun and relaxation, we left The Ickworth with a small spring in our step and ready to take on the week ahead. Job done.
• Many thanks to The Ickworth for having us along to stay, for the purpose of this review.