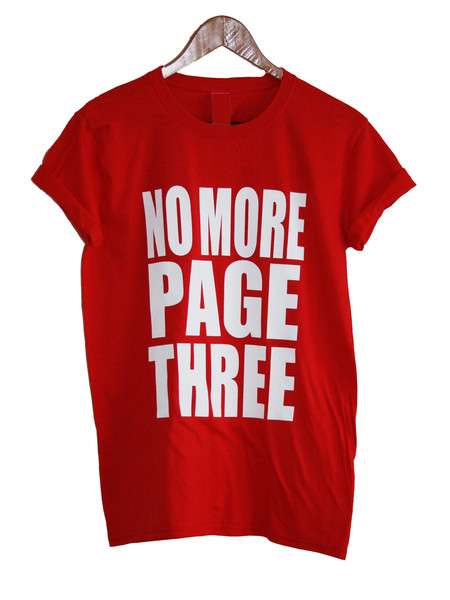 If The Sun was a child, I'd sit it down and tell it that I feel disappointed.
"You've let everyone down," I'd say. "But most importantly, you've let yourself down."
Because they really have. A few days ago, we thought that finally, Rupert Murdoch had come to his senses and made a decision to support 51% of the population (yes us women are in the majority) by cancelling running a photo of a topless woman on Page 3 of The Sun. I felt relief. Relief that my daughter would grow up in a world that is just that little bit more equal. I felt happy that even though it's a relatively small gesture, it would have such a big impact on our society. I cringed at the thought that we had put up with Page 3 being part of every day life for so long. That women were being used as passive objects of desire to please the male readers of The Sun – reduced to nothing more than how they looked. "Can you believe that just last week, we had a 'family' newspaper print topless models every day?" I said to people. It already seemed like an incredible and unlikely idea.
Admittedly, it's a bit daft that we all went bananas, celebrating something which was just a rumour. The Sun didn't once comment on, or confirm, that they had ditched Page 3. We just took the idea and ran with it. What was initially reported as a rumour quickly became fact as the news was shared on Twitter and reported by the media.
The team at The Sun must have been rubbing their hands with glee and laughing.
I think that's what upsets me the most about this whole affair. Us women – we're being laughed at and ridiculed by a major UK newspaper. It's just a joke to them, a PR stunt which got them talked about by the nation for the best part of a week. Are we really that unimportant to The Sun that we can be reduced to being the butt of a joke?
Going back to my initial point – The Sun really have let themselves down. They could have been applauded for being progressive and finally supporting women. Even if they were running pap shots of female celebrities in bikinis on Page 3, in place of the topless women, it was a step forward, y'know, we couldn't see their nipples. But instead, they've succeeded in making women feel worthless.
Still, let's look on the positive side. The Sun may still be running Page 3, but the No More Page 3 campaign, which arguably was ambling along without the media attention it had once got, will now be bigger than ever. I've seen women get fired up about this, women who two weeks ago might not have cared one way or another whether Page 3 continued. My Twitter feed has been filled with women who feel humiliated and angry, and it's quite possible that this whole debacle has made many women – and men –   think about equality and feminism differently for the first time.
We need more people to fight for equality, so if you haven't already, do sign the No More Page 3 petition and make your voice heard. Better still, buy a t-shirt and wear it this weekend.