I recently went on a trip to Mallorca. It was one of the BEST and WORST trips I've ever been on. Why? Because it was such a luxurious few days, where every whim was tended to, every desire was realised, every dream was made a reality…. that I don't think I can ever go on a "normal" holiday again. Scott Dunn have officially ruined holidays for me.
Let me explain further…
The villa we stayed in was incredible. Las Palmeras is around a ten minute drive from the beautiful Pollença and only a 45 minute transfer from Palma airport.
The decor in Las Palmeras is gorgeous – lots of white, neutral tones, with a mix of modern shapes and traditional features. Built in recent years, it could fool you into believing it's an old finca. There are fresh flowers in every room and big windows that allow the golden light to flood in.
Despite the pale palettes, the villa is totally geared up for families. The cream sofas have throws on them (I can just imagine how grubby they'd look after my four-year-old had put her mucky feet on them and got her sticky ice cream covered hands on the cushions) and there is an insanely well kitted out play room with toys, puzzles, books, costumes – you name it, it's there. There are four large en-suite bedrooms (including a master bedroom which has a walk-in wardrobe and sun terrace) so the villa would be perfect for two families or a multi-generation holiday.
The garden area of Las Palmeras has lots of grass to run around on, football goals, table tennis, trampoline, paddling pool and swing ball plus a gorgeous outdoor pool, which sits alongside two towering palm trees which the villa is named after.
But the beautiful villa is only part of the reason that this Scott Dunn trip was out of this world. The big thing that sets their holidays apart from the rest is the level of service their customers receive. Every villa comes complete with a small team of staff who are there to ensure your holiday goes smoothly. If you're anything like me, you don't feel hugely comfortable with the idea of having a butler or chef – it can just feel weird to ask other people to do things you're perfectly capable of doing ourselves. But the staff at a Scott Dunn villa somehow manage to be there, ready to help you in any way you might want, in a way that makes it OK. I can't really even explain how they do it!
At Las Palmeras, we had a villa host, a chef and a nanny (plus an extra host who helped out because we were a large group) and they were so helpful and friendly. The chef cooks all of your meals while you're staying at the villa (apart from one and a half days, which are her or his day off) plus little snacks throughout the day. Before you head out on your holiday, the chef will call you to discuss your likes, dislikes and any allergies, before creating a tailor-made menu for the week (although you're free to change things up as you go through your holiday).
It was so so relaxing to be in a villa without having to cook (or clean! They have maids come in twice a day to do that for you). We'd be sitting by the pool, when a freshly made lemonade with mint would appear out of nowhere! The quality of the food was amazing. As good as some of the top restaurants in London. Everything that can be, is made freshly on-site – the bread, the jams, the soup, the fruit juices, and everything else is bought from local markets and shops.
A cheeky gazpacho shot before dinner
Home made bread with dinner
The villa staff have things for you to use, from sun cream and socket adaptors to an iPad loaded with music and films. Families can travel there, knowing they don't have to worry about forgetting the essentials – there's a basket of things you might need like nappies, wipes, kids' shampoo and body wash, and even Sunuva rash vests in your kids' size.
The Scott Dunn nannies are all trained to the highest standard and included in the cost of your villa holiday is childcare (you can choose between two options:  9am to 5.30pm or 9.30am to 1pm / 3pm to 7.30pm – if your little ones nap then the second option would be better, and you'd get help with bath and bedtime!). Not only do they play with your kids in the playroom and garden, but they can take them on day trips or to the beach. Of course, you might choose to just use the nanny for a couple of hours a day, but having the option there for longer adds another level or relaxation to the holiday.
Oh, and speaking of relaxation…
The two days I spent at Las Palmeras were seriously chilled. Scott Dunn took me out there with a group of journalists and bloggers – all lovely lovely people – and within ten minutes of arriving, we were lying on sun loungers soaking up the sun, with a homemade lemonade in hand.
It was fab to spend time with a totally new group of people, getting to know each other over drinks, dinner … and more drinks (Scott Dunn villas come with a hamper of wine for guests to drink during their holiday and if you're after more, your villa host can buy some for you from the local supermarket).
Catherine from Junior and Masterchef winner Ping Coombes
Gin and tonic – the first one I've actually enjoyed!
Mornings began with a poolside yoga session before breakfast and one of my favourite things we did was going for a sail on a fantastic yacht. We set sail from Pollença harbour and spent a few hours sailing and eating a fantastic picnic that our chef Rosie had prepared for us. Oh and we might have had some Cava too.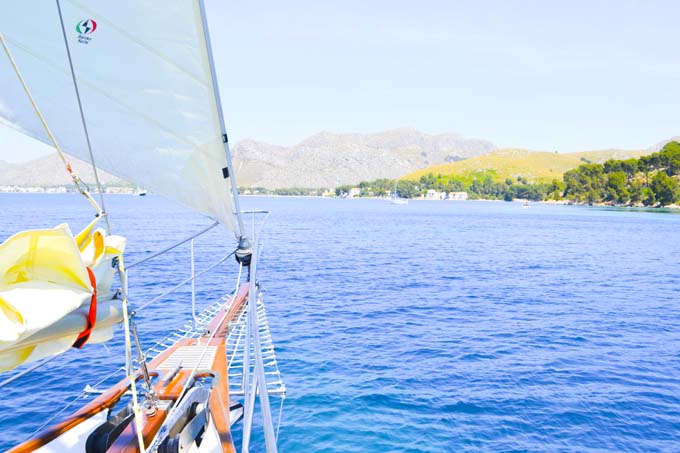 Esther from The Oxford Times and Jules from London On The Inside
One of our group – Masterchef winner Ping Coombes – has been working with Scott Dunn on their kids' menu and also a Malaysian menu that guests can choose to have one night. Not only was it fab to hang out with Ping (super lovely lady), but we were lucky enough to have her prepare her menu for us, at another of the Scott Dunn villas – La Samantina. It was just outstanding and included curry popcorn with a kaffir lime and lemongrass gin and tonic, Gado-gad0 salad, Ayam Kapitan and Malaysian Mess.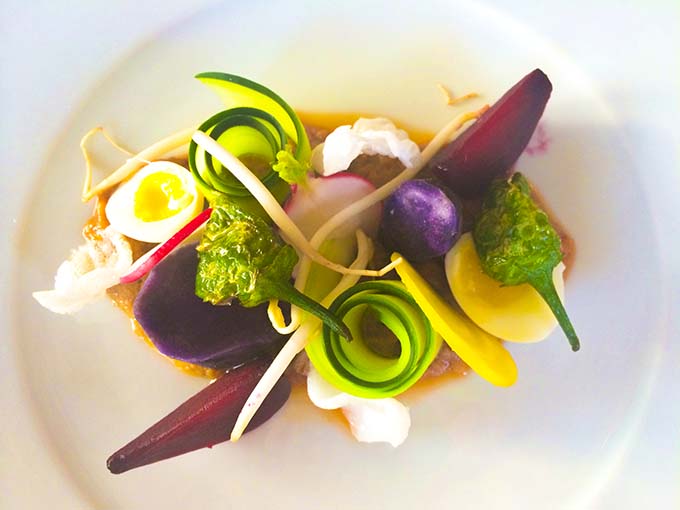 Gado Gado salad
The trip opened my eyes to a whole level of service and luxury on a holiday that I didn't know existed. Chatting to the Scott Dunn team, it was clear that they feel passionately about offering the best holidays they possibly can. They've even recently opened a travel lounge in Fulham, London for customers to use when researching and booking their holiday. Prospective guests can go there to discuss their holiday plans with one of Scott Dunn's expert Travel Consultants over a cup of tea or glass of Champagne – they even have iPads to entertain your kids.
And, of course, a Scott Dunn villa holiday isn't cheap. Seven nights at Las Palmeras start at £1,525 per person – it's a lot of money. However, that includes a heck of a lot of stuff – your flights on British Airways, transfers to and from the airport or car hire, childcare, all of your meals and snacks for five and a half days, unlimited soft drinks and beer, a wine hamper…. if you add up how much all of this usually costs you on a holiday, you start to think that perhaps a Scott Dunn villa holiday isn't such a crazy idea after all.
So thank you to Scott Dunn. I have a feeling that no other holiday will match up to this one…. I think it's fair to say you've ruined holidays for me (but in the best possible way!)
• Seriously though, massive thanks to Scott Dunn for inviting me to Mallorca to check out their villa holidays. Scott Dunn offers 7 nights at Las Palmeras in Pollenca, Mallorca from £1,525 per person based on full occupancy of 8 guests and including a private chef, host and nanny. This also includes full board on 5 and a half days, unlimited soft drinks and beer, a wine hamper, private transfers or car hire and flights with British Airways from the UK.  www.scottdunn.com / 020 8682 5040.