If you'd asked me a few months ago what I thought of Novotel, my reply would probably have been: it's a fairly average budget hotel but nothing special. I'd have considered it if we were looking for a purely functional hotel stay – you know the kind, a bed for the night before getting a flight or after a wedding.
Which is why I was utterly delighted to have my eyes opened to Novotel, this summer, and how they welcome families who stay with them. We spent a night in the Birmingham Novotel last month – we were on a flying visit to the city and while we could have done a day trip, I was keen to stay overnight and see what the Novotel had to offer.
First impressions were, I'll be honest, underwhelming. The exterior of the building is unexciting. But don't let that put you off! Never judge a book by its cover, and all that…
As soon as I stepped inside, I was quietly impressed. The reception area was bright and modern, with cool chairs dotted around and nice plants. The staff checking us in were super-friendly and even took the five-year-old off to choose a toy along with a light-up yo-yo (took me right back to my school days when everyone had a Coca-Cola or Sprite yo-yo)
But it was when the five-year-old spotted a kids' play area, in one corner of the reception, that her eyes really lit up. Along with an X-Box for older kids, there was a video game table to sit at, a bookcase of children's books and some building toys for toddlers and babies. We sat there for a good half hour, playing games and reading stories before we could drag her away.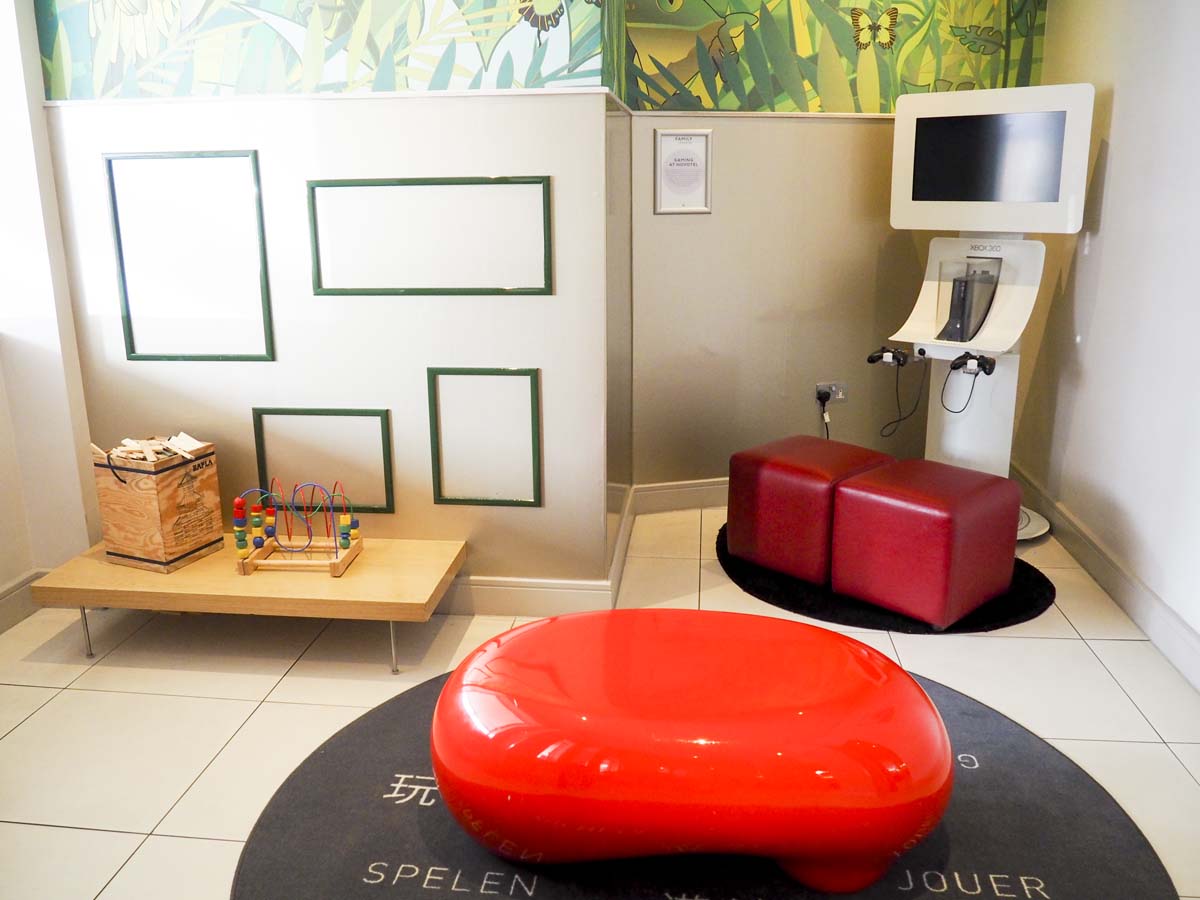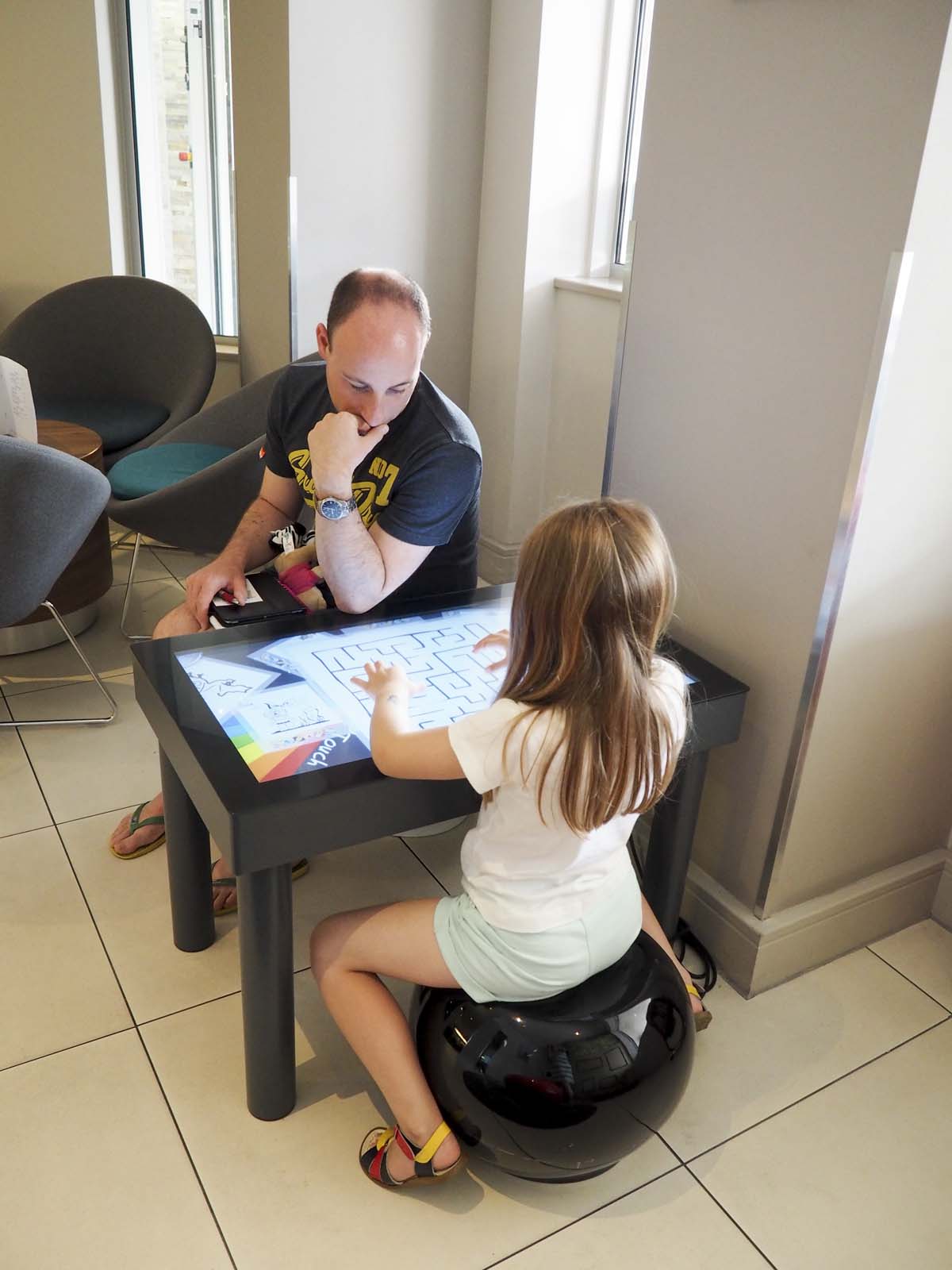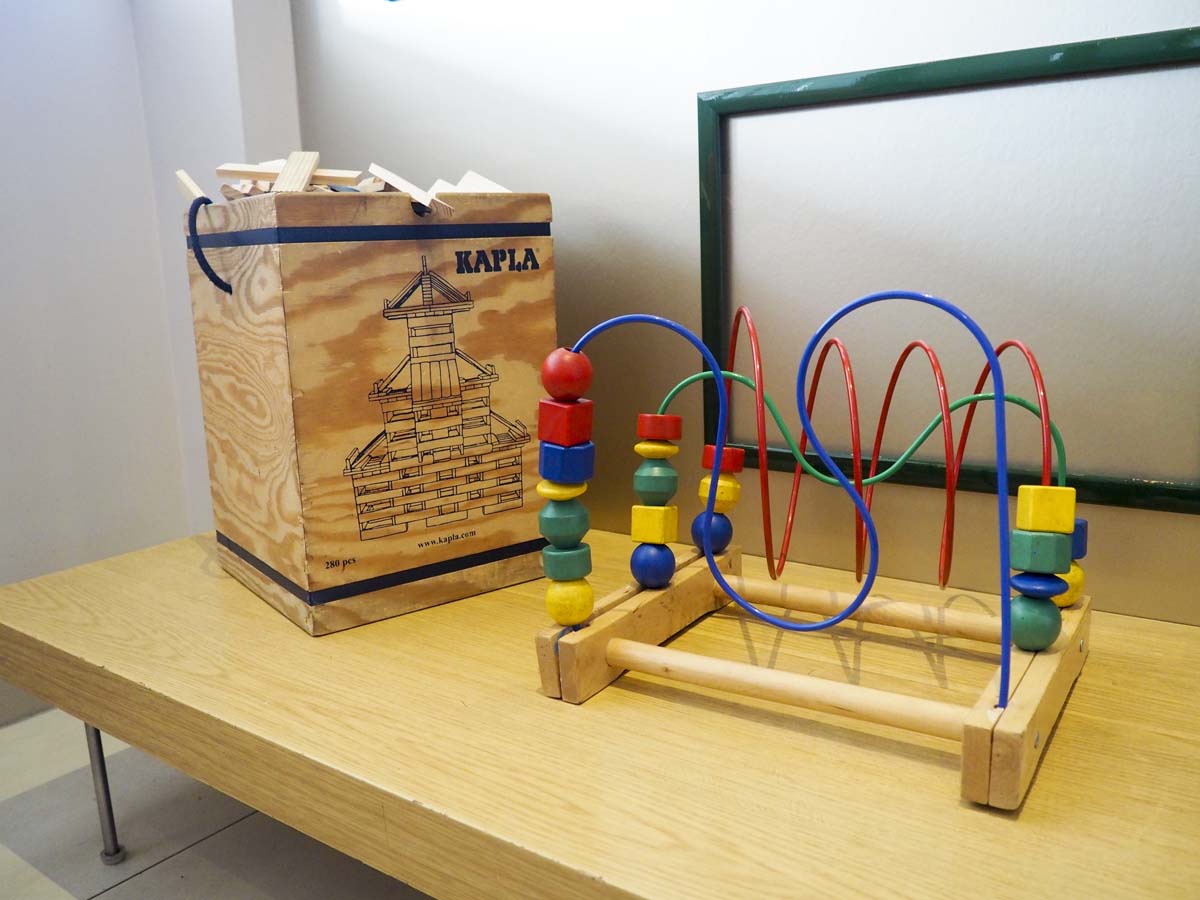 Our room – an executive family room – was lovely. Really modern and clean, with a big double bed and a sofa bed made into a single. Alongside the expected flatscreen TV, there was a Bose docking station/speaker for your iPhone and they had even left out some chocolate and bottles of water for us, which was a really nice touch.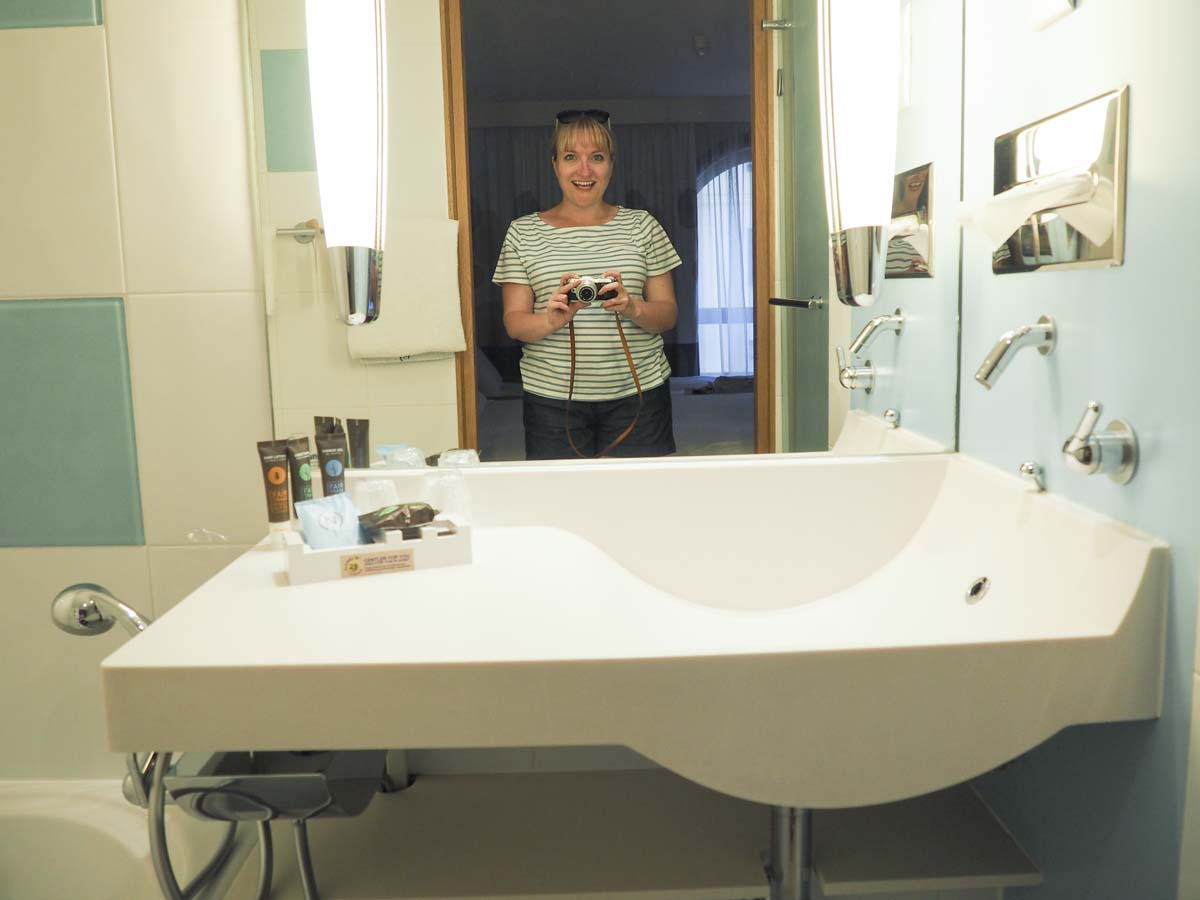 Even though it was nearly the five-year-old's bedtime, we went to the hotel bar for an hour, treating her to an apple juice while Mum and Dad had a wine.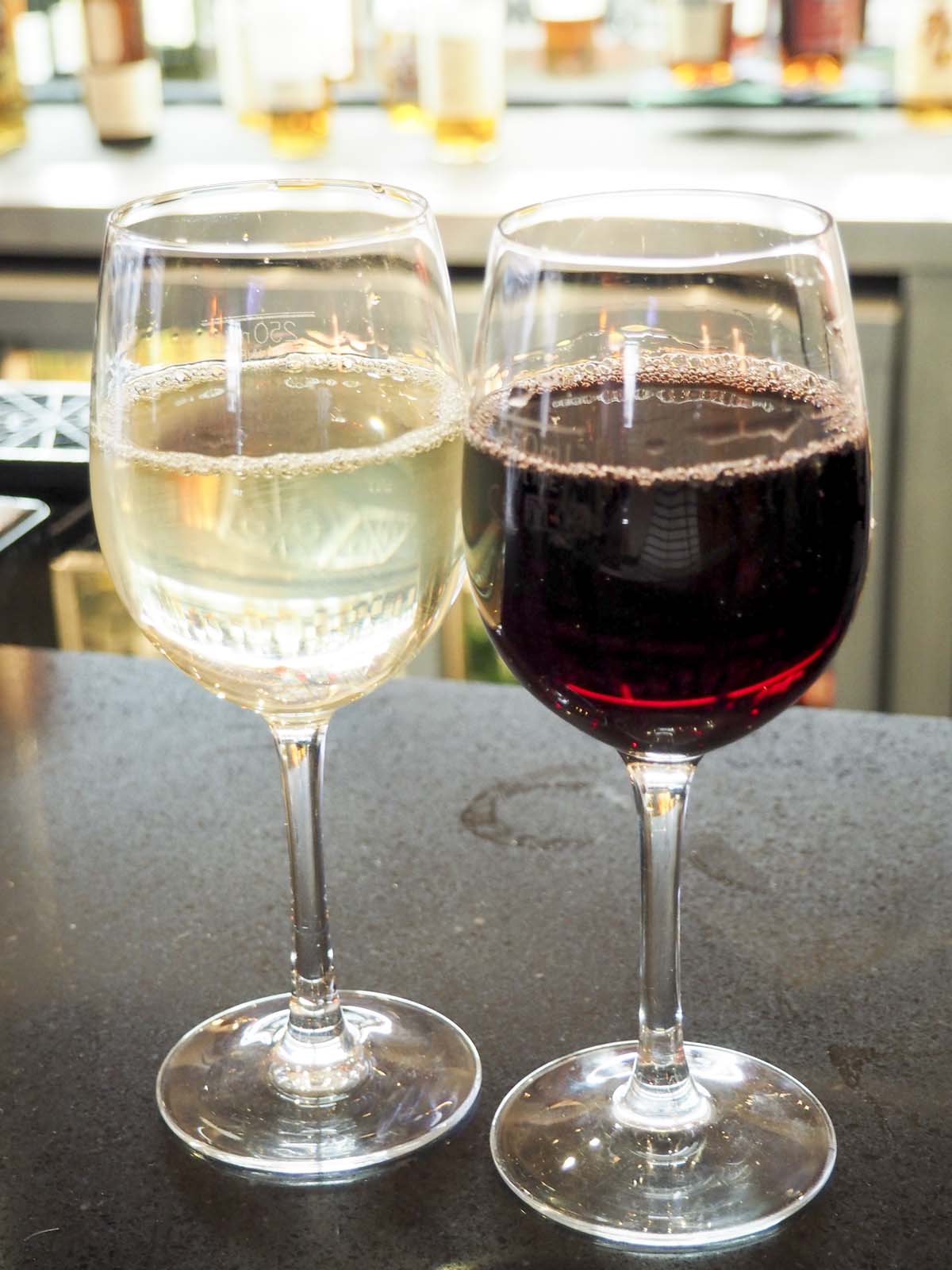 Then, when she was clearly getting tired (read: becoming hyper active) we headed up to our room again to tuck her in. I used to hate sharing a hotel room all together, but our little one seems to be at an age where she'll just go to sleep without too much fuss, and then we can watch Netflix in the dark whilst sharing a couple of gins in a tin.
Who says being a parent isn't glamorous!
This Netflix and gin party for two nearly didn't happen though – while we were waiting for the five-year-old to drop off to sleep, Mr P dropped off too! Luckily, he woke up again ten minutes later…
Now one of my favourite things in life is a hotel breakfast. It's one of those things that's so easy for places to get right, but so many places get it wrong. I'm pleased to report that Novotel get it spot on! Served buffet-style, there was cereal, juice, pastries, fruit and toast to help yourself to while waiting staff brought you fresh tea or coffee. Then the hot buffet – everything you might expect including hash browns which gets a bonus point from me. There's even a waffle station.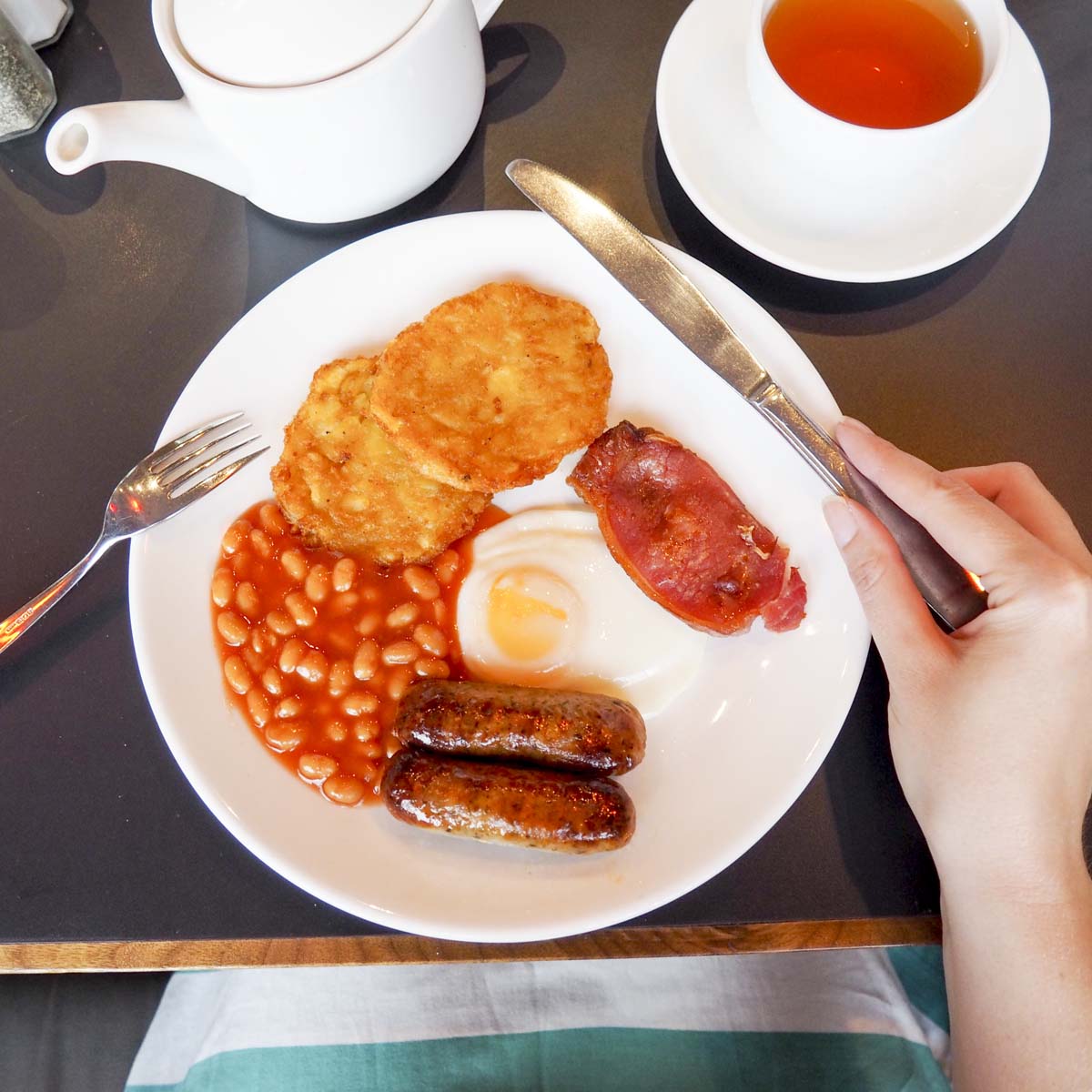 As I looked around, after breakfast, I was really impressed to see single tables with pull out TVs, so if you were travelling alone on business, you could watch breakfast news whilst eating. Nearby there were also some long desks with charging points and plug sockets – ideal for working from, or having a brief coffee meeting.
It felt like Novotel were really trying to solve their customers potential problems – they'd sat down to think about what you might want from a hotel stay, whether you're a family or travelling on business, and tried to deliver it. They even offer a free buggy-hiring service – rather than taking your own buggy with you, you can leave it at home and use one of the Quinny Yezz buggy. I'm not sure I've ever seen anything quite like it from a hotel chain like Novotel.
So it's safe to say that our stay at Birmingham Novotel has completely changed my view of the brand – and rather than being somewhere I'd consider for an emergency/functional/last minute hotel stay, it's somewhere I'd book for a family city break, in a heartbeat.
Thanks to Novotel for inviting us to stay for the night, for the purpose of this review. As always, all views are my own. For details of how I work with brands, see my Work With Me page.