It's often said, but we really do overlook what's on our doorstep. We live 20 minutes from central London, by train, and while we do head there often, we're usually rushing to get somewhere, on the tube or jumping on a bus. We rarely just go and wander around the city, or go to the tourist attractions. So last weekend, we did part of the BFG Dream Jar Trail – there are 50 bell jars dotted around central London, and each one contains a sculpture from a dream story of a celebrity or artist. People like Zoella, the Duchess of Cornwall, Steven Spielberg and Henry Holland have all designed one.
Finding them is such a great way to spend a day in London – there's a map of the trail (which is in partnership with Unilever) on the Visit London site and you can either look at it on your phone (which is what we did) or print it and tick off the bell jars as you find them!
The five-year-old was VERY excited when we told her our plans for the day – Mr P took her to see The BFG at the cinema a couple of weeks ago and we've been reading the book together every bedtime.
The whole trail is too big to do in one day, but it's cleverly split up into mini trails, and the Visit London site tells you how long each one should take (add on an extra hour or so if you have small people who walk slowly / stop every ten paces because they have a small stone in their shoe / want to stop and look at every flower you pass). We set off on the Persil Wild Explorers' Trail – which starts off near Victoria Station and ends at Marble Arch – or the reverse, if you prefer. We downloaded the Persil Wild Explorers app before we went – it's a brilliant free app from Persil, who have an ongoing commitment to getting kids outdoors, with over 100 ideas of activities and games your little ones can do outside, whatever the weather, and a great accompaniment to the BFG Dream Jar Trail.
First up, we found the Mayor Of Dreamland jar, which has been designed by Councillor Robert Davis MBE DL, a former Lord Mayor of Westminster and current Deputy Leader of Westminster Council and Chairman of the London Mayors' Association. It had just tipped it down with rain when we found this jar – we didn't get wet thankfully, but the raindrops on the jar added an extra something to the Dreamland theme! While we were there, we checked the Persil Wild Explorers app and played some animal charades. We probably got some funny looks from passing tourists, but I was having too much fun to care!
The five-year-old's dolphin impression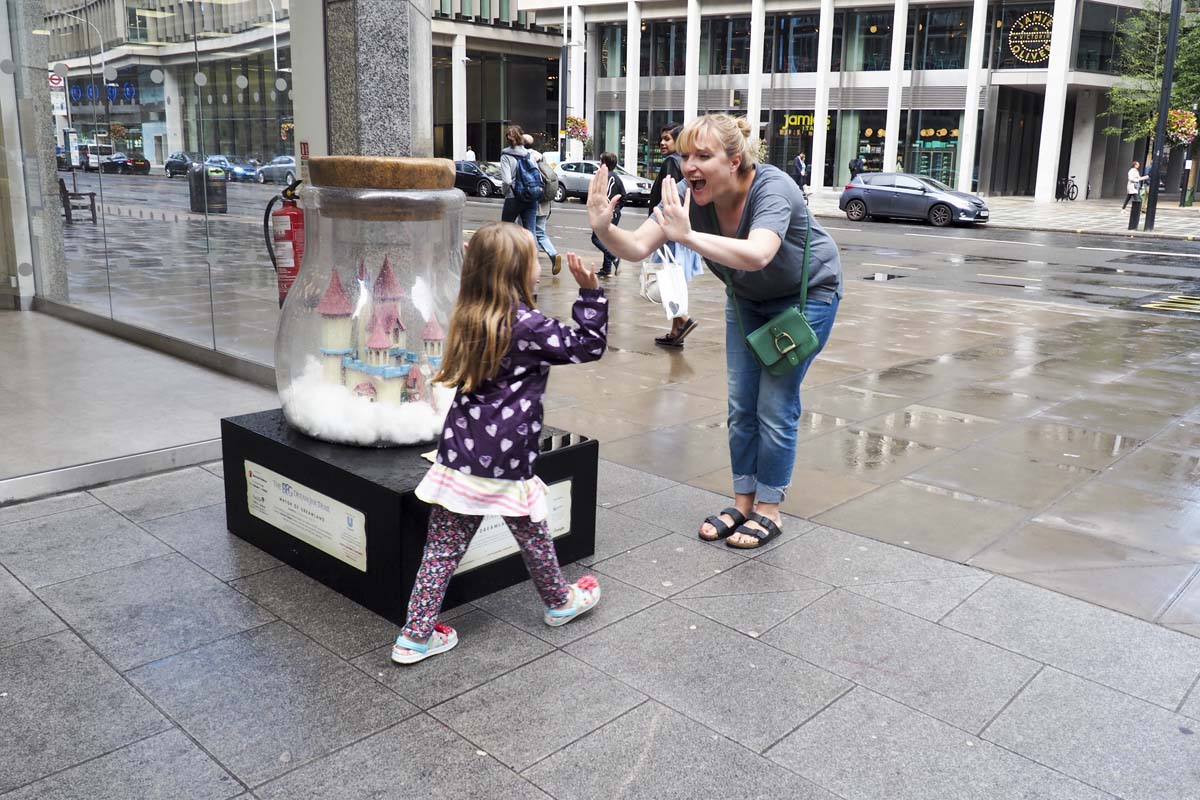 High fives when I guessed it correctly!
After a ten minute walk (look up as you walk along Victoria Street and you'll see the London Eye!) we found the second jar – The Merry Go Round – which was designed by Mark Rylance (who plays the BFG in the movie). In between Westminster Abbey and the Houses of Parliament, it's a great spot to see some famous landmarks while you're there. The five-year-old was very excited to hear Big Ben chime. The Persil Wild Explorers app suggested we hug a tree, and there just happens to be a huge one next to the Merry Go Round dream jar.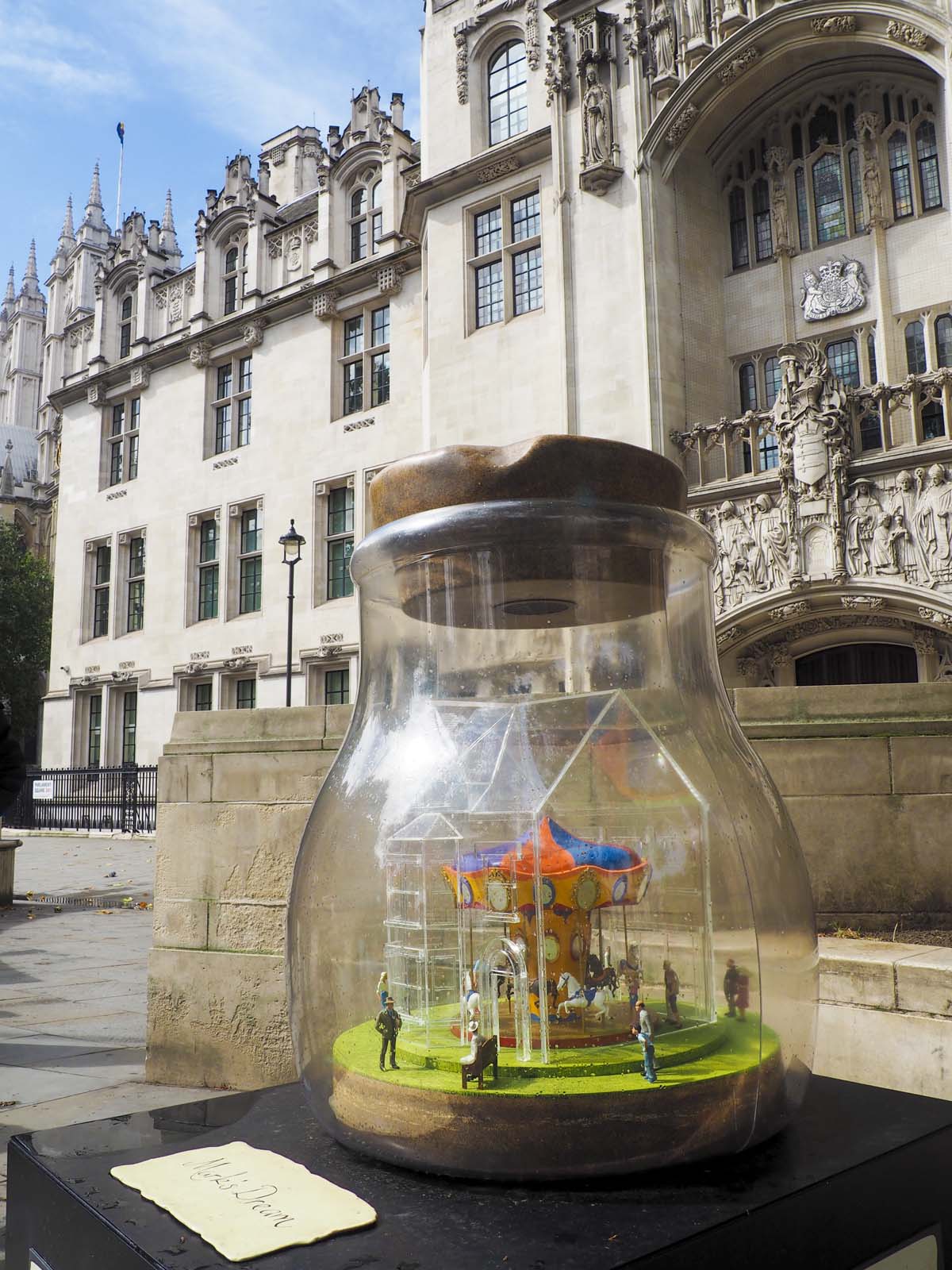 Hugging a tree
Our hunt for the third dream jar took us into St James Park – neither myself or Mr P were sure if we'd ever been in St James Park before! We stopped for a chat with the geese (and to remove approximately 67 small stones from the five-year-old's shoe), crossed a bridge and then found it – the Read jar, designed by the Duchess of Cornwall. Around about then, the sun came out, and we thought it would be the perfect time for a picnic – and a listen out for animal noises while we were there, trying to guess what we could hear.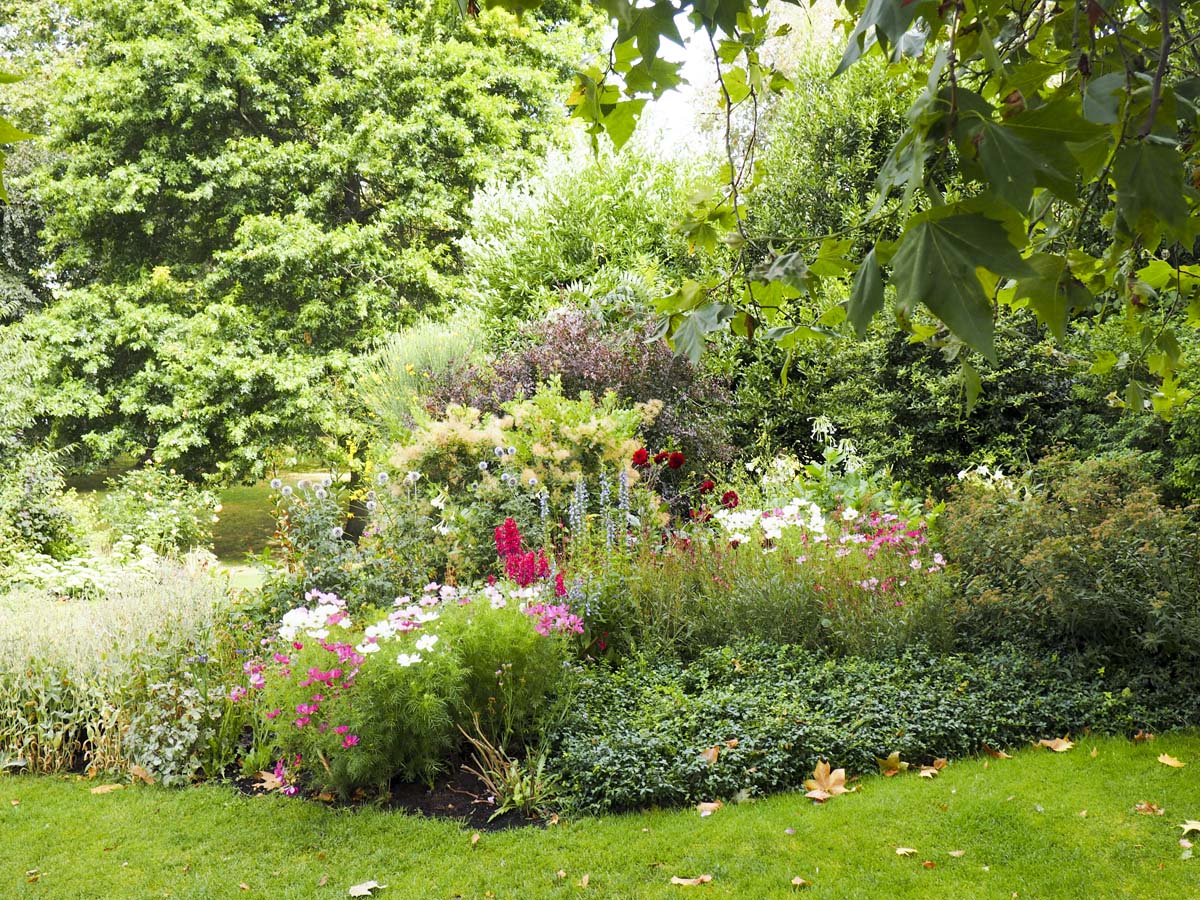 After our picnic, we headed towards Buckingham Palace – "Where Sophie goes to live at the end of The BFG!" said the five-year-old. The flag was flying, so we knew the Queen was at home and we stood at the gates, giving her a big wave. Around the side of the Palace, we found the next dream jar – Innocence, designed by the Countess of Wessex. Pigeons strutted past it, and it gave us the idea to do another activity from the Persil Wild Explorers app – making bird sounds and having a chat with our feathered friends.
To find the next dream jar, we had to go back past the front of Buckingham Palace ("I think the Queen is having a wee!" giggled the five-year-old) and then down to Hyde Park Corner. The On The Wings Of A Dream jar is designed by Miles Nurnberger, Chief Exterior Designer in the Aston Martin design studio. There, we plonked ourselves on the grass by Wellington Arch, and took out some paper and pens for the five-year-old to do some drawing of the nature around us.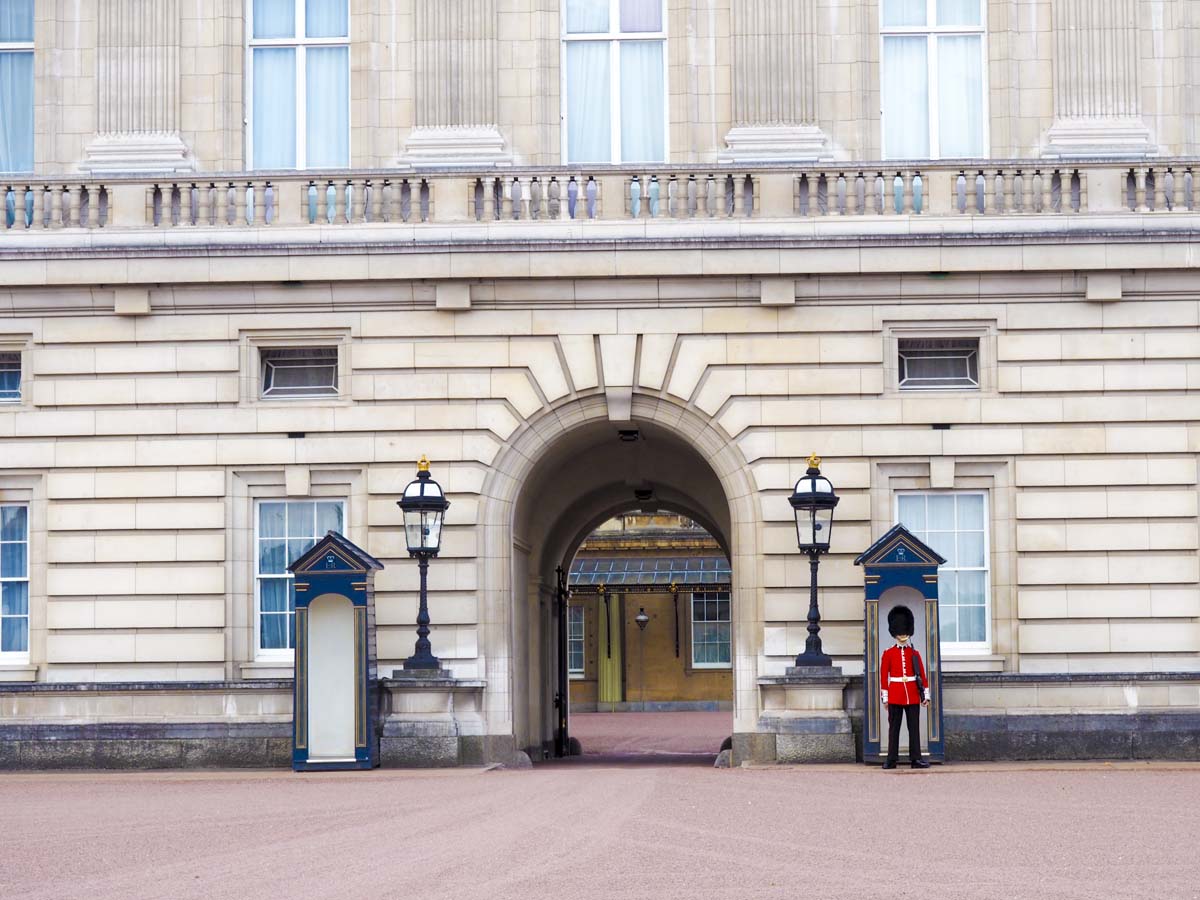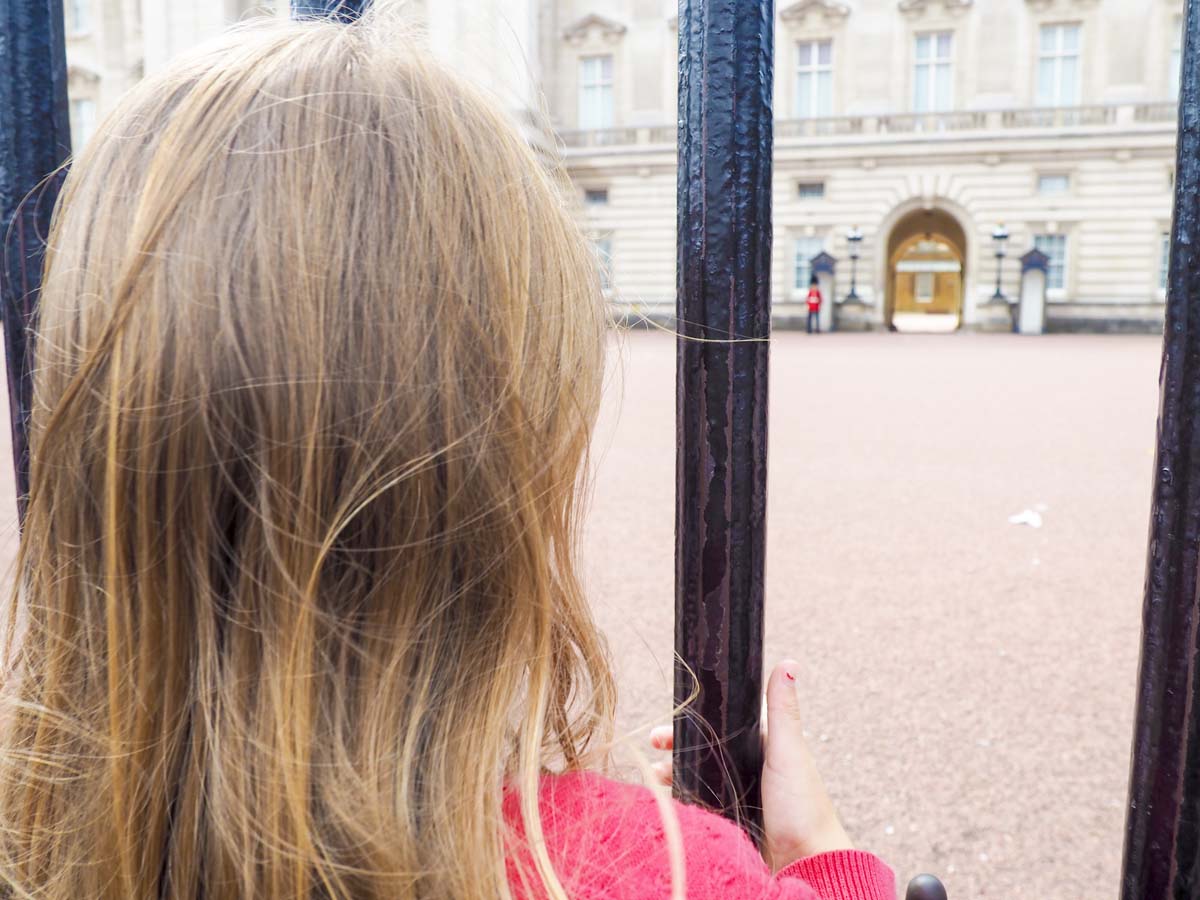 By then, the five-year-old was getting tired, so we came up with a two-fold plan to get to the final two dream jars: 1. Buy her an ice cream from the snack hut outside Hyde Park 2. Get the tube along to Knightsbridge where the next dream jar was.
The plan worked and after a small amount of confusion about where the next dream jar actually was (it's inside the Mandarin Oriental hotel – the kind people at the front desk will show you where to go) we found it. The Amethyst Owl jar – designed by jeweller to the stars Sabine Roemer – is situated at the entrance to the spa in the 5* hotel.
I was tempted to nip in for a quick facial. But I didn't. Instead, we headed back outside and did some cloud spotting, trying to see if any looked like other things, and then we jumped on a bus to Marble Arch…
….Where our final dream jar was! Reach For The Stars was designed by Sir Richard Branson, but instead of looking up to the stars, we looked down and played ant detective, searching for ants and working out where they were coming from, and going to.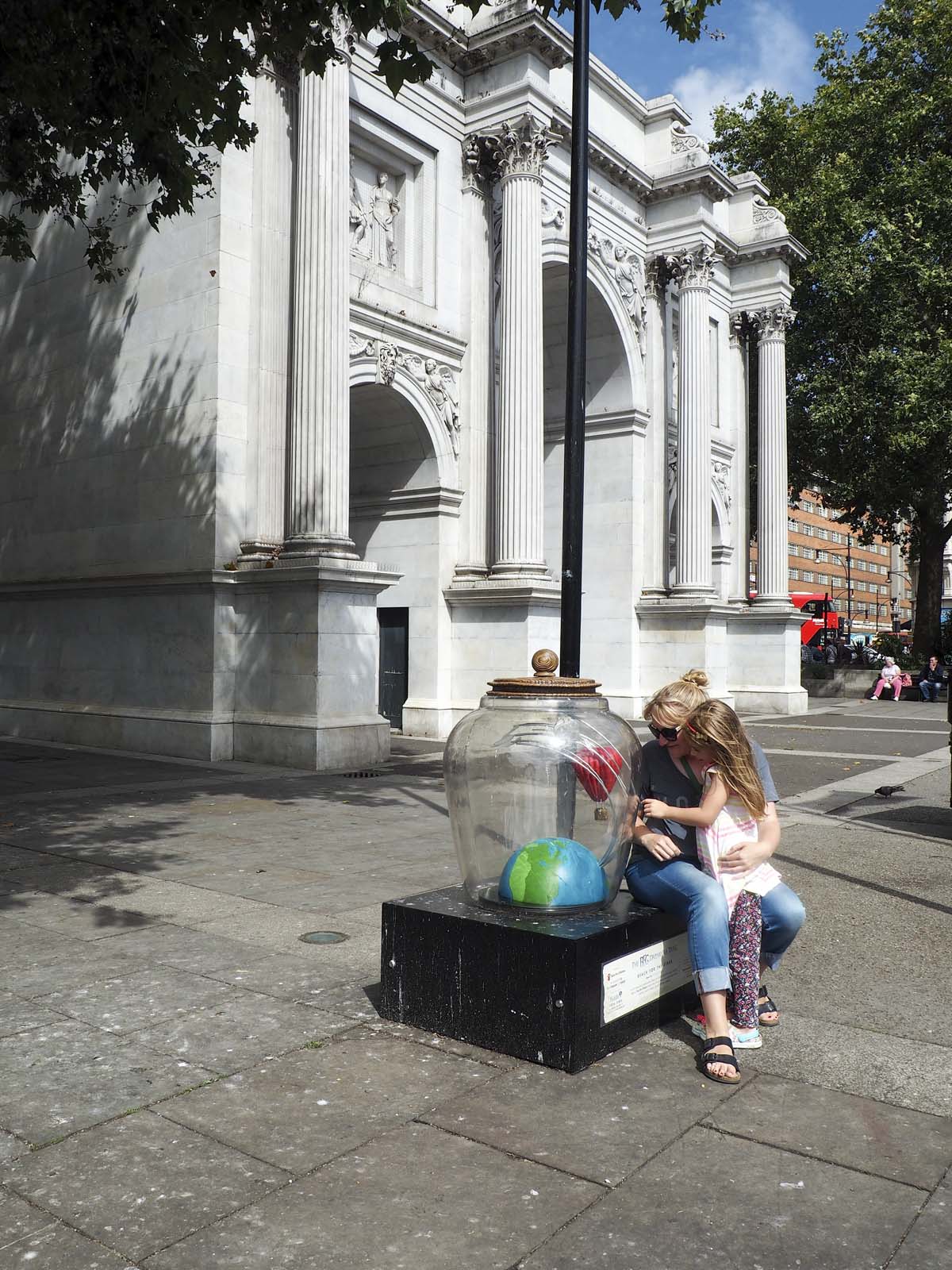 After a coffee and cake stop, we headed home on the train, talking lots about what we'd seen. What I love about the BFG Dream Jar Trail is that it not only gets kids walking around outdoors (or scooting – we saw one family doing the trail on scooters) but it's a great excuse to explore London in a way that you might not otherwise. And if, like us, you live near London, you get to pass lots of iconic landmarks that you don't bother to visit normally.
Fancy doing the BFG Dream Jar Trail yourself? Print off a map here and head for central London but be quick, it's only there until 31st August and then the bell jars are going to be auctioned off to raise money for Save The Children (you can even bid for one yourself!)
This post has been commissioned by Persil and all views are my own – for details of how I work with brands, see my Work With Me page.