I'm writing this from a holiday apartment in the amazing Martinhal Hotel & Resort in Portugal (more on that to come later…) and the day has been a whirl of poolside smoothies, pink foreheads and Vinho Verde. It struck me that there are certain things that are a regular feature of any holiday I go on. Here are my Holiday Must-Haves…
1. A pre-holiday spray tan
I'm a bit unusual in that I don't like to sunbathe. I LOVE being tanned and I LOVE relaxing in warm sun, but a family-history of skin cancer and a lifetime of being slathered with high-factor SPF (when I was a teen, factor 15 was considered completely OTT – now I never use less than factor 50) has left me much happier in the shade. But rather than be milk-bottle-white for my whole holiday, I always have a spray tan, the night before I jet off. My usual go-to tan is St Tropez (administered by my local Dove Spa) but this holiday, they were fully booked so I went for a SunFX spray tan and I think I actually slightly prefer the colour on me. I also learned a very important thing: I learned why you should never put socks on straight after a spray tan.
2. A pool cover-up
I discovered my perfect pool and beach cover-up, and it was a simple impulse buy from H&M. In a hurried dash into a couple of shops the day before I left for my holiday, I grabbed this £7.99 dress, and it's amazing. It ticks all of the boxes it should – covers the shoulders, made from a light cotton that won't get you too hot and flattering with its loose t-shirt fit with tie-belt at waist.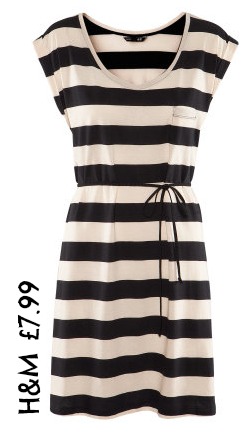 3. An SPF-protective swimming costume
No, not for me. I'm not THAT obsessed with staying out of the sun. For the little one. Having a swimming costume that covers their neck, arms and legs means that mum and dad can relax while they potter around the beach or paddle in the pool. We brought three on holiday with us. The best one was the all-in-one suit from Boots – the shorts on the Tesco were a bit big and kept falling down. But bonus points go to Sainsbury's for selling one that had a matching SPF-protective swim hat. As you can tell, I love a bargain swimming costume. If you want to splash out a bit (*groan*), there are some cute ones around from Boden, Smafolk and Katvig…
4. Statement sunglasses
As far as I'm concerned, you don't need to go any further than ASOS for some on-trend sun specs this summer. I'm a fan of the oversized 1970s styles, but they have aviators, wayfarers, cat-eye styles and lots more.
5. White sandals
They're the failsafe holiday shoe, in my book. They go with everything. Shorts, dresses, skirts, black, stripes, blues, pinks, white. I brought three pairs of sandals on holiday with me (one tan leather pair from River Island and one studded gladiator style pair from New Look) but they didn't even get a look in. I'm due a new pair, however, and I've got my eye on this simple pair from Zara.
6. A kids' hooded towel 
It doesn't matter how hot and sunny it is, when a baby or toddler gets out of the swimming pool, they are cold. We learnt this the hard way, after leaving our daughter's hooded towel dress at home by mistake. Other mums popped one on their kids, who happily ran around in the sun, all warm and cosy. Our toddler screamed as we peeled her wet swimming costume off her and wrapped her in a giant beach towel, restricting her from moving anywhere until she was dry. Lesson learned.
7. An iPad
It's amazing that one device can be so portable yet do so much (I know, newsflash! But humour me…). On this holiday, our iPad has been a TV with downloaded CBeebies programmes on iPlayer (I Can Cook has been a favourite – I think I know how to make vegetable pasties off by heart now). It has been a magazine with some downloaded versions of ELLE and Red (and of course, LOOK). It has been a games console, with our Toca Boca games taking a battering, and our newly-downloaded Peppa Pig Holiday game. It has been a hi fi (that word sounds so old-fashioned now) playing music once our toddler Grace is in bed, and we're eating some dinner on the veranda. I *heart* my iPad.
What are your holiday must-haves?