Kids today, hey? *rolls eyes* London Edition Hotel family style package
That phrase is usually used when talking about kids wearing hoodies and tearing it up in a shopping centre or two, but I mean it in a 'These kids! They don't know how lucky they are!' way. Yes, I fully realise this makes me sound 55. But it's true.
There are so many things that my three-year-old has experienced in her short little life so far, that I didn't experience until I was an adult. She's been to the Royal Albert Hall (something I didn't do until I was 22). She's been abroad (something it took me until I was ten to achieve). She's been to a festival (my first one was V97 when I was 18).
She has also now stayed in a five star hotel.
My posh hotel habit has had to go slightly on the back burner since having my daughter. Aside from the money aspect – we've been spending more on nappies, small boxes of raisins and entry to London Zoo than extravagant mini breaks – I've never considered 5* hotels as being particularly child-friendly. Until now, that is.
A few weeks ago, we headed into central London to stay at the London Edition. The Edition group of hotels is a new concept from Ian Schrager, the man behind The Sanderson in London, The Mondrian in West Hollywood and The Delano in Miami. He knows his hotel stuff. As well as being brimming with luxurious touches (and an awesome bar and restaurant… more on that later) the London Edition has a Family Style package which looks after the little ones as well as you.
What the three-year-old loved…
She had attention lavished upon her from the moment we arrived. At check-in, the staff used her name and chatted to her, complimenting her on her Rapunzel dress. The fact that she had a room of her very own went down well (we were given a Loft room with a connecting room) and you should have SEEN her excited face when she realised she had her own bathroom ("If you need a wee, you can use your toilet. But if I need a wee, I'm going to use MY toilet").
We popped out for a quick lunch nearby and when we got back, our room had some extra special additions…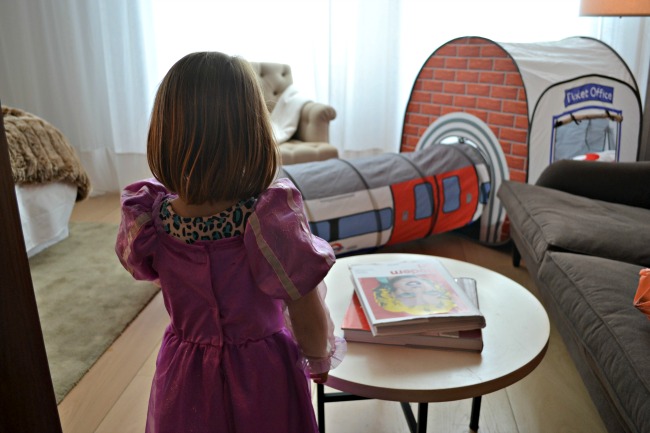 We spent the next few hours playing in the London Underground themed tent and tunnel, with the three-year-old being the ticket seller and me and Mr P being customers.
Her: "Where do you want to go?"
Me: "Oooh, Camden please."
Her: "No, sorry, you can't go there. You can go to Scotland."
Me: "Um, OK. One ticket to Scotland please. I guess…"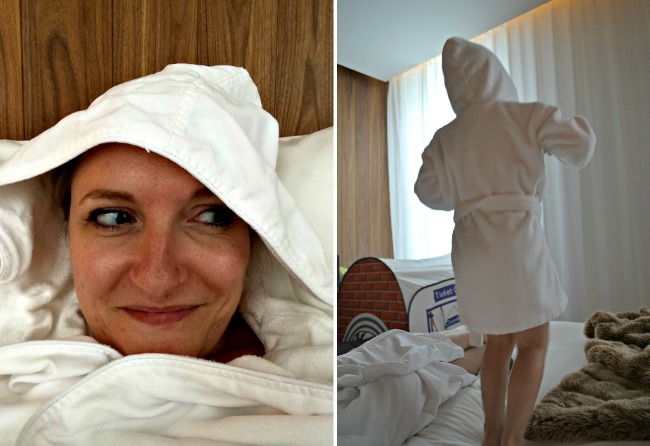 While Mr P took over as the customer, I snuck off for a mid-afternoon bath with a copy of Vogue. Well, it's got to be done when you're in a nice hotel, hasn't it? Afterwards, the three-year-old decided she wanted a bath too. Once we were all clean and shiny, we put on our bath robes (there was even a mini bath robe for her) and snuggled on the big bed and watched 101 Dalmations, one of the kids' films that had been pre-loaded onto the iPad in the room (complete with bounce-proof rubber case).
There was also a brilliant guide to kids' activities in London and a London Underground themed scrap book to fill in and keep. Despite the fact that our original plan had been to check in and head straight out to the Natural History Museum, it was suddenly 4pm and we were still in the hotel room! So we cut our losses and got some crafting materials out that we'd brought with us. After a quick picnic tea, we discovered some milk and cookies had been left in the other bedroom…
Soon it was time to tuck the little one up in her massive bed and she quickly drifted off to sleep.
What we loved…
Apart from the gorgeous decor and friendly service, the best thing for us about the Family Style package at the London Edition was the babysitting service. 15 minutes after the three-year-old was tucked up in bed (with the complimentary baby monitor switched on), our babysitter arrived. Arranged by the hotel and included in the package, the service gave us four hours of a fully qualified childcare professional. Earlier in the afternoon, I had called the agency to chat to them and find out more about the babysitter, and they told me she worked at a nursery and was fully qualified. We chatted to the three-year-old about the fact that a babysitter would be here for her and if she needed anything, to either call out or come through to our room to see her. As we tucked her in, she said with a smile "Night night. And if I need anything, I will come and ask the lady." It made me feel happier, knowing she was comfortable asking the babysitter for help.
So, that sorted, off we went! We headed to the hotel bar – The Punch Room – for a couple of drinks and then we went to the Berners Tavern for dinner (excuse the grainy iPhone snaps…)
It was such a brilliant evening – a real treat to be in a gorgeous grown up restaurant, knowing we only had to head upstairs to our room afterwards. The Berners Tavern is a real destination restaurant and can be tricky to get a reservation at short notice. I loved the relaxed atmosphere and it was so buzzy, despite being a huge room with a high ceiling. The food was amazing and I totally stuffed myself. Afterwards we sat in the lobby bar for a couple of drinks and did some people watching. Because there's a trendy members only basement club in the hotel, there were all sorts of interesting characters coming in (Cara Delevingne and co were regulars during fashion week, apparently, but no sign of them that night…)
After a sleep in an extremely comfortable bed, we were woken at 5.40am (groan!) by our little cherub. But the thought of breakfast downstairs at the Berners put a smile on my face. And what a breakfast it was! The waiter brought a Disney Princess colour-in jigsaw for the three-year-old which kept her busy while we ummed and ahhed over the menu. She told me she wanted sausage, bacon, toast and baked beans, and I had to explain to her that there were no baked beans on the menu, so it would have to be just sausage, bacon and toast. She happily accepted that, but when our breakfast arrived, the kitchen had done her a little bowl of beans! She was thrilled and it really impressed me. While she munched, I ate my eggs benedict and read Sunday Times Style. It was so bloody blissful.
After another hour of playing in the tent, we checked out and went to Coram's Fields for the morning. As we left, the reception staff chatted away to the three-year-old again and gave her a goodie bag containing a Frozen sticker album and stickers. We all left with a big smile on our face.
• Thank you to the London Edition Hotel for inviting us to review the Family Style package. All views are my own.  The Family Style package at the London Edition Hotel starts at £535 for bed, breakfast, babysitting service and treats. It's by no stretch of the imagination a cheap break but for a special occasion, I can't recommend it enough.