I'm nearly three months into my 'all-new' healthy eating thing (imagine me doing jazz hands as I say that) and while I'm really happy about all of the junk that I'm not putting into my gob, I'm aware that I need to be better at putting super healthy things in there. We've been eating lots more vegetables but something I really want to try is juicing. However I don't know the first thing about which juicer to buy and what to do. So I asked my friend, fellow blogger and juicing pro – Katrina – for a beginner's guide to juicing. So here's her guest post for me – and check out her fab Cool Bananas Blog too! Over to Katrina…
Whether you want to juice for a detox, as an aid to slimming: or simply for a lifestyle boost to up your intake of those all-important 5-a-day fruit & veg portions, there's no denying that juicing gets my seal of approval. In fact, it's an integral part of my daily routine (along with being a toddler tamer). I suffer with several food allergies & malabsorbtions so for me juicing is a way to aid digestion function, increase my intake & absorption of essential vitamins & minerals, & besides they taste delish (honestly, they do!)
Have you toyed with the idea of juicing, but found it all rather baffling? Fear not! My mission today is to introduce you to this wonderful world & show you just how easy, tasty & fun it can be. Now, I'm known for rambling, so I'll try my upmost to keep this short & sweet, to ease you in gradually.
The basics: What do I need?
1. A machine & compostable food waste bags (or similar). Don't scrimp on this or, I can say from experience, you'll be disappointed. Originally I purchased a cheap machine, it juiced badly & I spent far too long preparing food to feed through the tiny shoot. Admittedly the juicer market is highly saturated market so it can be tricky to choose one. My weapon of choice is the Sage Nutri juicer (if I had the money, I would most definitely invest in the next model up, the 'pro')
Ta Dah!
Use a food compost bags to line the caddy-it'll save you so much time, & there'll be a hell of a lot less mess to faff with (ah, the great faff)
2. Fruit. Some fruit will juice better than others – although it's been reported that you can pretty much juice anything. But WHOA! Easy cowboy….don't go spending large, buying up the entire fruit & veg section. Start slowly, just make a couple of juices: get the hang of your machine before you dive into the deep end & go cold turkey on food. If you decide to undertake a 'cleanse' or 'detox' (I do highly recommend these now & then) you're far more likely to succeed by easing in gradually.
Which juices should I make?
Lets keep it simples (said like a meerkat), here are my three favourite juices:
Carrot, orange & ginger
4 carrots, 2 oranges & a slice of ginger. All blitzed through your machine on the high speed. This lot should give you at least 500-600 ml of juice (Carrot will juice surprisingly well). For fruit with skin, like orange, I advise you peel them. The result, if you don't, is extremely bitter!
Green juice
2 cucumbers, 2 apples, kale, spinach & ginger (and a stick of celery if you have it). You can throw apples in as they are – stickers & all. TIP: If you're using leaves, try & roll them up or bunch together – you'll yield much more liquid from them this way. Leaves should be juiced on the low speed, the remaining items can go back in at the top speed. You'll get around 800ml juice from this.
Blueberry, grape, fresh mint & coconut water
Half a pack of blueberries, half a pack of grapes, large bunch of mint and coconut water to taste. Now this one doesn't yield much liquid, but there's no need to be disappointed by that, as it's probably the tastiest of the lot! Chuck all the fruit & mint in together, then juice on a low speed (from half a packet of grapes & half a packet of blueberries you'll get approx. 200ml) Add coconut water once you've poured the liquid into a glass/ container, I find this far too sweet if I don't dilute it.
My tips!
Wash fruit before juicing.
Clean your machine immediately – and I mean before you've even taste-tested your efforts: washing off the debris pronto makes the cleaning process so easy. Leave it too long and it'll be a sticky nightmare.
Make juices in batches. I often make these three back to back and then wash my machine.
Store juices: In theory, it's best to drink any juices straight away, for the most nutrients etc. But you can store them for up to three days in an airtight container, in your fridge. Ideally, when you make them, add a slice of lemon (juiced) as this helps preserve it. Fill the container to the very top for minimal 'gaps' (basically you want zero oxygen present as this is what will deteriorate the juice.)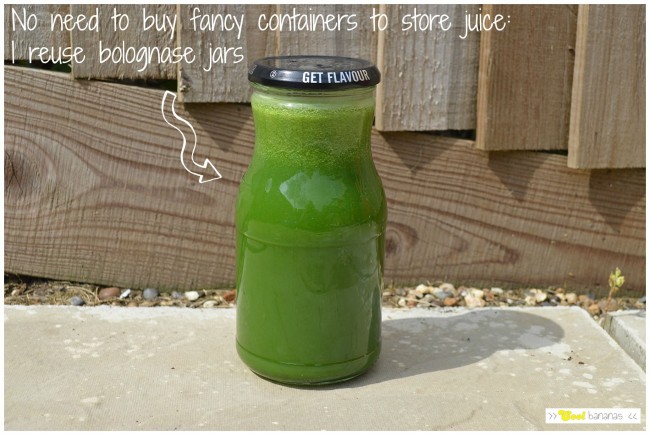 Want some more inspiration?
Watch: 'Fat, Sick, & nearly Dead' Joe Cross. A fascinating film about one dudes mission to take control of his life, medical conditions & get the world juicing.
Recipes: There are dozens of recipes at your fingertips (God bless Google) If you check out the Joe Cross website, the pages here are packed with great info & so is his book. Jason Vale is the other big name in juicing & his books are great too.
You're always welcome to follow me over on instagram for your weekly dose of juice-inspiration #justsayin'
I hope this guide hasn't bamboozled you, but has given you the oomph needed to give juicing a try.
If music be the fruit of love…..Juice on!