A few weeks ago, social media was ablaze at the news that Mattel planned to launch three new body types with its Barbie doll. As a mum who is desperately keen to bring up my daughter to know that 'tall, slim with perky boobs' isn't the only body shape which will make you happy, the announcement made me cockahoop with joy.
So what are the dolls actually like? I've got my hands on four of the new dolls from the Fashionistas range and this is what they look like…
From left to right, we've got Doll 25 (Blue Brocade) which is the petite shape, Doll 22 (Chambray Chic) which is the curvy shape, Doll 24 (Crazy For Coral) which is the petite shape and Doll 30 (White and Pink Pizzazz) which is the tall shape.
Is it weird that the first thing I did was look under their clothes at their bodies?
Let's cut to the chase – here's what the dolls look like without their clothes on. Granted, I felt a bit odd taking photographs of naked dolls, but this is actually the state that most of my five-year-old's dolls are in for most of the time, anyway.
So the obvious differences are the skin tones, the hair colour, the dolls' height and how curvy or straight they are. Doll 25 (far left) and Doll 24 (second from right) are both the 'petite' shape – smaller in height, smaller boobs than Original Barbie, slightly wider waist, hips and legs. Doll 22 (second from left) is the 'curvy' shape – she has smaller boobs than Original Barbie, wider waist hips and legs, and a larger bottom. Her face is also rounder and she has feet shaped for flat shoes rather than towering heels. Doll 30 (far right) is the 'tall' shape – yes you guessed it, she's taller than the others and has a straighter body shape with fewer curves than the other Barbies.
Here's what they look like next to Original Barbie (she's the one in the middle… as if I need to tell you that).
None of the new shapes have the massive thigh gap that Original Barbie has and they all have less make up on too, which is a bonus, if you ask me. 
I'm a huge fan of these dolls. If I'm being picky, I'd like it if the 'Curvy' doll was named something else – because she's not actually that curvy, is she? And in the Fashionistas line, which these dolls are part of, I'd like to see fewer dolls wearing skirts and more wearing the kind of clothes our kids wear. Where are the dungarees and trainers? Leggings and t-shirts?
But overall, I love these dolls. Anything which helps to reaffirm the idea that we all come in different shapes and sizes – and that's OK – is great with me. All of the kids in my five-year-old's school class are different, so it makes total sense for her dolls to reflect that.
So what did she make of these new Barbie dolls?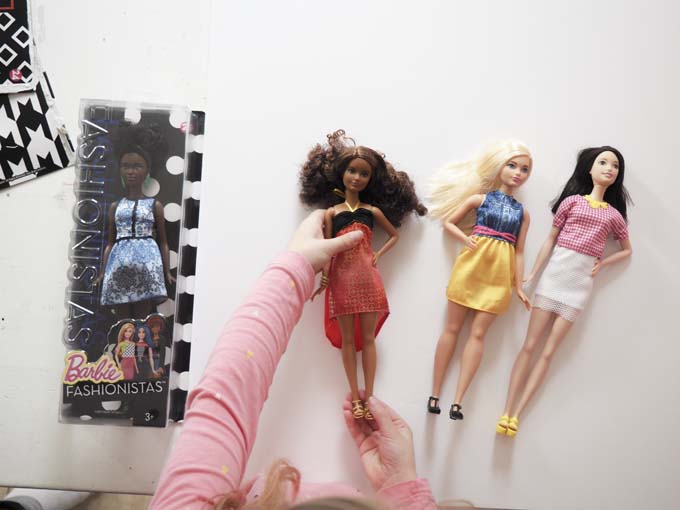 She loved them too. She couldn't get the dolls out of the boxes quick enough, and spent ages taking off – and putting back on – their shoes. She immediately gave them names (Emine, Lucy, Lale and Daisy) and when I asked her if these dolls look any different to other dolls, she replied no. Just to be sure, I then asked if they looked like normal dolls to her, and she said yes. Which probably says a lot about her age – she hasn't yet started to look much at body shapes or think about them a lot.
But the thing about toys and dolls that a lot of people overlook is the subconscious effect they have on children. She might not be consciously thinking about body shapes and skin tones, but I believe that the toys she plays with – whether it's dolls or building bricks or robots or engineering sets – are shaping the person she is, and the adult she will become.
So, in summary: the five-year-old is just happy to have four new dolls to play with, while I'm happy that she has more realistic dolls to play with. I call that a win/win situation.
These new doll shapes will be available to buy in the UK for £9.99 each on Amazon from 23rd February, with more to follow later in the year but you can take a look at the whole range now on the US site, where they're available already. Mattel sent us these four dolls but as always, all words and views are mine.