I wish I was an outdoorsy type. You know, like those people who spend loads of time rambling through forests, can name all the trees they pass, know which berries are edible and which should be avoided at all cost and can build a fire with some sticks and a magnifying glass (is that even a thing or is it just 11 year old boys who do that?)
But I've always been an indoorsy type. Much happier on the sofa, mug of tea in hand, watching a movie or doing jigsaws with the six-year-old. I think indoorsy people are often overlooked – it takes great skill, you know, to perfect the art of being indoorsy!
I think my indoorsy nature is the reason behind my fear of camping. I like my home comforts – a hot shower, a cosy bed – and experiences of camping at festivals in my late teens and early 20s put me right off. I'm aware though that judging camping on going to a festival is a bit unfair. We'd rock up to the V Festival with nothing but a tent and some spare clothes, get a rubbish pitch on a hill (and next to really noisy people – well that's pretty much everyone at a festival, right?) and be so hungover the next morning that the rancid toilets and shower queue were enough to make us cry.
"I'm not a camping kind of person" I'd tell everyone who's listen for years after that. I even wrote about it when we went on a caravan holiday a couple of years ago. But I've recently discovered that I was wrong! I am a camping kind of person. What's changed my mind? A recent trip with Mr P and the six-year-old to the Embers Campsite at Polesden Lacey in Surrey.
Now before I continue, I'm well aware that this was very much glamping. It's not like we roughed it, sleeping in bivvy bags on the forest floor, under the stars. But for me, this is a breakthrough!
The Embers Campsite at Polesden Lacey is brilliantly situated – alongside the beautiful National Trust property, yet feeling quite separate. Enclosed in a clearing in the forest, it gives you a lovely secluded feeling. Our tent was a pre-pitched bell tent (but you can rock up with your own tent if you prefer) with bunting, fairy lights and sheepskin rugs. As soon as we arrived, the Embers staff made us feel welcome, showed us where the shower block and shop was and checked we had everything we needed. We unpacked and organised our stuff – we had brought some things like airbeds, duvets, a camping stove and a camping kettle, to make our camping experience as comfortable as possible.
While we were unpacking, the six-year-old spotted two girls and their dad pitching a tent next to us. I could tell she was just dying to speak to them but was being a bit shy. After a bit of help from me, she asked if she could play (they were very keen too thankfully) and within five minutes, they were firm friends, playing ball games and singing Moana songs. Which left Mr P and I to sit in the sunshine with a glass of wine….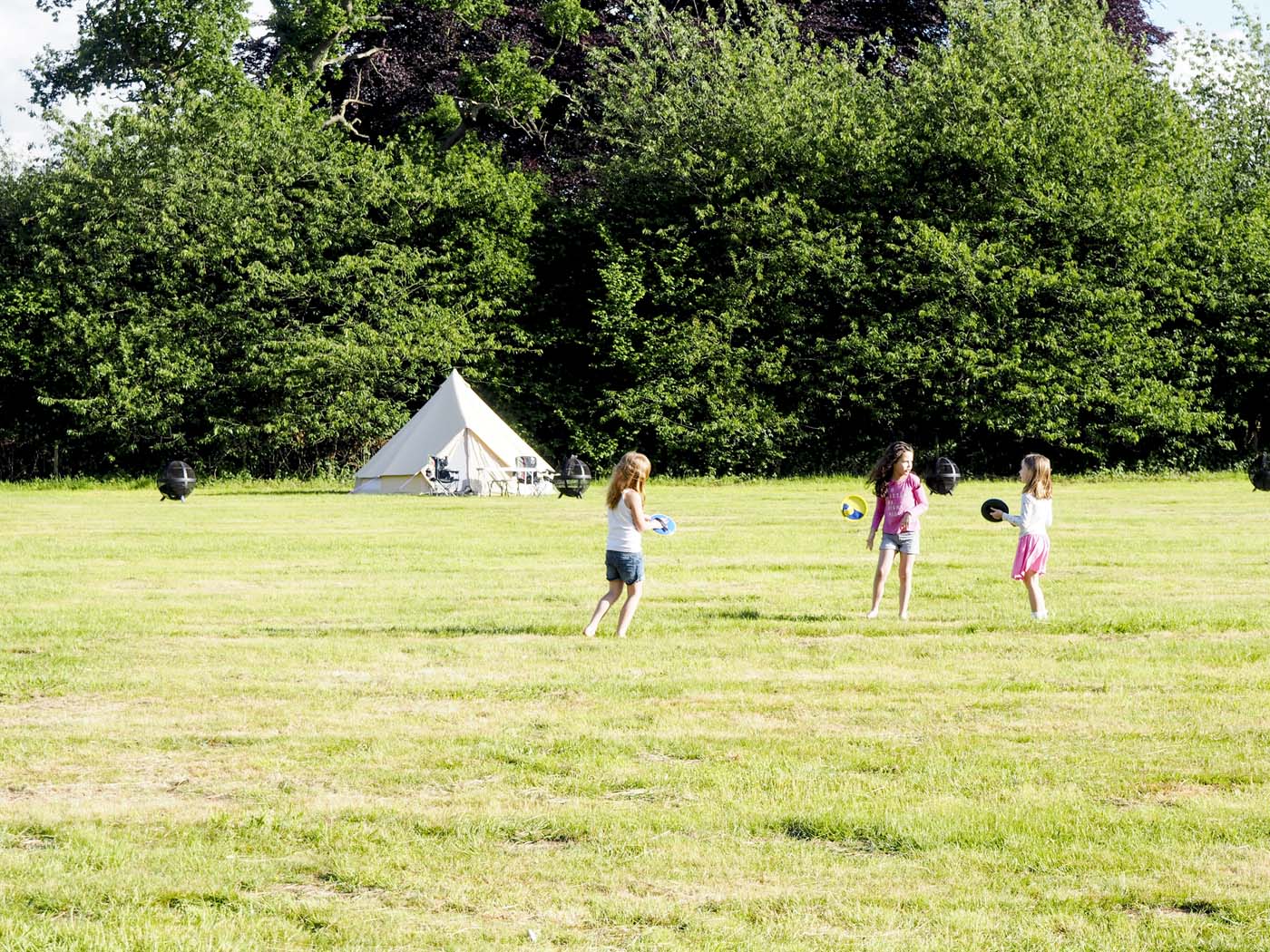 As the sun started to set, we got a fire going – every pitch at Embers has a fire pit and helpfully, the shop sells bags of wood and fire lighters (along with things like sausages, burgers and ice cream). Mr P was in his element! And I was happy to sit watching him, whilst drinking the wine. Despite bringing the camping stove, we failed a bit and forgot to bring any pots and pans (sidenote: what's the difference between a cooking pot and a cooking pan?) but Embers to the rescue! They have a wood-fired pizza oven so we sat by our tent munch tasty pizza. And drinking wine (have I mentioned the wine?) Then came my favourite bit: we made s'mores! Ooh so gooey, so delicious, so much fun!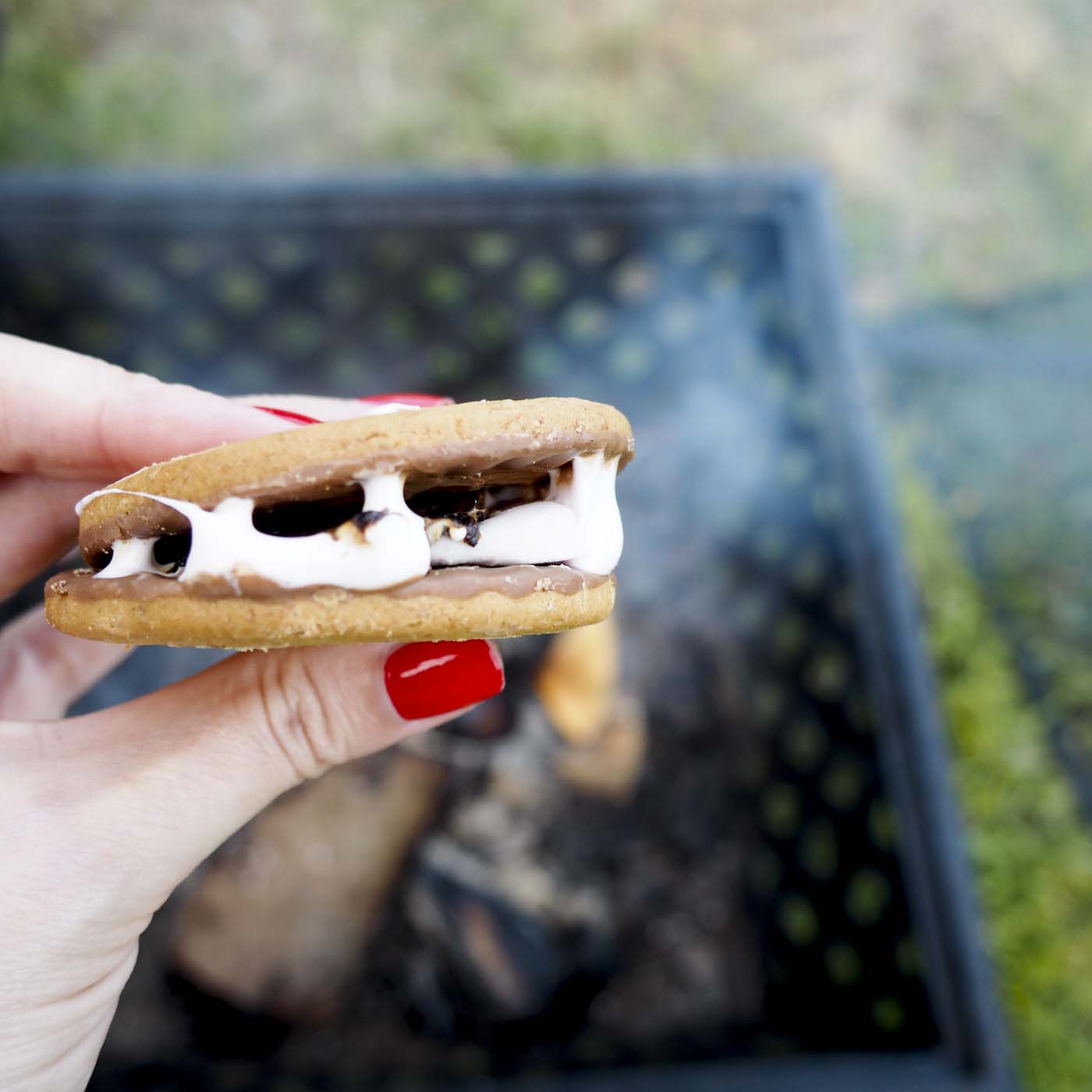 The six-year-old was beside herself with joy that she was allowed to stay up until 9pm, at which time, we got her changed into her PJs and headed to the shower block to brush her teeth. The solar-panelled shower block at Embers is bright and clean, with hot showers, loos with loo roll, sinks and hand dryers – and outside were some larger sinks for washing up. I saw a couple of Embers staff members cleaning and tidying the block throughout the day, so it's clear they place importance on it being nice for campers.
Once she was in bed, Mr P and I wrapped up in blankets – it was a bit chilly by that point – and sat by the fire for a while longer. A couple of families were having a game of rounders, in the fading light. We watched them and stared at the flames in our fire-pit, and chatted. It felt so relaxed and peaceful.
We woke early (nothing unusual there – the six-year-old likes to wake up at 5.45am most mornings) and while Mr P made tea and coffee on the camping stove, I went for a shower (I can't shake off my experiences at festivals where you have to get in early to beat the big queue!) and then we cooked bacon and sausages for our breakfast – with the help of our next door camper who allowed us to borrow his frying pan.
The beauty of the Embers campsite at Polesden Lacey is that you have a brilliant family day out right there – the National Trust property is a popular destination for local families and I can see why. We spent the morning wandering around the beautiful grounds, doing the fun nature trail set up for kids, playing in the woodland play area and eating lunch in the lovely cafe. We didn't make it into the house sadly, but reading about the history of the place was fascinating!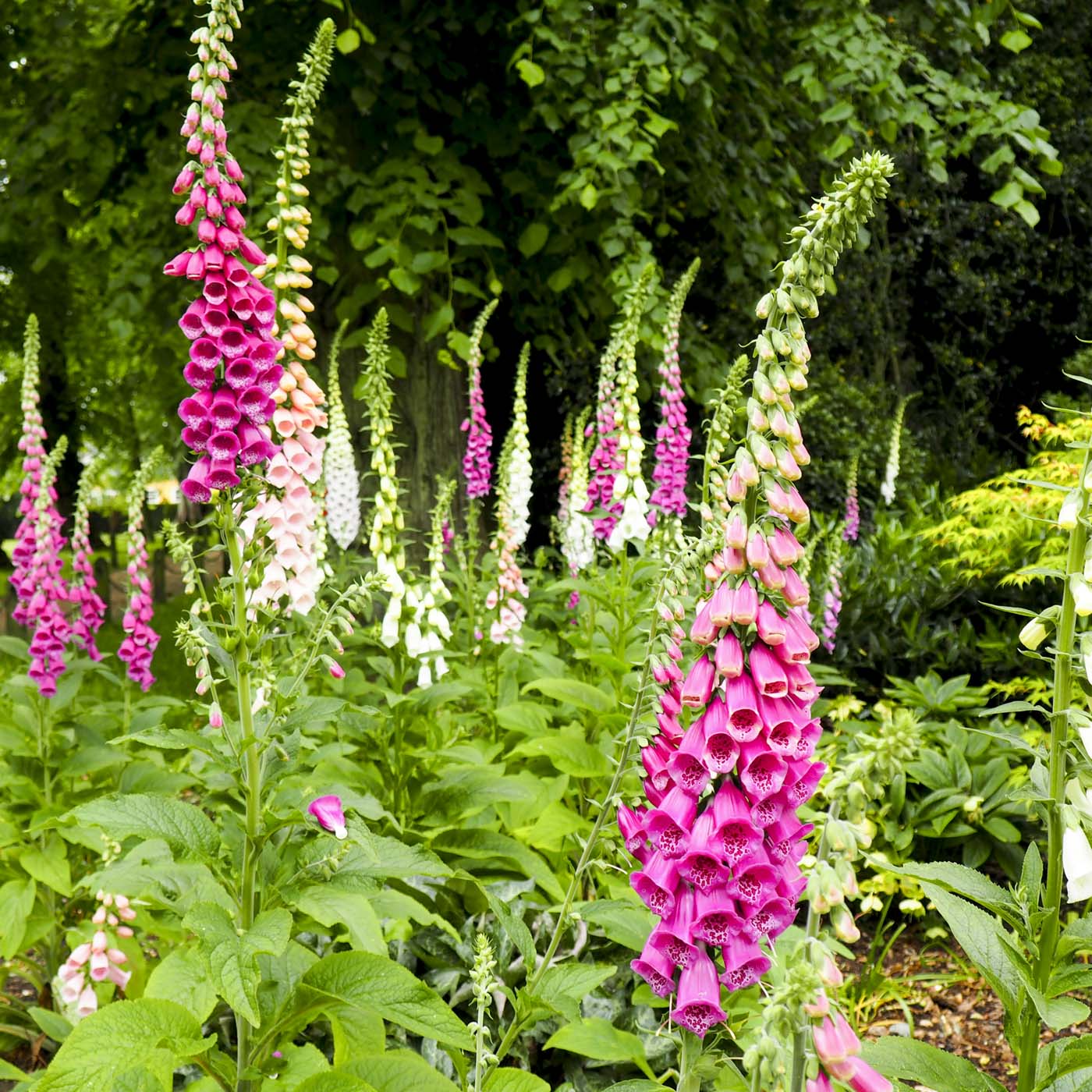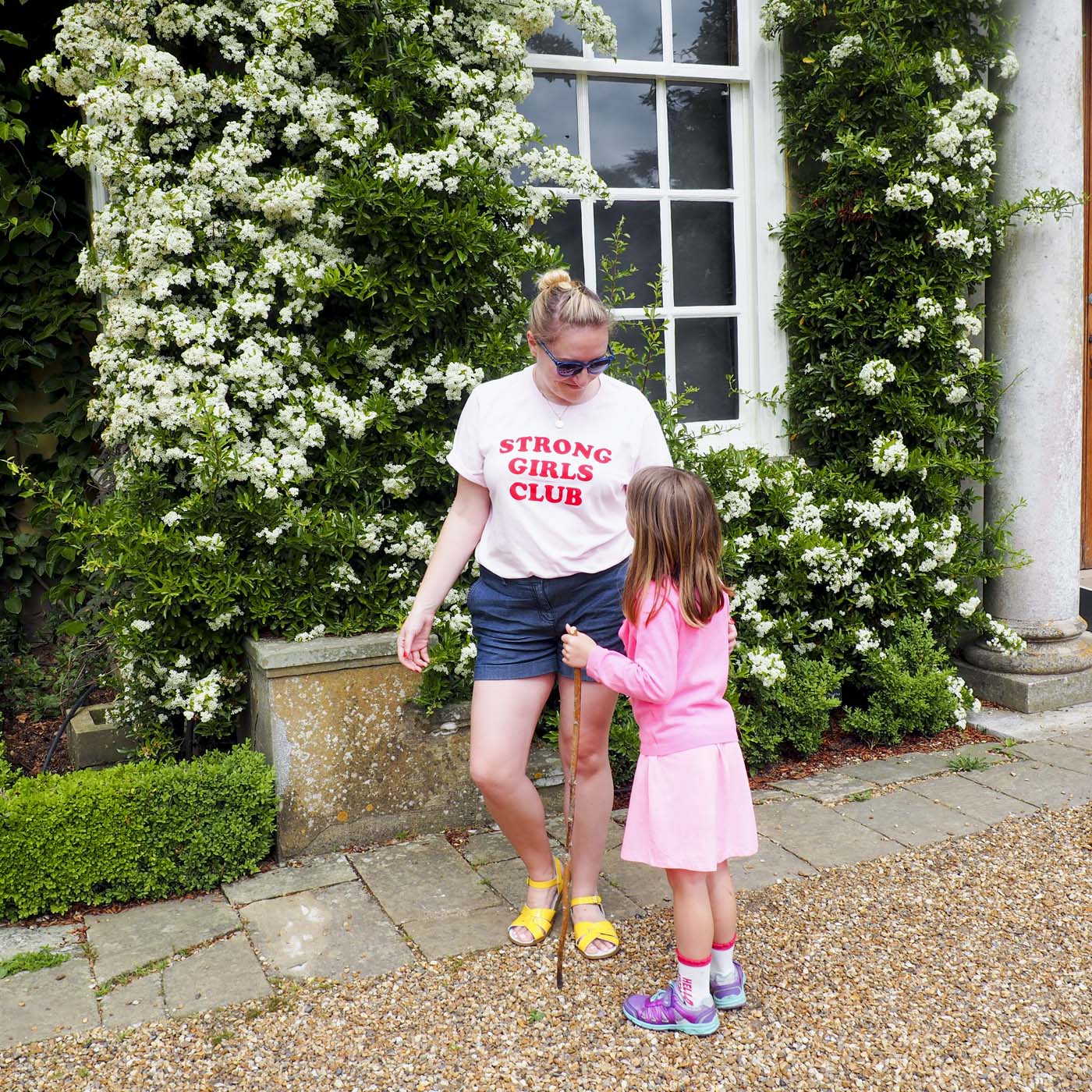 Keen to see what else the area has to offer for families, we jumped in the car and drove ten minutes to Bocketts Farm. We only had  a few hours there but you could easily do a whole day – as well as indoor play areas and cafes, there's a huge outdoor area with animals to see and feed, trampolines, go-karts, jumping pillows, assault courses, slides – everything you could think of.
Despite loving Bocketts Farm, the six-year-old was desperate to get back to the campsite. "I just want to sit in our tent!" she kept saying. So we headed back there with a picnic tea and while we ate, we taught the six-year-old how to play Rummy (which has now secured itself at the top of our favourite card games list). After more S'mores, cooked on the fire, it was time for bed, and we lay down with the six-year-old and read her some of Charlie and the Chocolate Factory as she drifted off.
I was so exhausted that I went to bed quite soon after her! The outdoors life takes it out of you, doesn't it?
The following morning, after tea and brekkie, we packed up, gave our leftover firewood to the next door tent and headed off home. Smelling of campfire, with a new appreciation for camping, and wondering whether we can toast S'mores on our gas hob at home….
This post was commissioned by Embers Camping and as always, all views are my own. For more details visit Embers Camping and for 3 nights for the price of 2 on any midweek stays booked (Mon-Thurs) in 2017, use the code EMBERS2FOR1.
Want to see more? Watch my video: