ADVERTORIAL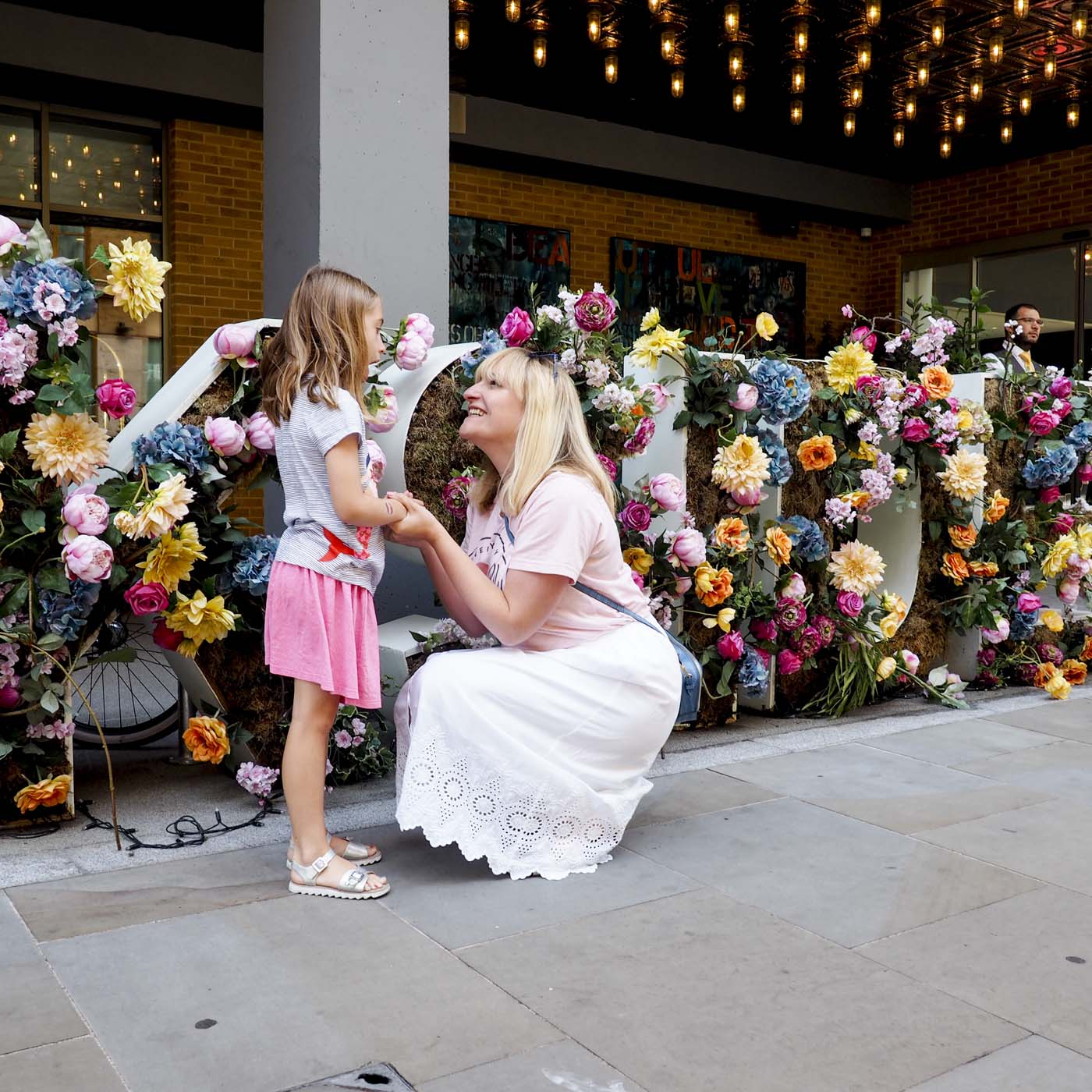 If you were to ask me to recommend a stylish, family-friendly hotel in the centre on London, there are lots of places that would spring to mind – my knowledge of cool places to stay in the city is pretty good, after spending my 20s drinking cocktails and going to media events in chic hotels. Lots of them now have brilliant offerings for families, as more and more hotels recognise the demand for upmarket family accommodation.
One place that I wouldn't have thought of – until last weekend – is a Hilton. My last experience of staying in a Hilton was when Mr P and I needed somewhere to stay in central San Francisco, eight years ago. To me, Hilton is a chain hotel predominantly for tourists and business travellers, but the word stylish or family would never spring to mind when I thought of Hilton.
But our recent stay at Hilton London Bankside has changed my mind.
As we approached the hotel, it looked like a standard Hilton…
But as we got closer, things started to look a little different… thanks to this huge floral 'Bankside' sign outside the main hotel entrance.
Walking inside, it was clear that all of my ideas about Hilton were about to be blown out of the water. The reception area was stylish, with cool lighting, mid-century style glass panels, armchairs and brightly coloured cushions.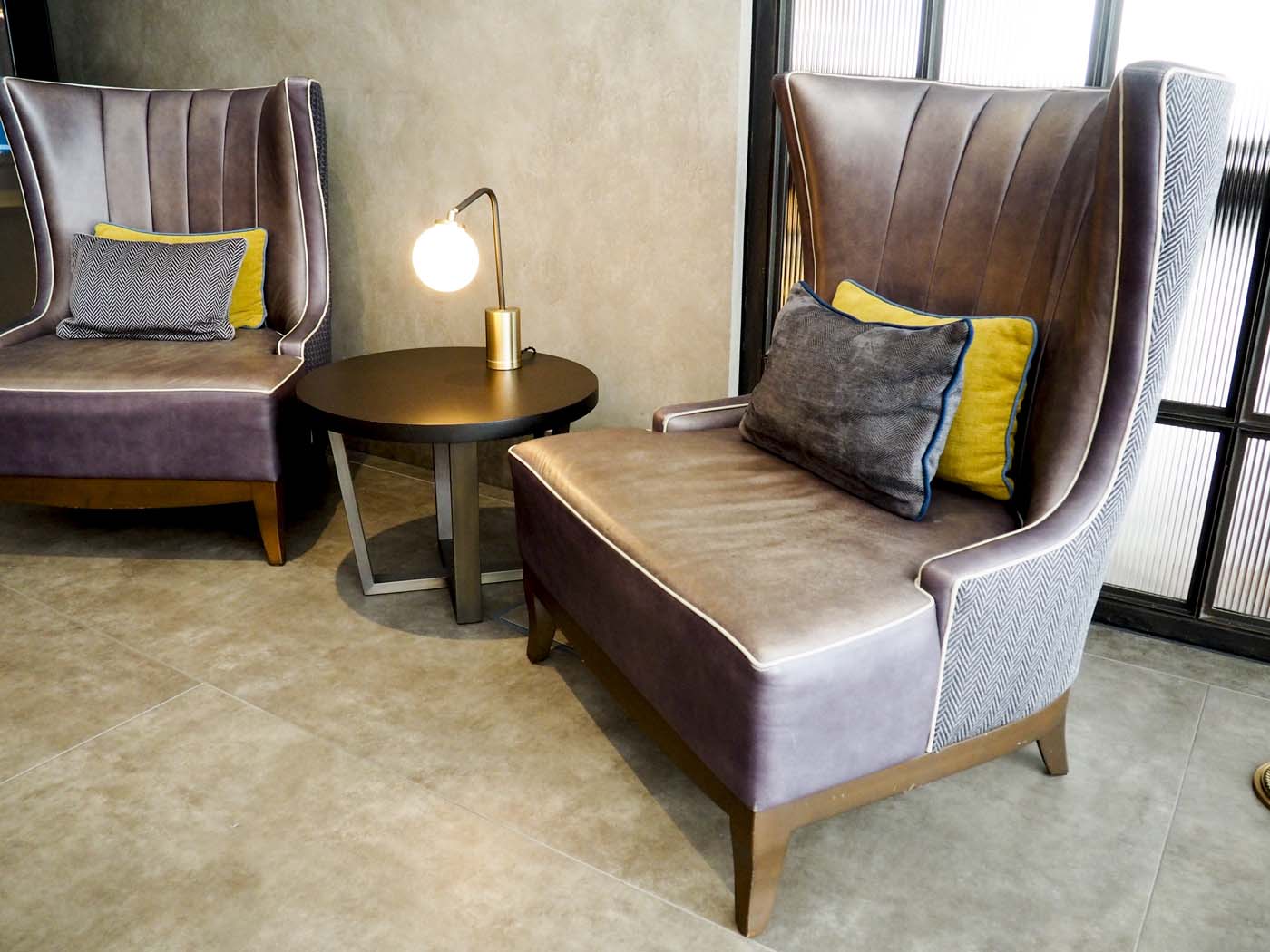 Any fears that stylish might mean we'd come across aloof, cool members of staff were immediately put to rest as the reception team welcomed us warmly and chatted away to the six-year-old, telling her about a special challenge for kids where she had to find hidden foxes around the hotel and mark them down on an activity sheet. So that was basically her day made.
The rooms had stylish touches too – alongside the huge beds were smoked glass lamps and wood panels that felt a bit Mad Men-esque.
Our adjoining rooms meant that the six-year-old could have her own space (and – importantly- meant we wouldn't have to go to bed at the same time as she did). On her bed was a mini bathrobe and a sweet goody bag of treats, which made her very happy.
We'd had grand plans of checking into the hotel and then exploring the local area a bit – both Mr P and I used to work just across the road from the Bankside Hilton, but so much as changed in the last few years, we were looking forward to having a mooch around. But when we got to the hotel, we decided to just chill out!
Mr P took the six-year-old for a swim in the hotel pool, while I caught up on some work, and then we all snuggled together on the big double bed to watch Trolls, one of the free movies on the hotel room telly!
The six-year-old was busy munching on a healthy apple when there was a knock at the hotel room door and THIS arrived….
After a couple of hours of relaxing (I may have had a sneaky afternoon bath…) we headed to the hotel restaurant – the OXBO Bankside – for dinner. With gorgeous parquet flooring, graffiti walls, succulents, fairy lights and more mid-century style touches, it looked like my kind of restaurant. Even better, Hilton have a 'kids stay and eat free' policy, allowing children who stay at a participating Hilton hotel with an adult to have complimentary breakfast, lunch and dinner.
The six-year-old loved the open kitchen (any chance she gets to watch chefs at work, she takes!) and both kept an eye on the cooking and read her book while we waited for the food to arrive. The kids' menu was good – I was worried that our fussy eater might struggle to find something she liked but she happily ordered raw veg with a sour cream dip and chicken skewers with rice.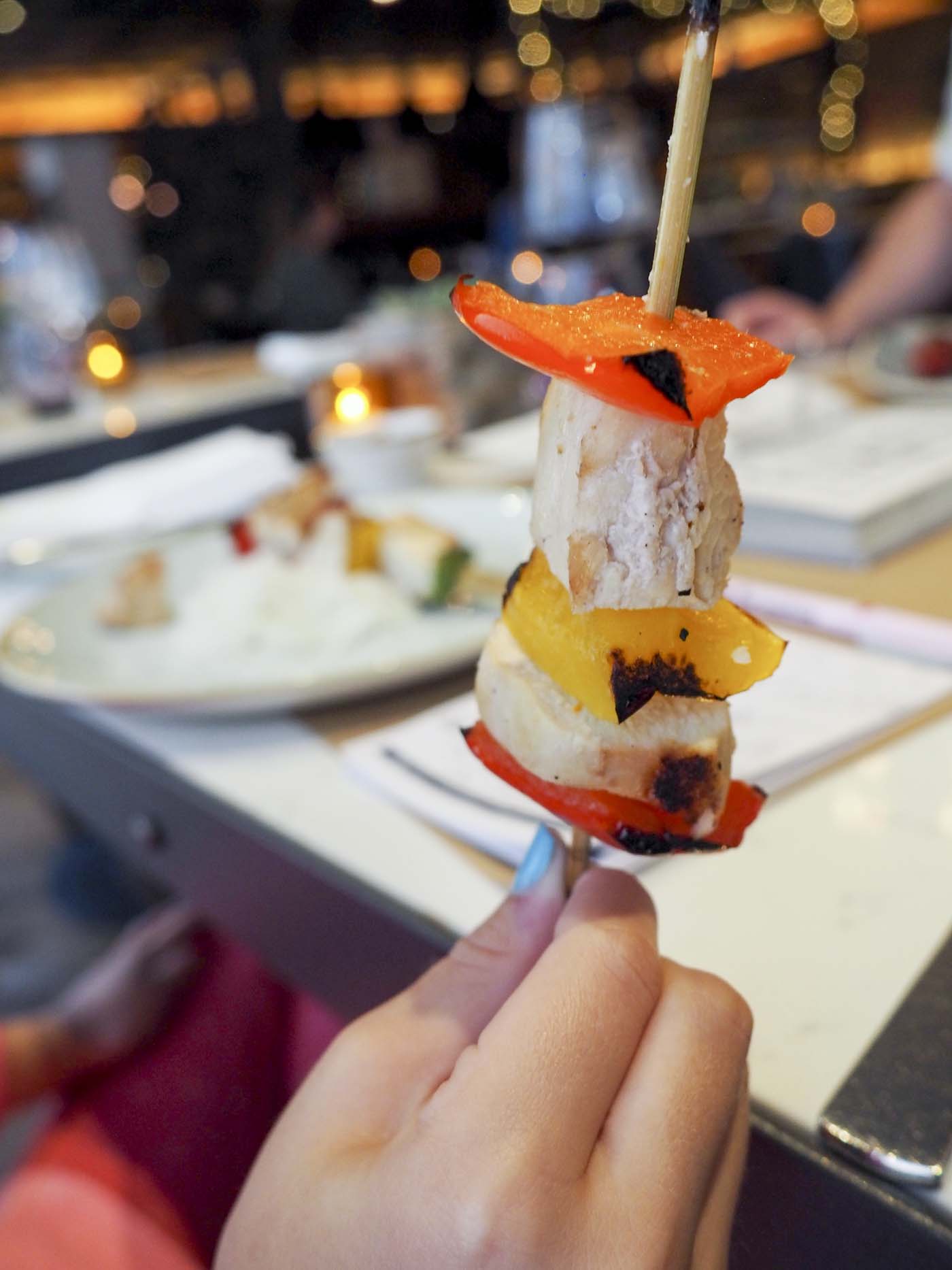 Meanwhile, we shared a bottle of red wine and ate steak. When my medium steak came well done, they were swift to cook me a fresh one, gave me a chicken bar snack to eat while I waited and then brought more side dishes with the new steak – impressive!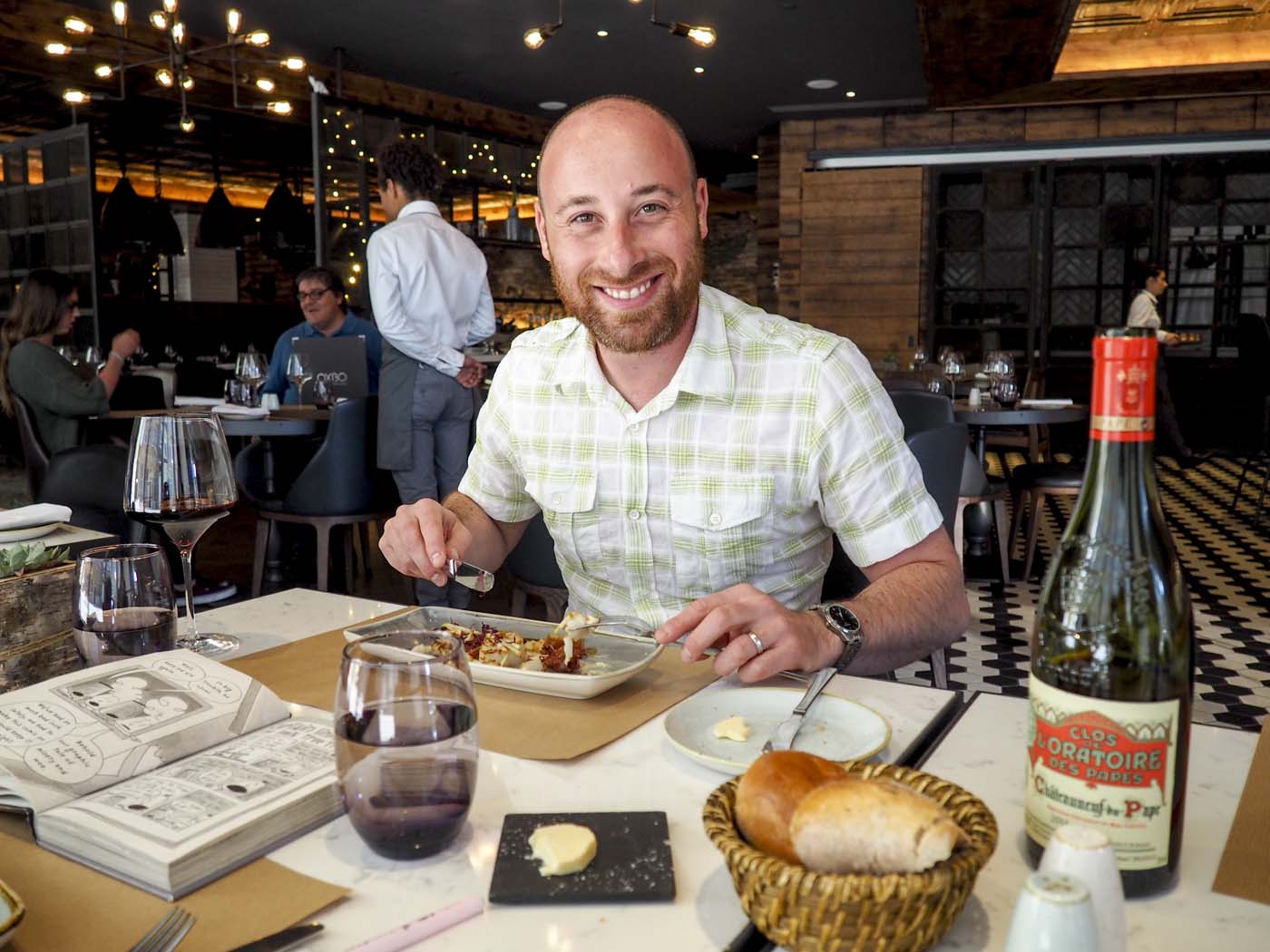 The six-year-old asked to take a photo of me!
The kids' menu dessert didn't go down massively well with the six-year-old (the berry sorbet and sauce was too tart for her sweet tooth) but Mr P and I polished it off before we retired to The Distillery bar for some gin cocktails. The bar is on the site of the old Stevenson & Howell fragrance factory, which distilled essential oils and manufactured essences, flavourings and garnishes during the 1800s and its menu has a definite nod to this. My cocktail came with a small bottle of basil oil which I could add to it.
The following morning, it was time to road test the one thing which I believe says so much about a hotel: the breakfast. It's so easy to get a hotel brekkie just right, but so many hotels fall at the smallest of hurdles. The Bankside Hilton is part buffet and part chef-cooked – so you can help yourself to juices, pastries, cereals and fruit while the chefs are there to cook eggs, waffles and pancakes at request along with the rest of the hot food. Meanwhile hot tea and coffee are served to your table.
I find it really hard to limit myself at a hotel breakfast – I want it ALL. The quality of the food was top notch – great sausages and bacon. They lost points with the poached egg I got from the chefs, as it wasn't runny! (What's the point of a non-runny poached egg, I ask you!) The six-year-old was very happy with pancakes and chocolate sauce, before she scooted off to find more hidden foxes around the restaurant.
After breakfast we checked out and headed out on to the riverside – we walked along the Thames to Southbank, bought some books from the second hand book stalls, had a coffee, played on the interactive art at the Southbank Centre and then jumped on the tube to the London Hilton on Park Lane where we'd been invited to a very special event.
To celebrate the launch of The Boss Baby on DVD, Hilton are offering a special The Boss Baby Afternoon Tea in selected hotels. We were being given a sneak preview of the afternoon tea at a screening of the film. The six-year-old had already seen the movie, at the cinema, but I hadn't seen it, so she was very excited about watching it with me.
For £19 per child and £39 per adult, The Boss Baby Afternoon Tea has a selection of sandwiches, biscuits, cakes and scones, all chosen to appeal to little ones.
Meanwhile, adults enjoying The Boss Baby afternoon tea can have a selection of more 'grown up' sandwiches and cakes.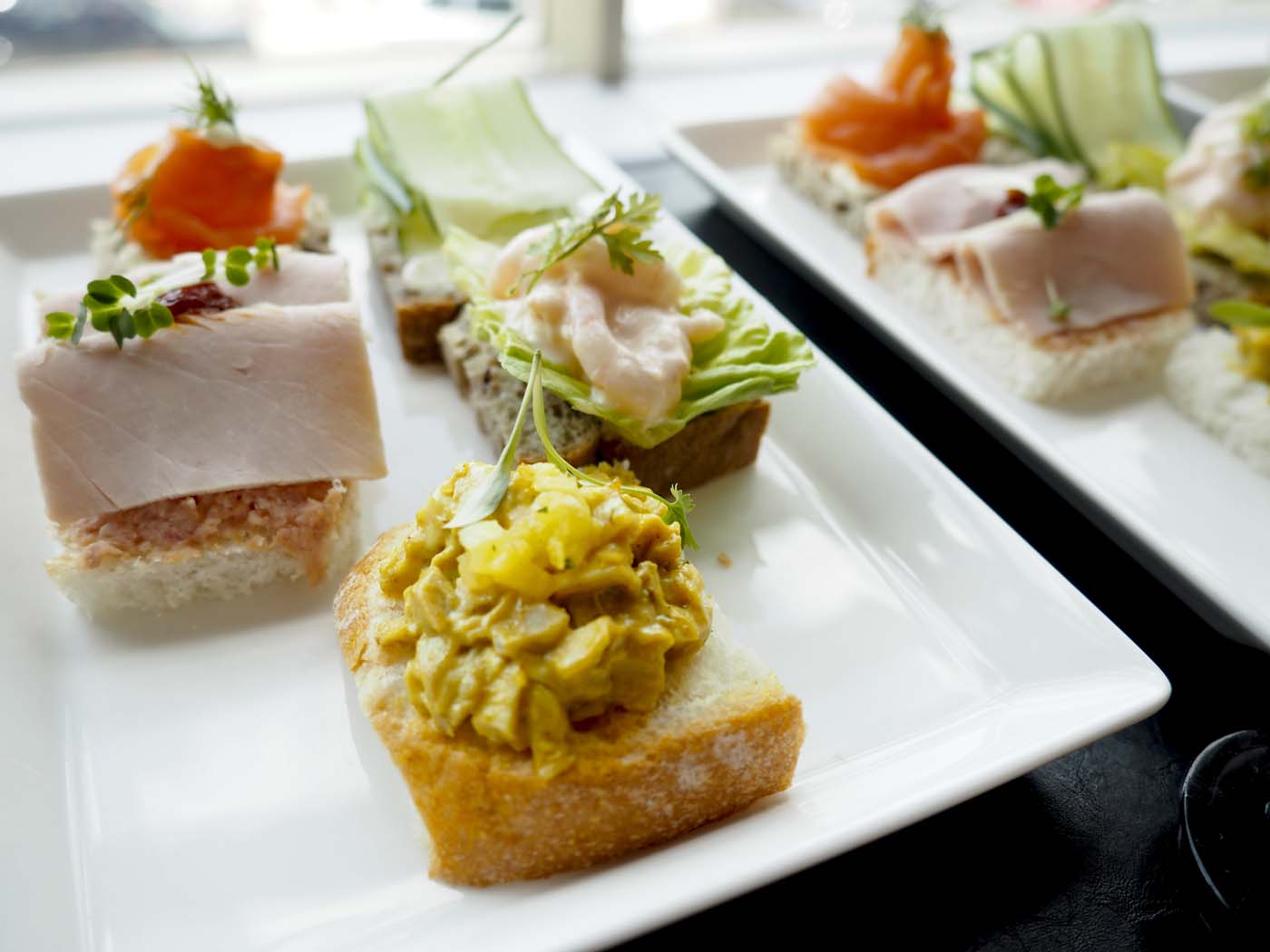 It all went down hugely well with all members of our family, and somehow when we sat down to watch The Boss Baby we even had room left for some popcorn. I loved the film – genuinely, it's one of those kids' movies that adults can enjoy too, unlike some that make you lose the will to live.
Over on my Instagram later this week, I'm going to have a giveaway for one of you to win a family stay at a Hilton, so keep your eyes peeled for that!
Prices at Hilton London Bankside start from £134 for a king guest room when booking direct at www.hilton.com as part of the Hilton Summer Sale.The Hilton Summer Sale is now on with savings of up to 25% at Hilton London Bankside for Hilton Honors members. This is bookable until 4th September for stays from now until 8th October 2017, including weekends.
This post has been commissioned by Hilton and as always, all views are my own. For details of how I work with brands, see my Work With Me page.