ADVERTORIAL
First, a confession. I'm lazy in the kitchen. So lazy. If I could wave a magic wand and have dinner appear every night, I would. I also lack imagination. So when I'm doing meal plans ahead of doing a supermarket online order (I'm also lazy when it comes to visiting a supermarket), I tend to rotate the same 20 meals, varying the veg from time to time, just to mix things up a little.
The meals we cook have to be quick, easy and require very little prep. But we've slid down a slippery slope that's resulted in most of our dinners being 'something you can shove into the oven' served with rice/potatoes/pasta and veg. As you can imagine, it's not the healthiest (or cheapest) way to eat.
But we're stuck in a bit of a rut.
Something I've been meaning to try out for ages is HelloFresh. They often have a little stand at my local train station, with a man handing out leaflets and offers to entice you to sign up, and I've heard great things from friends who've tried it. The premise, in case you're not aware of them, is simple: Sign up to receive weekly boxes delivered, which contain everything you need to cook a nutritious meal. There's no minimum subscription, you can choose between three, four or five meals per week, you can specify how many people the meal is for and you get to choose between a classic, family or veggie box. You also (crucially) get the recipe included and that's it – away you go!
Could HelloFresh be the answer to our meal-rut-prayers? Or would it be faffy and take far too long to prepare each dish, when we're used to chopping some veg, boiling some spuds and whacking the oven on at 180C?
Our first impressions were good. The delivery arrived when it was supposed to, it was packaged up in a way that kept the cool stuff cool and all of the ingredients were divided up into separate bags for each dish. I also liked the fact that everything was HelloFresh branded – not even sure why but this made me smile!
That evening, we set about cooking Garlic Prawns with Mini Roast Potatoes and Walnut-Parsley Pesto. I poured myself a large glass of wine (an essential, when you're cooking, no?) and got to work. I really enjoyed knowing that I had all of the ingredients to hand. I'm usually that person who realises midway through cooking a dish that I'm out of paprika or I've bought basil instead of mint.
As I chopped and prepared the food, I realised that I was actually enjoying myself – something which I haven't felt while cooking in a long time.
It struck me that the quality of the ingredients seemed really good. I could tell that HelloFresh don't scrimp on where they source their prawns or veg. On that note, I was impressed by the long shelf life of the food too, which allows us to pick and choose which evenings we cook each dish rather than having to cook them all in the subsequent days after the delivery.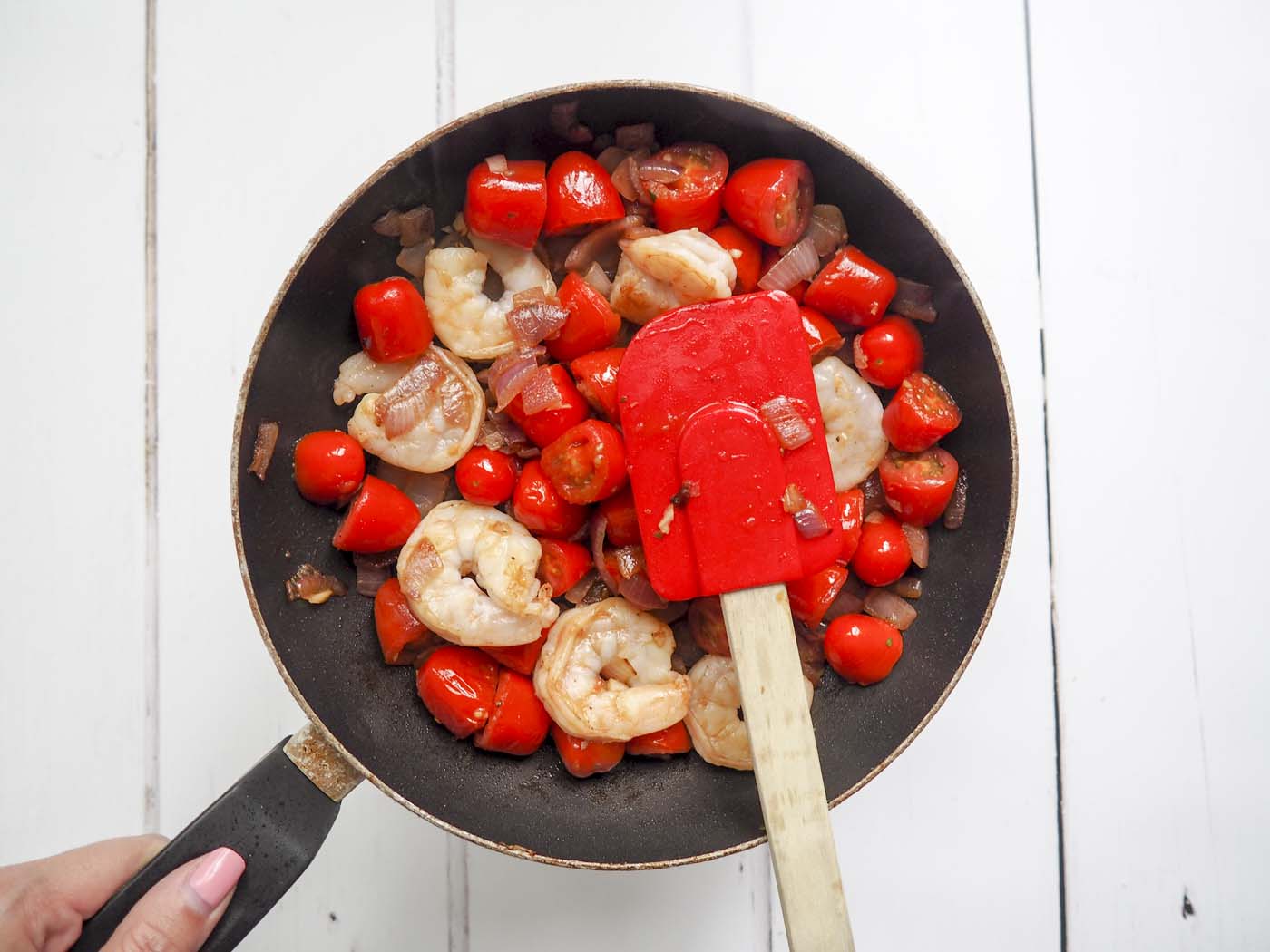 Usually when I follow a recipe, things don't quite go to plan, but I was amazed at how this dish all seemed to come together just like it should have.
But most of all, the thing that impressed me was the flavour of the finished dish. This one has juicy prawns and a walnut and parsley pesto (who knew you could make pesto with walnuts and parsley?) which together with the zingy tomatoes, mini roast potatoes and the red onion and garlic, just tasted incredible.
And I cooked it! For someone who isn't great in the kitchen, this was a revelation. It probably took 45 mins to an hour of my time, so it wasn't the quick and easy dinner prep that I'm used to, but the novelty of creating something so tasty outweighed the speed.
The thing is though –  HelloFresh isn't cheap. It feels like a bit of an indulgence – the three meals we were sent would cost £34.99, so £11.66 per meal. Perhaps you would spend that in a supermarket anyway, by the time you'd bought everything you needed, and it's really convenient getting the meal kits delivered along with the recipe – and there's no waste (I'm the worst person at buying a block of parmesan cheese, using it for one recipe and finding the rest, weeks later at the back of the fridge…) But it's not the lowest cost way to eat.
So you'd need to decide whether or not you think it's worth it, to you, to pay for the convenience (and the amazing tasting food!) or whether it's out of your price range.
If you're in the latter camp, then the Hello Fresh Flavour Generator might be right up your street. For anyone, like me, who lacks imagination in the kitchen, this free online tool is genius. You simply select the type of cuisine you fancy (e.g. Italian, Mexican….) and then select the flavour you're in the mood for (spicy, sweet….) and it comes up with some recipe options for you, including ingredients lists, nutritional information and full instructions.
It's brilliant! There are over 100 recipes on there, and most recipes take around 30 minutes. So even if, like I was, you're making meal plans and then doing an online grocery shop with a supermarket, you can get inspiration and help from HelloFresh.
So thank you HelloFresh for coming to the rescue of lazy imagination-lacking people like me, whatever our budget is.
This post was commissioned by HelloFresh but as always, all views are my own. For details of how I work with brands, see my Work With Me page.