Christmas isn't the same, when you're a grown up, is it? In your 20s, that festive excitement and magic you once felt is likely to be replaced by a raging hangover and a desire to throttle any annoying relatives you're forced to visit. But when you have kids of your own, you see a little bit of that magic reappear.
Watching their little eyes light up as you decorate the tree…with you trying to be patient while they put 16 baubles on ONE BRANCH… reminding yourself that it doesn't matter because you're going to totally redecorate the tree once they're in bed anyway. Taking them to see Father Christmas and watching the joy in their faces… having to think of GOOD and QUICK answers to questions on the way home like "But WHAT SPEED does he have to travel at, to get around ALL the homes in EVERY country in the WHOLE WORLD?"
Creating Christmas traditions of our own is one of my favourite things about being a grown up at Christmas. You can take the best bits of your childhood Christmases (Eating a Selection Box for breakfast and watching telly that makes you cry – speaking of which WHEN will Noel Edmonds do a new version of Noel's Christmas Presents?) and combine it with brand new things that you decide on because you're a grown up. This is when being a grown up is suddenly ace – it's a bit like when you're eating in a restaurant and you finish your drink before the food arrives, then decide to order another one just because you can, and there's no-one there saying "Don't finish your drink before the food comes – you won't get another one!"
So one of the Christmas traditions I've embraced in the last few years is the Christmas Eve box.
I've seen more and more parents doing Christmas Eve boxes for their kids over the years and the basic premise is to put some PJs and other nice treats in there for them. We do things a bit differently, and everyone in the family gets a Christmas Eve box… everyone gets some PJs to wear on Christmas Eve, a festive top to wear on Christmas Day, a decoration for the Christmas tree and some kind of treat. Want a sneaky peek into our boxes this year?
Fab Yule Us jumper c/o Marks & Spencer // Chocolate coins, Tesco // Pink striped onesie PJs c/o Joules // Pink bauble, Primark // The Night Before Christmas book c/o Marks & Spencer
The six-year-old is going to go nuts over this fluffy festive jumper and the striped onesie (she's been after one for ages). In my head, she'll nibble on the chocolate coins while we read The Night Before Christmas, but in reality, she will probably gobble the coins in ten seconds flat.
Christmas jumper with lights c/o Next // Pyjama bottoms c/o White Stuff // White long-sleeved tee c/o White Stuff // Die Hard DVD, Amazon // Robot tree decoration, Next
Mr P's Christmas Eve treat is a copy of Die Hard on DVD – one of our favourite Christmas films. I mean, it's not really Christmas until you've watched John McLean walk barefoot around the Nakatomi Plaza trying to defeat Hans Gruber (RIP Alan Rickman….) I picked up this fab robot decoration in our local Next – it will look brilliant on our tree, which is a right old mish mash of colour.
Blue striped nightie c/o White Stuff // Hanging decoration, Next // Wine, Tesco // Christmas Breton top c/o Boden
My mum isn't a huge PJs fan, so she's got a nightie. She's also not a big jumper-wearer, so her festive top is one of the Christmas Bretons from Boden, while her Christmas Eve treat is a little bottle of wine (like mother, like daughter….)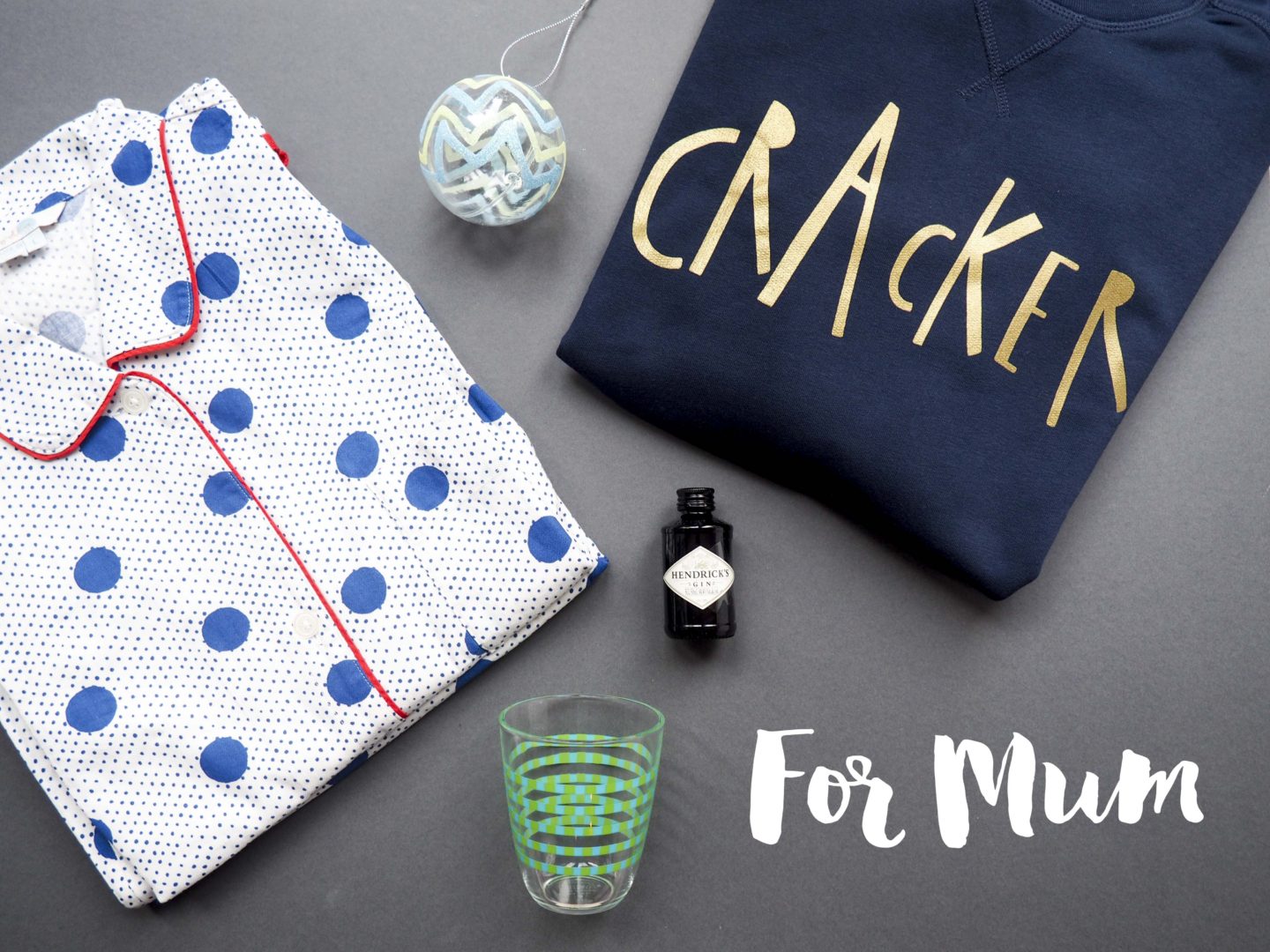 Spot Pyjamas c/o Boden // Bauble, Primark // Cracker sweatshirt, Poppy Delevingne X Selfish Mother // Hendricks gin, Tesco // Green striped glass, IKEA
I bought this sweatshirt from the FMLY Store, for my Christmas Eve box but I'm going to have a sneaky wear of it on Christmas Jumper Day…. that's allowed right? 50% of the price of the sweatshirt went to Save The Children, who organise Christmas Jumper Day, so it feels apt. I can't wait to wear this PJs on Christmas Eve (with my little bottle of gin!)
Tips on creating Christmas Eve boxes for the whole family
Some people include festive PJs in the box, but I think it's a bit of a waste to give Christmas PJs when they won't get much wear out of them. My friend Katie gives her daughters boxes at the very start of December, which include Christmas pyjamas, which I really like as then they have the whole month to wear them.
Don't be tempted to overfill the boxes – the main event is Christmas Day, and this just needs to be a little something to get excitement levels up.
You can include all the kit for Father Christmas and Rudolph (e.g. carrot, mince pie) or better still, make a little box for them that your kids can unbox and lay out of them.
You don't have to buy expensive boxes  – some places sell personalised Christmas Eve boxes now which are very cute but I just buy boxes from Paperchase and they do fine.
I want to know whether you do Christmas Eve boxes and if you do, what do you put in them?