Regular readers will know I'm a fan of a child-free break. (I'm also a fan of a family break, by the way, so save your gasps of outrage that a mother would love to escape from have a break from family life from time to time.) It just seems to make so much sense to me – having some time to yourself, or some couple time, on a semi-regular basis gives you a chance to step off the constant treadmill of family admin (Do we have enough bread left for breakfast? Did I wash enough school uniforms to get us through the week? I must clean the kitchen floor, it's been at least three weeks. Have I paid for the school trip yet? ….. x a million).
I feel like I'm a broken record, because I say this ALL the time (IRL too – sorry people who know me and see me lots) but you can't pour from an empty cup. As parents, being able to have a break and recharge the batteries, makes us better parents, and allows us to give more to our children when we are with them.
So last weekend, Mr P and I headed off for the weekend. I went bridesmaid dress shopping on Oxford Street with two friends (swishing around changing rooms in layers of netting and satin is a sure fire way to feel like a princess, by the way) then we went for a girls' lunch with fizz. After I said goodbye to them, it was time to meet Mr P who had deposited the six-year-old with her grandparents.
Our overnight stay was arranged by eviivo, the booking software for B&Bs, to celebrate some of the award-winners of their 2016 eviivo Awards. The King's Arms in Ealing, West London, was one of the award winners, so we headed there to check it out.
Tucked away on a quiet residential street, behind Ealing Broadway's shops and restaurants, The King's Arms is a lovely little pub that has a mix of regulars drinking pints, groups of 20-somethings and couples. Top tip: If you Google "The King's Arms Ealing", don't go to the first Google Maps search result. It's a very different King's Arms pub ten minutes drive from this one, and judging by the looks on the faces of the old-men-watching-sport when I walked in, I don't think they've seen a female in there since 1987. Thankfully, once I'd realised my error and found the correct King's Arms pub, I discovered it was MUCH nicer.
The rooms are all decorated in bright colours with white bed sheets and co-ordinating throws tying it all together. We had a gorgeous fireplace in our room and with free wifi, kettle, hairdryer, flatscreen TV and an en suite, it had everything we needed.
We had a couple of mid-afternoon drinks, then later went for a mooch around Ealing and found ourselves in a nearby Californian restaurant called Limeyard – it was happy hour so we had a couple of 2 for 1 cocktails and nachos while we decided what to do with the rest of our evening. I'd been keen to find a cinema to see Trainspotting 2 but (shock horror) Ealing doesn't have a cinema (when you Google "Ealing cinema" you quickly realise that it's a bit of a local-outrage-thing that there's no cinema – but PHEW they are in the process of building one much to the joy of the local paper and residents). So in lieu of a cinema, we trundled along to Caribbean restaurant Turtle Bay to drink rum punch and eat curry (fish for me, goat for Mr P).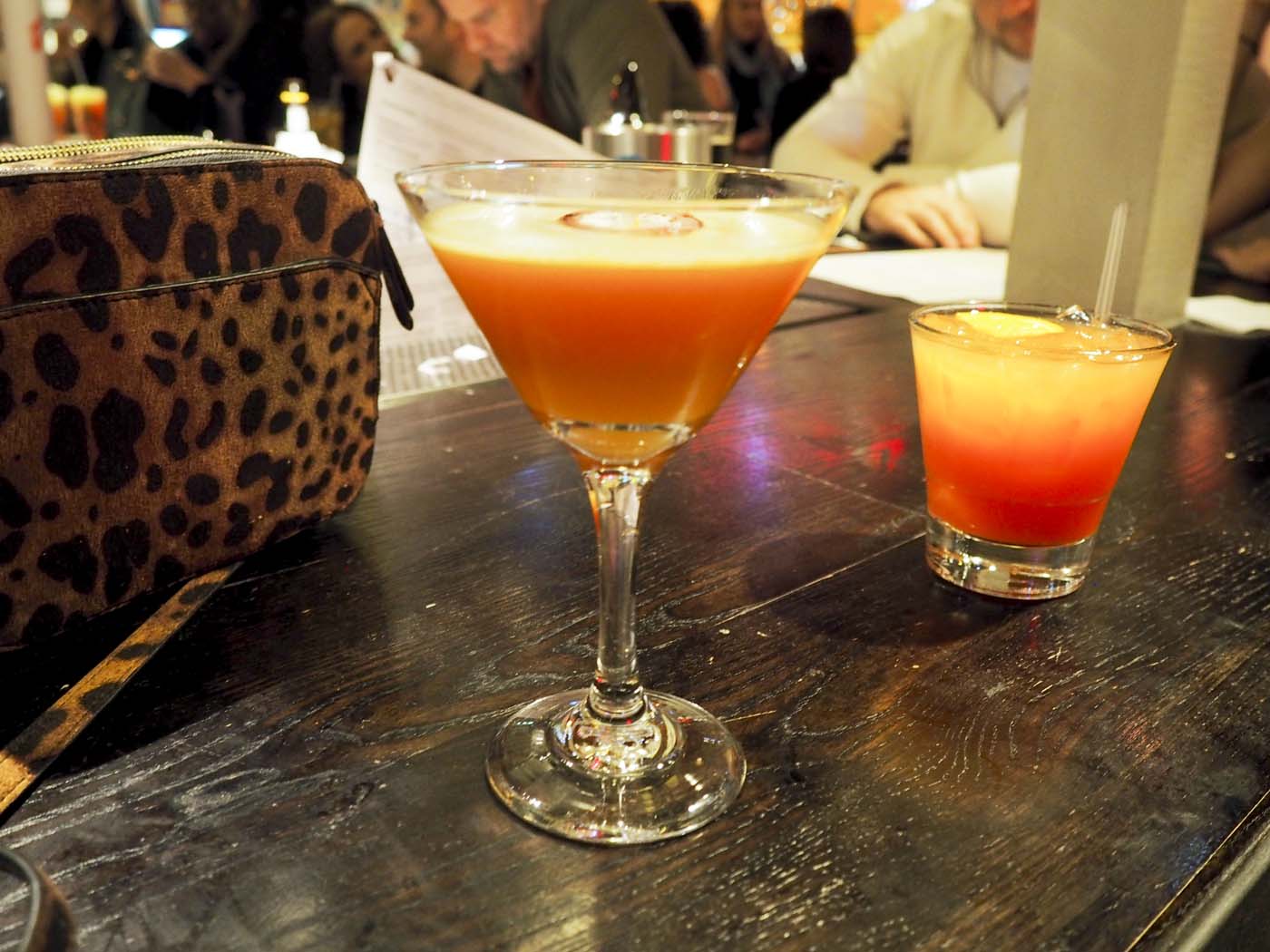 Finally, it was back to The King's Arms for a couple more drinks. It was such a treat to be sitting in a pub, drinking red wine and chatting, yet only have to climb some stairs to get "home".
The next morning, we had breakfast downstairs – a big continental buffet was available with fruit, pastries, juice, yoghurt, cereals and toast. Hot tea and coffee was served and we were offered a full English (um, is that a trick question? YES PLEASE.) The flatscreen TV that shows sport on a Saturday afternoon has Sky News on, which while isn't my favourite thing to watch on a Sunday morning, was quite good as it allowed us to catch up on the main headlines while we ate our breakfast and chatted.
So the King's Arms in Ealing gets the thumbs up from me – if you're looking for an affordable place to stay in West London, you can't really go wrong here. Single rooms are £60 a night, double and twin rooms are £80 a night and a family room is £100 a night. Book online with eviivo here.
This post has been commissioned by eviivo and as always, all views are my own. For information on how I work with brands, see my Work With Me page.