Bubbles. Glitter. Neon body paint. Flower crowns. Space-themed costumes. The best burritos ever. Bananarama.
I'm going to find it hard to put into words how incredible Camp Bestival was, for us. Which is a problem, considering, it's my job to put things into words. While we were there, I turned to Mr P and said "I can't imagine who would come to Camp Bestival and not enjoy it. What kind of person would that be?"
But let's go back to before we went: I was a bit nervous about going. Even though we'd been three years earlier – when the five-year-old was two – and we'd loved it then. I was nervous about us all sleeping under canvas together – we're not really camping types, but one of the best things to come out of this experience was the discovery that we most definitely are glamping types.
We stayed in a bell tent – Hotel Bell Tent to be precise – which was kindly arranged by Volvo (we drove down to Camp Bestival in a Volvo XC90 – check out my thoughts on the car here). And from the moment we arrived, I could tell we were going to be just fine. The beauty of Hotel Bell Tent is that you can just turn up with your clothes for the weekend. You don't need to bring anything else. OK, maybe a few gins in a tin, but they provide air beds, duvets and pillows, Egyptian cotton bed linen, REN toiletries, ear plugs, eye masks and a little lantern to give you some light.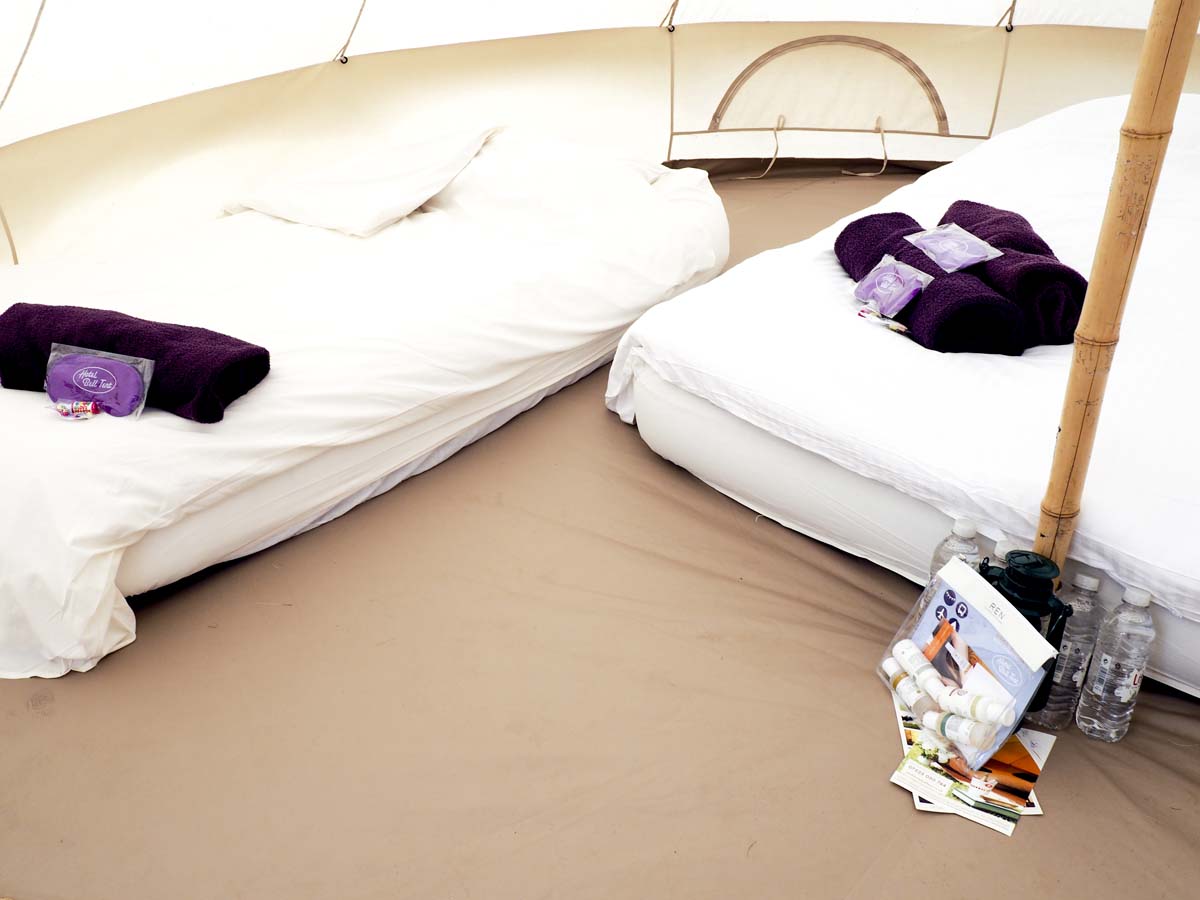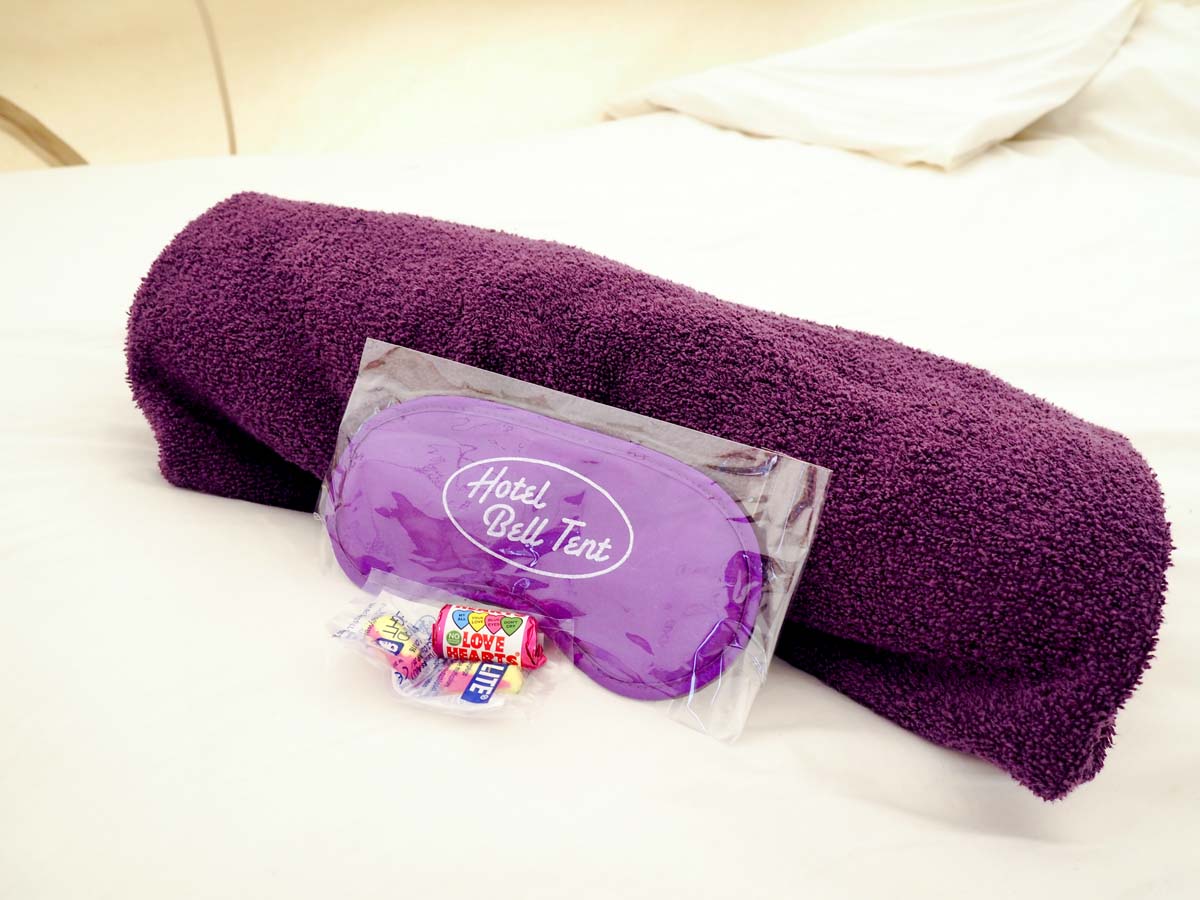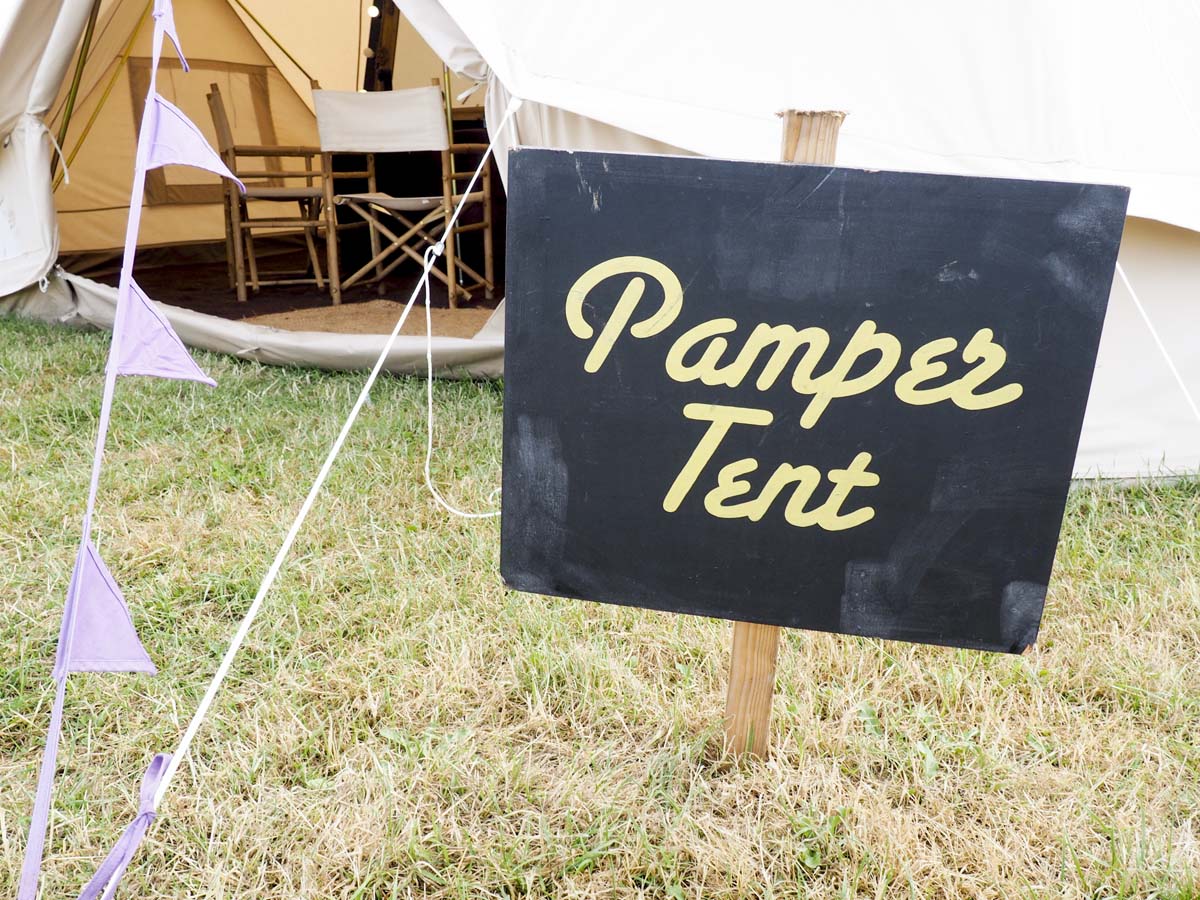 They also have a Lounge tent, where you can kick back and relax, a Pamper tent, with mirrors, hair dryers and sockets for straighteners and the like, and a Phone charging tent for… yes, you guessed it, charging your phone. All in all, it was the perfect place for us. The tents were roomy enough to host us, all our stuff and still have space left over, and the beds were comfy enough to ensure we had a great night's sleep every night. It was luxurious enough to make us feel at home, but rustic enough to make us feel like we were roughing it a little. (Who am I kidding? There was no roughing it.)
We arrived on the Thursday afternoon, and that evening we wandered across to the festival site, which was partly open, and memories flooded back from three years earlier. There was an expectant buzz to the place, as people got themselves some food from one of the many food stands ('Chunky chips and wicked dips' looked like a firm favourite.)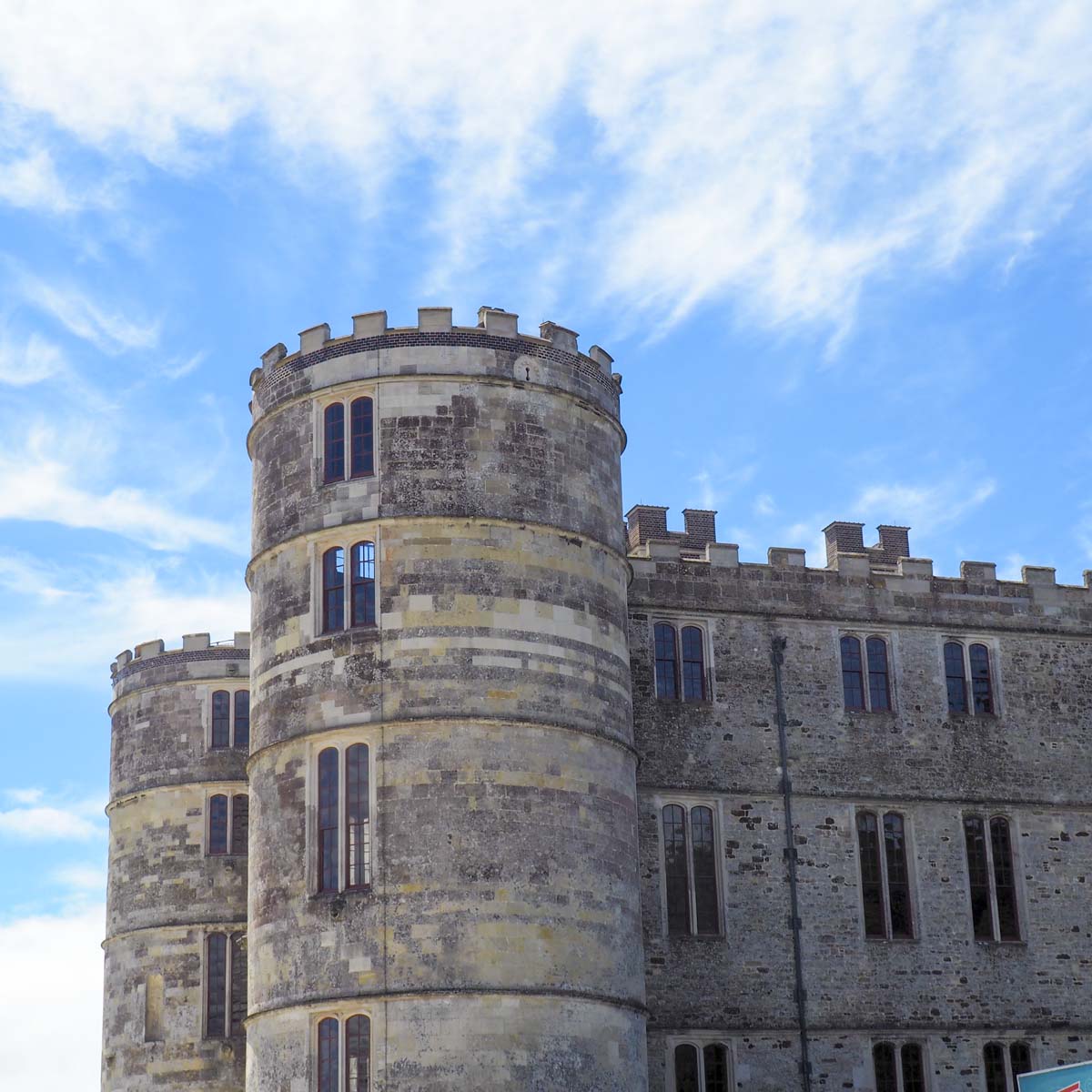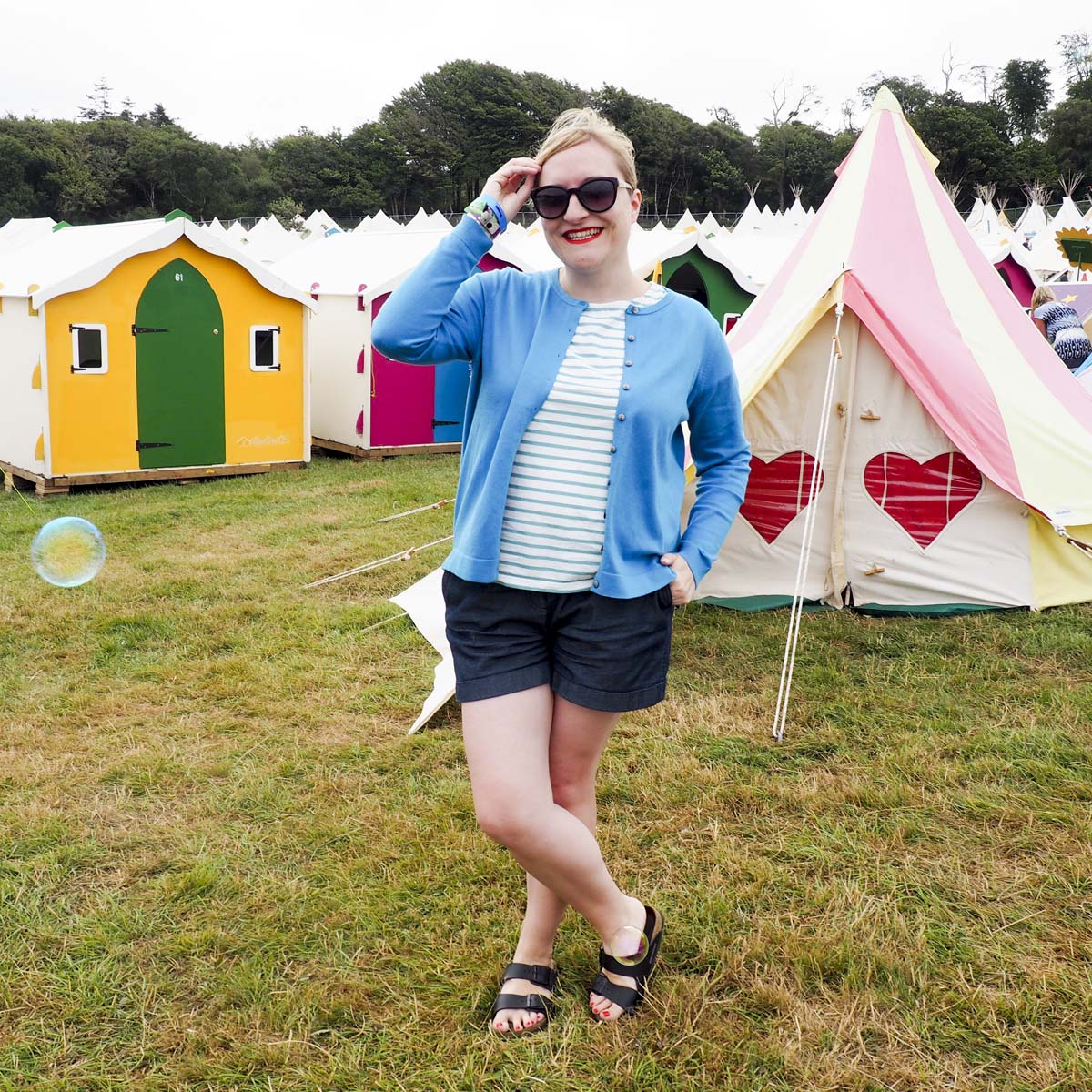 But the first proper day of Camp Bestival was the Friday, and that morning we headed straight for the Spinney Hollow area with my Space In Your Case buddy Penny and her family. Her son Mr G was keen to put his name down to make a shield, and a sword. While we were there, we ended up doing some Iron Age metal work (as you do) and making a gorgeous dream catcher with wool and ribbon. Knowing the madness that lay ahead of us, it felt like the perfect, calm way to start our Camp Bestival experience.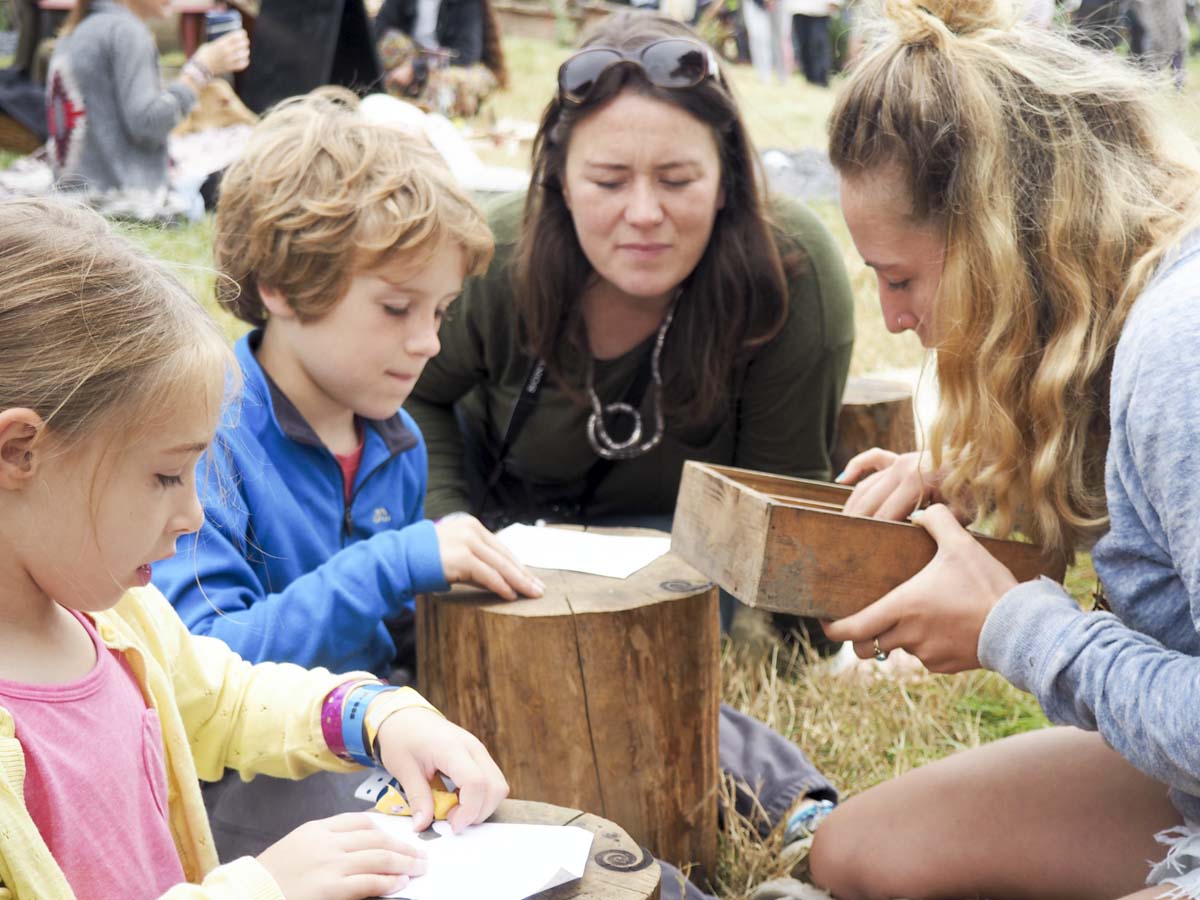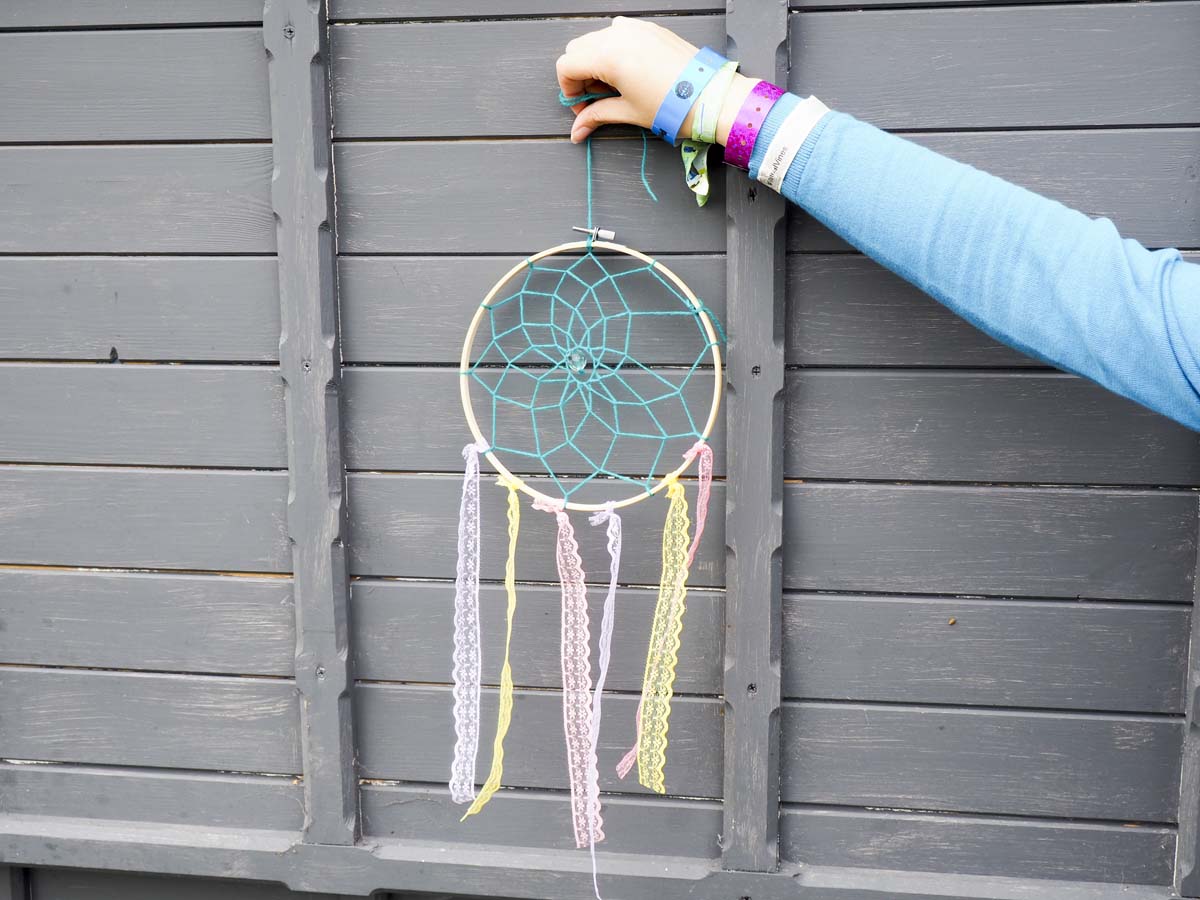 Later that morning we explored the Lower Kids' Garden (the five-year-old immediately spotted the helter skelter and decided she had to go on it) before getting some lunch from the Farmers' Market area, where there were salads, posh sandwiches and baked goods galore. Just opposite was the WI Tent – officially the cheapest place to buy a cuppa in Camp Bestival at just £1 a cup (and the best place, according to the ladies in the tent!)
Our tactic for the weekend was simple: just wander around, taking in anything and everything we came across. Last time we did Camp Bestival, I was probably too concerned with the schedule, trying to see certain things, and I think it ended up feeling a bit stressful. This time, our theory was that we might miss things, but we'd also stumble across other stuff that we'd never have thought to check out.
Friday afternoon was a whirl of ice cream and watching science experiments before heading back to our tent for a bit of a chill out. Another thing we'd learned from the previous time was pacing ourselves – it's far easier to keep kiddos up later into the evening if you've had a bit of a rest in the afternoon.
The perfect place for evening fun was the First Choice area: Holiday Island. It was SO much fun. The clever people there created a beach area for kids to play in, next to a rum bar (um, genius) and from time to time, they had DJs or holiday reps doing dance classes. So as the kids built sandcastles, we drank cocktails.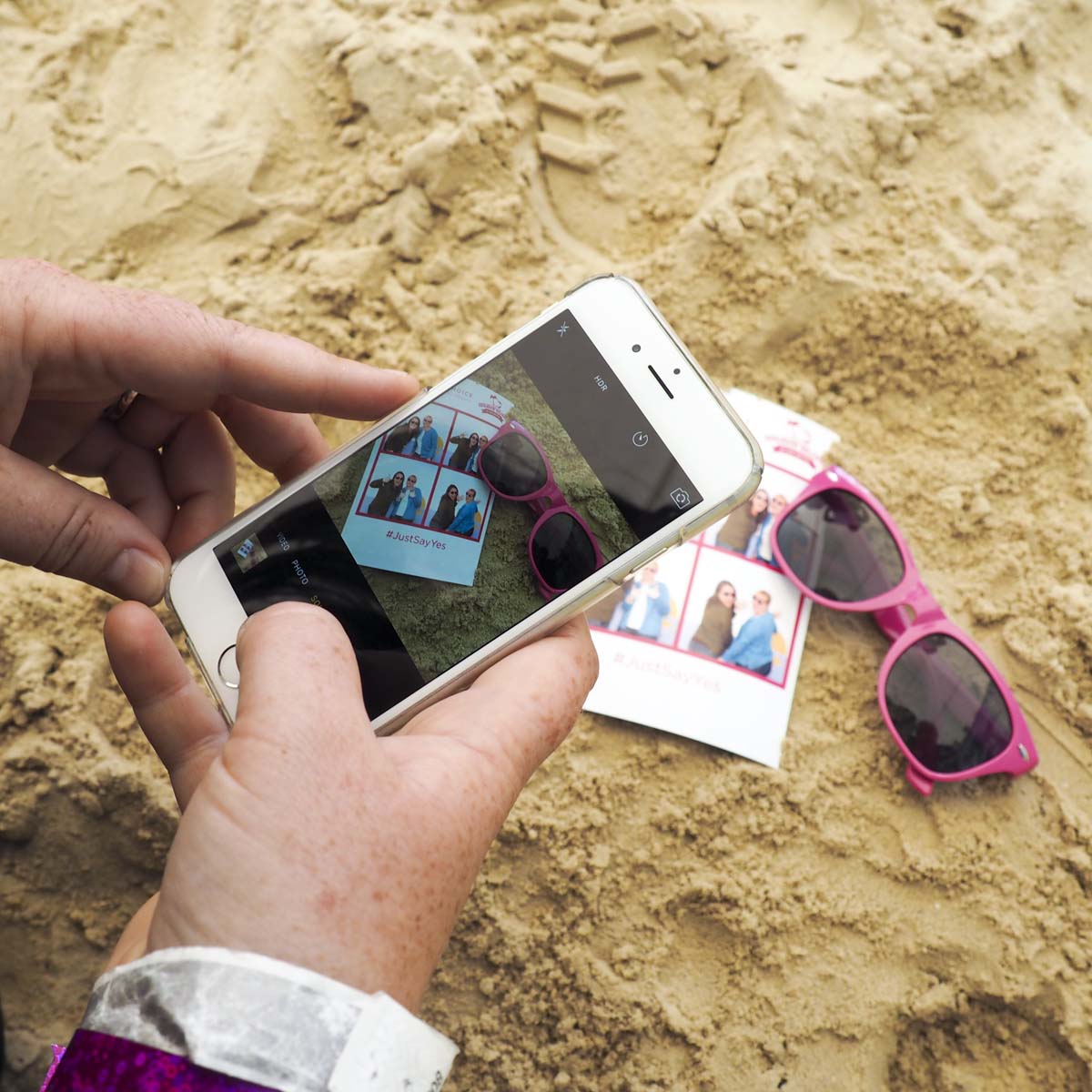 Saturday is the big fancy dress day at Camp Bestival – with a parade through the whole site at lunchtime. It was amazing to see the effort lots of people put into their costumes. The five-year-old got into the spirit, dressing as a space cat (regular cat costume and silver deely-boppers, since you asked). There was a real party atmosphere, in fact, all day on Saturday – you get the impression that this is the peak day for many, with Friday being the warm-up and Sunday being the more chilled out recovery day.
Dress – c/o Boden // Sandals – c/o Saltwater X Tootsa Macginty
We started things off at Art Town, the arts and crafts tent, where you could choose between helping to create a huge space mural, a space collage, build rocket ships, create giant spiders and more. I loved that you could just wander in at any time to see what was about to start, and join in. We spent an hour and a half in the tent, painting, sticking, cutting and getting messy. Us grown ups got to join in too, which I LOVED.
We wandered out of the tent to find a drumming band just starting on a stage next to us, so we sat on the grass for half an hour, watching them. Afterwards, they got the kids to the front to let them drum a bit too. Lunch was at the The Feast Collective – a whole tent of street food joy. Queues were long but my avocado and halloumi wrap was worth the wait.
By mid-afternoon we were at the Bollywood Bar, to meet up with other bloggers and the Camp Bestival press team. The Bollywood Bar was so good, we were still there at 7.30pm. It was the perfect place to relax in the sun with amazing tunes, courtesy of Big Fish Little Fish. The five-year-old had made firm friends with Penny's kids and some others, and together they ran around the nearby area, collecting empty plastic cups that had been discarded by grown-ups. In a genius move, the bars pay 10p for every cup returned to them, giving kids a fun way to make some cash while keeping the festival litter-free at the same time. The five-year-old made £4.80 over the weekend, which was enough for a couple of extra rides on the ferris wheel.
Prosecco with Em from Brummy Mummy of 2
More prosecco with Penny from Parentshaped
By the time Sunday rolled around, we still hadn't spent any time watching acts on the main stage. I commented on this to Mr P and said they could almost do away with the main stage, and just have everything else at the festival. I ate my words, later that day! But first up, we spent a few hours on Sunday morning, in Dingly Dell. A gorgeous shady area to cool down in, if it's hot, as it was that day. We joined a 'carrot whistle' workshop (yep, you really can make a whistle out of a carrot) before wandering into Lizzie's Way, a wonderful trail of activities like weaving and potion-making with a mud kitchen and little reading teepees. Further into Dingly Dell is an animal-petting area, tree-climbing and more. You could spend a whole day, just in Dingly Dell. I think that's the beauty of Camp Bestival: no two families' experience will be the same and you can do as much, or as little, of something as you like.
Hat – Marks & Spencer // Top – Next // Dungaree dress – c/o FatFace // Sandals – Saltwater X Tootsa
After lunch and a chill out back at our tent, we headed for the main stage with a plan to see Brand New Heavies, KT Tunstall and Bananarama. Armed with picnic blankets and a couple of folding chairs, we found a great spot near the front and for the next few hours, we danced in the sun and sat drinking fizz (HELLO Chandon bar!). When the kids weren't dancing with us, they were collecting plastic cups, doing puzzles or munching fish fingers and chips.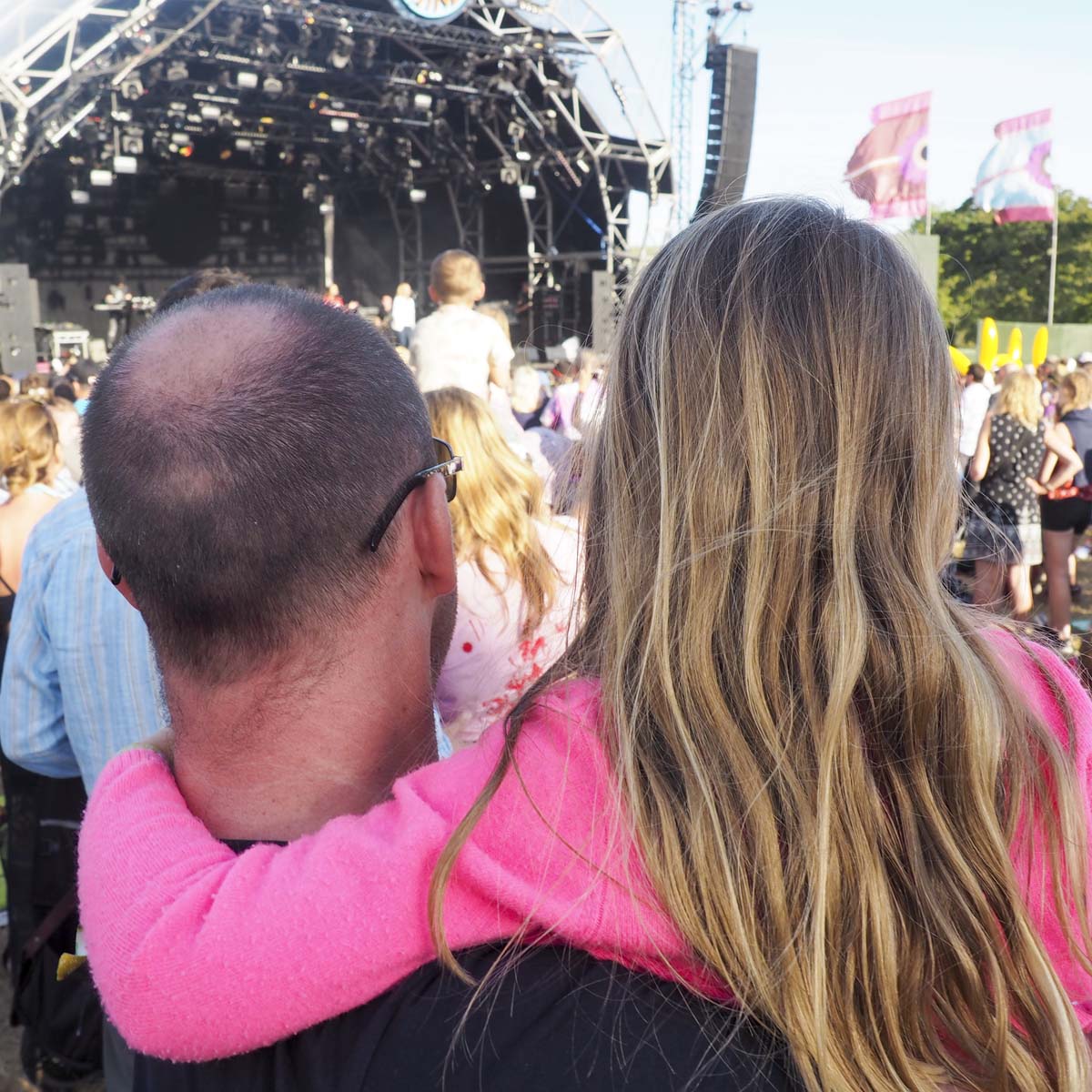 Sweatshirt – Parent Apparel
At this point, I suddenly remembered what festivals were like pre-motherhood. Singing along to your favourite bands, feeling the sun on your back, looking behind you at the huge crowd of people, all doing the same as you and loving it. I realised how wrong I'd been earlier, thinking that Camp Bestival should do away with the main stage. It would be madness! Yes, you can have an awesome time there without ever seeing an act on the stage, but when you do, it just makes your Camp Bestival experience all the better.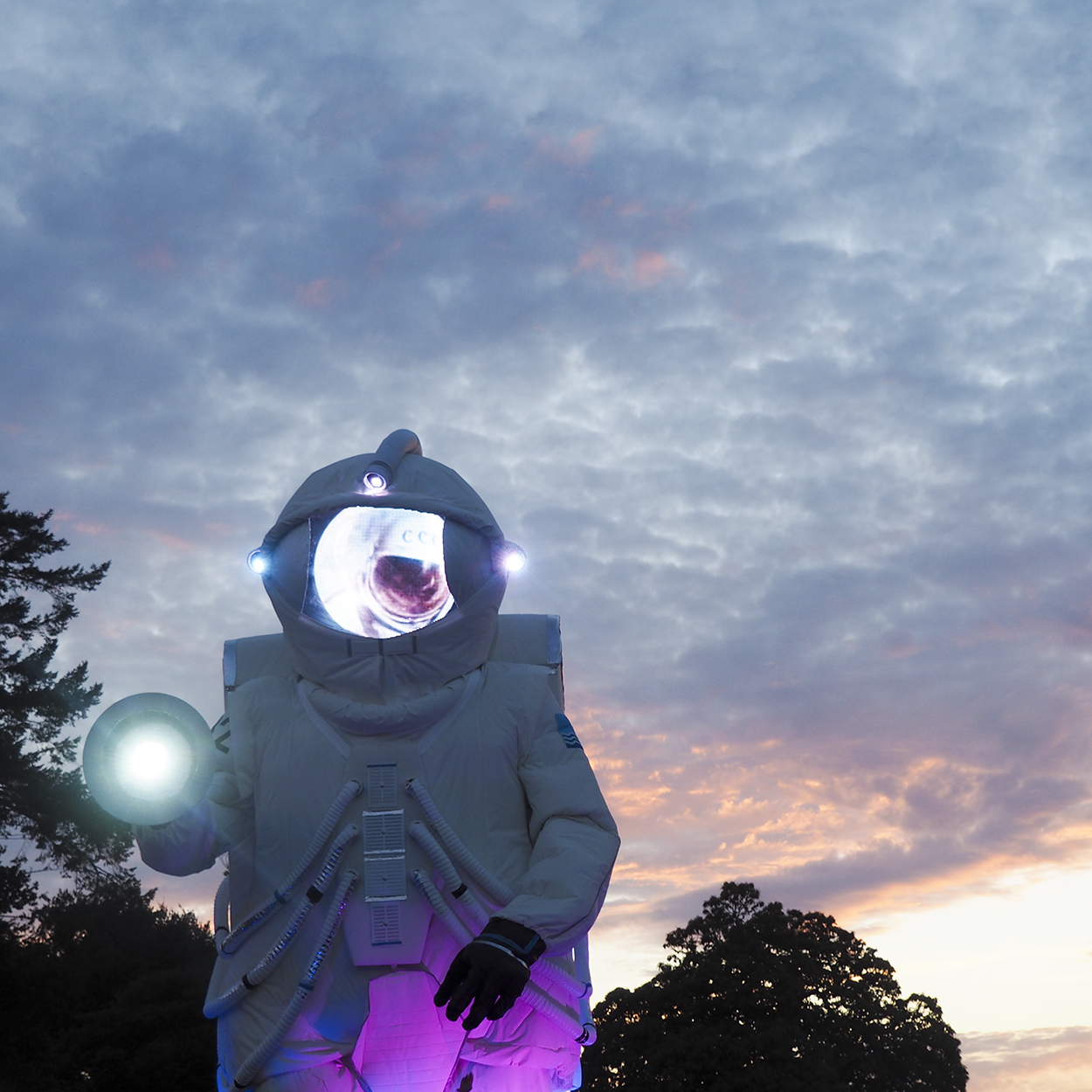 By 9pm, the five-year-old was getting sleepy so despite our plan to stay out for the finale fireworks, we admitted defeat and headed back to our tent, tired and happy. The following morning, all that was left to do was pack up (brilliant not having to pack up the actual tent!) and load it all back into our Volvo XC90. But not before a cheese and beans toastie for breakfast…
We left wishing that Camp Bestival had been just one day longer. There were things we didn't get around to doing, things we wanted to go back to and people we didn't get a chance to meet up with. Hey Camp Bestival… fancy making it four days next year?
Massive thanks to Camp Bestival for inviting us along, for the purpose of this review. As always, all views are my own. Thanks, also, to Volvo for providing us with the XC90 car and Hotel Bell Tent accommodation. You guys rock.
You can watch our video of Camp Bestival below…

Psst! Early bird tickets for Camp Bestival 2017 are on sale NOW.