Black, grey, brown, navy – when I get on the bus or train, everyone's autumn wardrobes seem to be a sea of dark colours. But I'm on a mission this month to brighten things up. After all, my summer wardrobe is filled with colour, so why should that stop when it gets colder?
As I've said before, I'm no fashion expert – far from it – but I do love fashion and as a size 14/16 curvy lass, I've started flying the flag for everyday 30-somethings. In fact, I'm going to start mentioning the size each piece of clothing is, in case it helps you when you're shopping. I know how hard it is when you're not sure which size to go for, especially when you're between sizes like me.
If you follow me over on Instagram, you may have noticed I'm posting more outfit photos and lots of them recently have been of colourful autumnal clothes. So here are some of my favourites…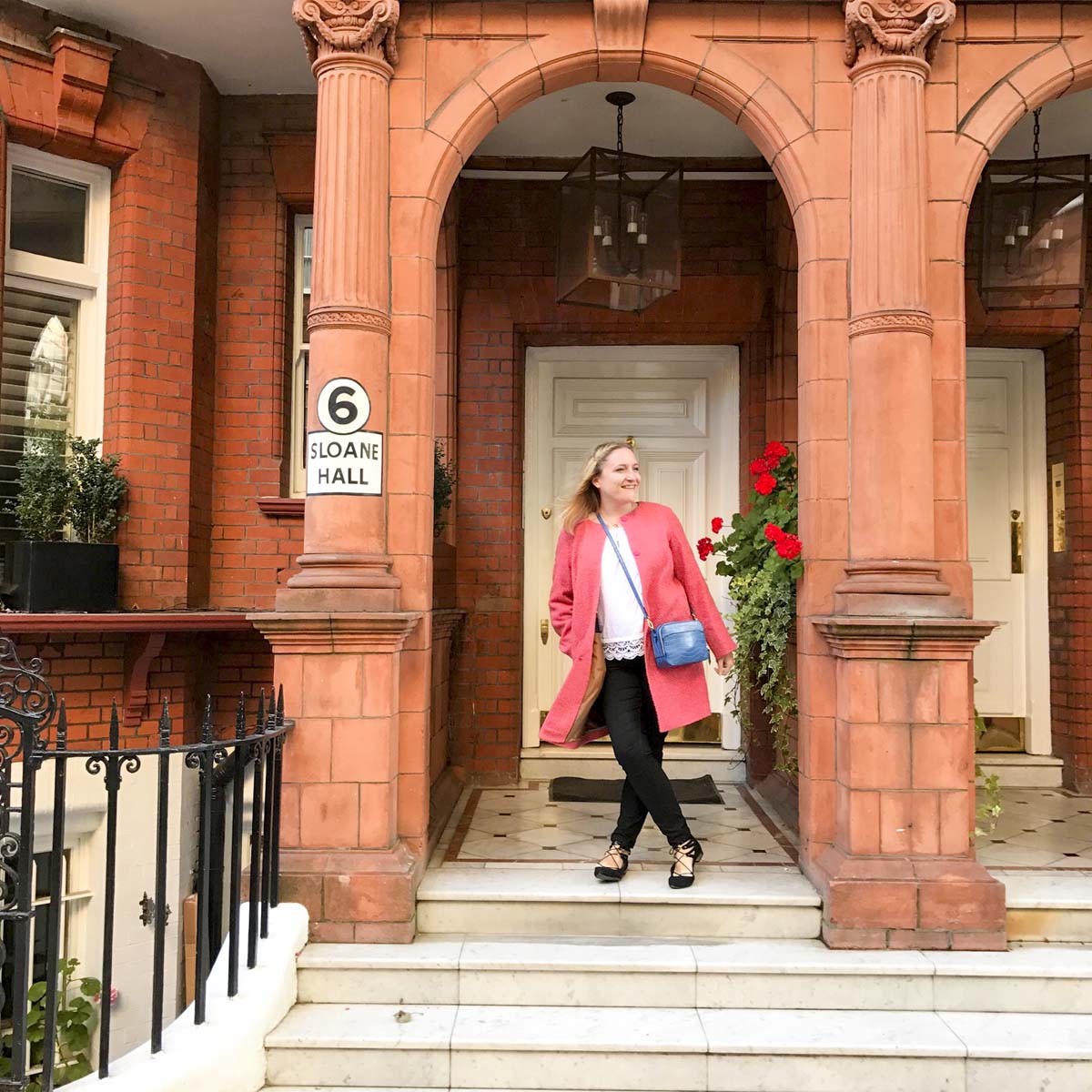 First up, this is one of my favourites – the pink Sienna coat c/o Boden – I've got it in a size 16, I usually go up when buying coats, to allow room for layers underneath. What I love about it is how it lifts an outfit – I'm wearing it here with my black jeggings and white top (both c/o FatFace in a size 14) and a contrasting blue bag from Accessorize.
I've had so many compliments on this coat in the couple of weeks that I've had it – from afar it looks salmon pink, but close up, you can see it's a herringbone stitched design with orange and neon pink wool, alpaca and acrylic.
I've also been LOVING this red jacket c/o Joules (it also comes in other colours). I've got it in a size 16 and it's been ideal for rainy days – or days where black clouds are looming. It's really practical, with it's waterproof fabric, hood and big pockets but still stylish with its bright red colour and striped lining (see photo at the top of the post!) It's become my go-to jacket for the school run, and the pockets are big enough to pop a snack for the six-year-old in there plus my phone and keys. Perfect!
I'm wearing it here with my black denim dungaree dress (in a size 16 c/o FatFace), my blue Accessorize bag and ancient old hi tops from Zara.
Another coat that's had lots of compliments – this bright blue number, which I've got in a size 16 c/o Boden, looks just as good with jeans and trainers as it does with a smarter outfit. I've been wearing it with this contrasting yellow cross body bag c/o Boden which cleverly transforms into a clutch (you know, for all those *cough* nights out I have). I've also been wearing it with this size 14 top from Tu at Sainsbury's (which I popped into after reading this and this).
I've also bought this bright pink long-sleeved tee from Tu at Sainsbury's to wear under my black dungaree dress, for a pop of colour!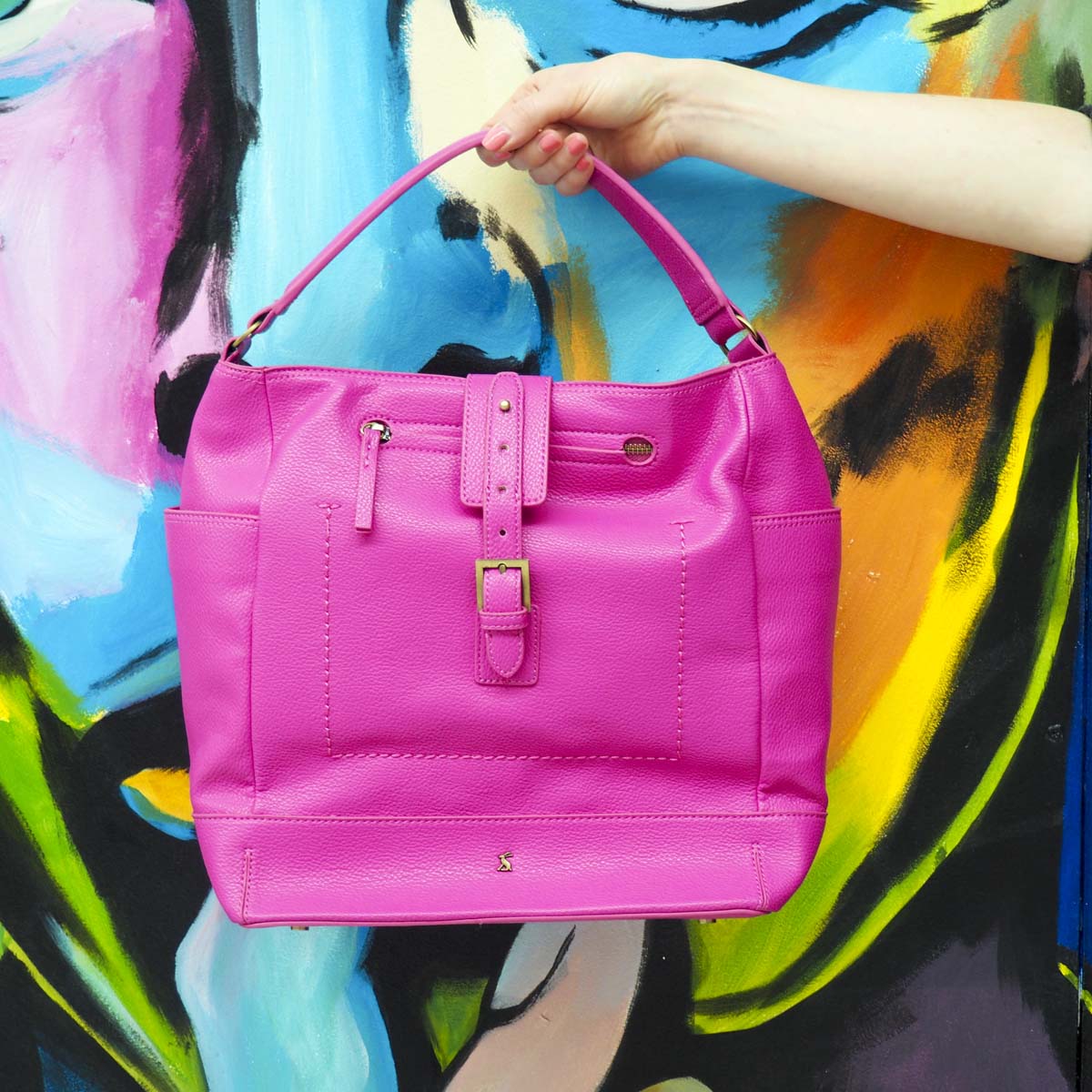 This pink bag c/o Joules is amazing – I couldn't decide whether to get this one or the metallic one, but I'm SO GLAD I went for the pink. As someone who usually uses small cross body bags, it's lovely to use this big bag for a change – you can get so much in it! When a shop assistant asks me if I need a 5p bag, I can smugly say no and pop my purchases in this bad boy.
I've also got my eyes on a few non brightly coloured buys – like this striped and sequinned jumper of DREAMS from M&S, these triple strap shoes from M&S and this gorgeous 'going out top' from Next (we all need going out tops, right? Even if we spend most evenings in front of Netflix with a glass of wine).
But what do you reckon – have I succeeded in injecting some colour into autumn?