Comic Relief's big fundraising event Red Nose Day is just around the corner and this week, bloggers Penny, Tanya and Annie have been doing an amazing thing – they've been over in Ghana with Comic Relief visiting some projects that benefit from the money raised by the charity. Oh and did I mention they were joined by two special friends, Davina McCall and Jonathan Ross?
The bloggers have been sending digital postcards to us back home, and I'm lucky enough to have received one to share with you…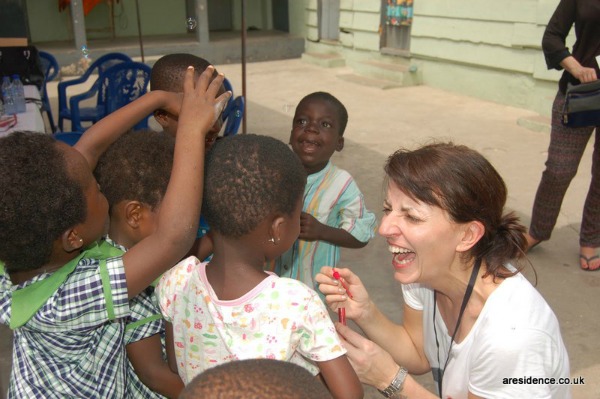 Dear Alison,

Davina blowing bubbles. The children's mums were busy baking bread to sell in the community.  The Virtuous Womens' Bakery and nursery makes financial independence a possibility for women.

Love Penny
This is a digital postcard sent from TeamHonk (www.mammasaurus.co.uk, www.mummybarrow.com and  http://www.aresidence.co.uk/) during their travels with Comic Relief in Ghana celebrating #goodwork.

For the past 25 years the money raised through Red Nose Day has been changing the lives of the poorest and most disadvantaged people in the UK and Africa. Let's Keep Up the Good Work. Find out how at rednoseday.com
For other digital postcards please do join up and check out the linky on www.teamhonk.org