It's two months since my last Happy post…. but don't worry, it's not because I've been wallowing in unhappiness during that time. Kind of the opposite actually! So, here's what's been making me feel happy, of late…
Bagging some bargain trainers. I spotted these lovely Marks & Spencer trainers on Kat Got The Cream – they were £29.95 and are reduced to £8 in the sale. £8! For real. I love them. Granted, it's too hot to wear them at the moment but I will…
Midweek BBQs. Something it's not too hot for! There's something so BRILLIANT about a midweek barbie, isn't there? It feels a bit naughty to sling some burgers and bangers on the grill and eat outside. On a Wednesday! Plus, the four-year-old loves any excuse to eat sausages, so she's happy too.
Being a judge in the Junior Magazine Design Awards 2015. This is something I'm hugely thrilled about – Junior Magazine have asked me to be a judge in their prestigious Design Awards. During its 15 year history, Junior has celebrated the best designer and high street children's fashion labels, the luxurious hotels and fine restaurants that can cater to a family's every whim while retaining high standards, the coolest and most child-friendly interiors, and the top classic and modern toys and books. Every year, they call upon parenting and family brands, products and experiences to enter the awards, to be judged against each other in order to bring their readers the cream of the crop.
I'll be judging the lifestyle categories including travel, books, toys, dining, buggies and cots. Other judges on the Junior Design Awards include my fellow blogger and journo Erica Davies from the Edited, TV presenter Kirsty McCabe, singer Rachel Stevens, designer Olivia Rubin and Cass Chapman from Kodomo. If you run or look after a brand, you can register to enter here.
Discovering I like drinking gin! I've never been a fan of gin…. until now. I think I must be a proper grown up or something, because when I was in Mallorca last month with Scott Dunn Travel (full post on that coming shortly) I drank gin. Twice. And I liked it. It's like a whole new world of drinks have just opened up to me. First up, I'm trying out this amazing looking gin that Martin Miller's sent me – it's distilled in England using water from an Icelandic spring. Gin and tonic on ice, anyone?
Being invited to a boat party. I've decided that boat parties on the Thames are one of my favourite things in life. What's more fun than sailing up and down, past famous landmarks while you drink prosecco and dance to cheesy music? Nothing, that's what. I was lucky enough to be invited to the evening do of my friend and fellow blogger Becky's wedding last week – and it was amazing.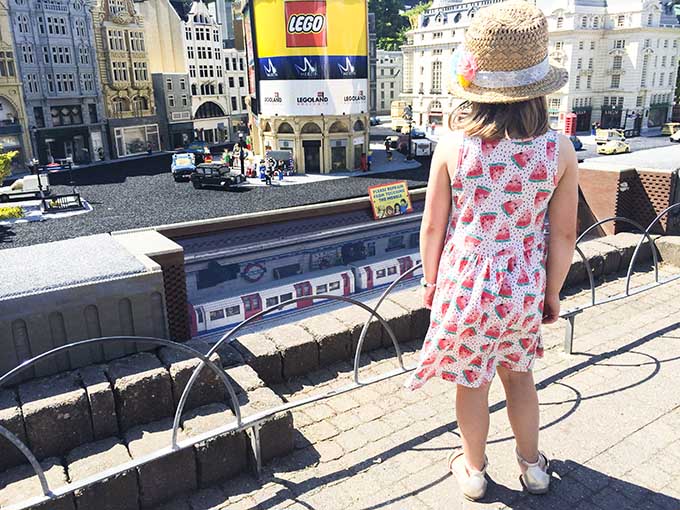 Doing fun things with the family. We've been doing a ridiculous number of fun things recently. It's partly because we've dropped the four-year-old down to 2.5 days at pre-school, so we have more time to get out and about during the week. We're also trying to take advantage of the quieter weekdays before the school holidays start. A couple of weeks ago, we went to Legoland – which is so much fun. I'd never been before and was really impressed by the rides, the shows and the variety of activities there. But the best bit: the mini Lego town!
A few weeks before that we did something totally awesome – we went for afternoon tea at a posh London hotel with Elmo. The actual Elmo. Not some dude dressed up, but the actual puppet and Ryan Dillon, the actual puppeteer who 'does' Elmo. The event was to promote new episodes of The Furchester Hotel on CBeebies. The four-year-old loves watching the show was so excited to meet the Elmo puppet and the other characters like Funella.
Tomorrow, we're heading to the brand new Shrek's Adventure on London's Southbank. A fully immersive walk-and-ride attraction, it looks fab! It combines ten fairytale themed live shows with storytelling, an amazing 4D ride, dramatic special effects and extraordinary DreamWorks animation. For a sneak peak of the attraction, watch this clip. PLUS! I'm offering one lucky winner the chance to win a family set of four tickets to Shrek's Adventure in London. If you want to star next to Shrek, Donkey and his DreamWorks pals, simply comment on this blog post saying what your favourite Shrek character is and why.  Extra entries can be obtained by following me on Twitter, tweeting a message and following me on Instagram. Don't forget to fill in the Rafflecopter box at the end of this post, for your entry to count. I'll let you know my verdict on Shrek's Adventure over on Twitter tomorrow!