Well, that was the weekend. How was it for you? I've been hanging out with my family doing fun things (isn't that what weekends are all about?) We had friends over for a BBQ. I rustled up some Jamie Oliver salads and we sat in the garden drinking Pimm's and cider until the heat became unbearable. So we retreated to the cool living room to watch Frozen and drink Champagne. As you do.
I've been reflecting back on the last week too. In the past week…
We packed up the car and drove out to the coast.
There were grey skies but it was still warm enough to sit on the beach so we made for the seaside. A few hours of sitting on the sand, building sandcastles, paddling in the sea and collecting shells is good for the soul. Oh and we also might have eaten a mammoth portion of fish and chips… and an ice cream. Healthy eating begins again tomorrow, yeah?
I did a French plait in my daughter's hair for the first time.
OK, so it looked a bit pants but this is a real MUM ACHIEVEMENT for me as I've only recently worked out how to do the blasted things. I'm going to watch lots of YouTube tutorials on plaits and become a total plait demon. Just you wait and see…
We road tested some new swimming gear.
Rockley Cove sent us a super cute rashkini to try out and both me and the three year old were impressed. She loves the bold design, how comfortable it is and how easy it is to put on and take off. I love how covered up she is when she wears it outside in the sun (the fabric has an SPF protection of 50+). The set comes with a small bikini top which I've hidden away, as I'm not keen on small kids in bikinis (is that just me?) but the little shorts it comes with are adorable.
Mums Lynne and Judy set up Rockley Cove last year when they saw a gap in the market for bright, functional swimwear for girls. I think they've nailed it. Right now, there's 20% off over at Rockley Cove which means this set would cost you £33.58 (plus P&P).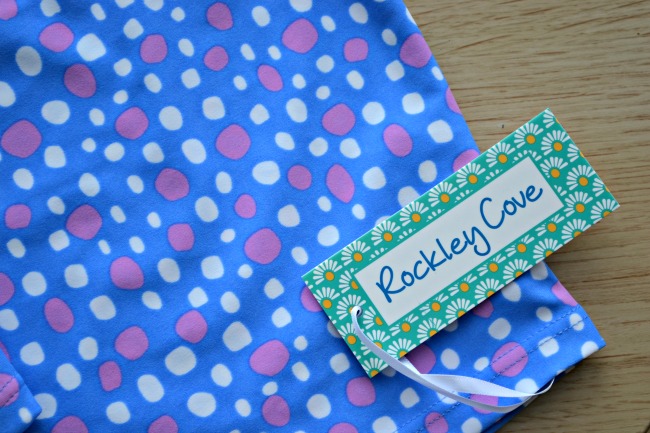 I visited brand new store Hema which opened up in Bromley's Intu shopping centre.
The Dutch shop has only recently come to the UK with two other stores in Central London and Kingston. I was in stationery heaven. As well as getting a stationery fix, I was tempted by their wooden toys, kids' craft supplies and homeware – retro storage jars, lemonade dispensers, party kits and baking gear.
The best way of describing Hema is that it's like Tiger but with more stuff for grown ups. And it's like the Ikea market place. AKA shopping paradise! Hema invited me and a bunch of fellow Bromley bloggers to the launch of the store and gave us each a gift card to spend (Thanks Hema!). See what Becky from Spirited Puddle Jumper bought over here.
I took a trip to Brighton with my mum.
It's a city she has been keen to visit for years so we took the train south and spent the day taking photos and meandering through the streets down to the beach. I want to improve on my photography skills so it was great to spend time taking photos without any reason to rush. I'm looking at these photos below and already I can see things I'd improve on next time.
We stopped off at a vegetarian cafe in the North Laines area (amazing food… wish I could remember the name of the place) and then had a mid-afternoon wine outside a bar by the Royal Pavilion. I've been to Brighton loads of times over the years, but we usually head straight for the beach, so it was a treat to potter and faff around in the Lanes. THIS is the genius thing about being a freelancer. I can take random days off and spend them with family, doing brilliant things.

What have you been up to in the last week?