Five years ago, I was pregnant and excited about what was ahead. I knew my whole life was about the change beyond all recognition. My online shopping habits had already shifted from Topshop boots and Asos dresses to sterilisers, changing mats and nappy bins from Mothercare. I knew that the regular mini breaks enjoyed by me and Mr P would soon be a thing of the past (which is why we squeezed in a quick trip to Babington House when I was five months pregnant) but I knew I wanted to carry on holidaying in semi stylish places – the thought of going on an all inclusive package holiday would never even cross my mind.
Does that make me a holiday snob? Probably. But just in the same way I'm happy to shop in Lidl but someone else might only buy organic produce from Waitrose, we all have different things we're happy to spend money on, right?
But there's been a change. The all inclusive package holiday has evolved and you can now book holidays to beautiful resorts that will relax and revive you at the same time as keeping your kids deliriously happy.
Ikos Oceania in Halkidiki is one such hotel and the packages you can book through Sovereign Travel to the Greek resort are outstandingly fab. I recently spent a long weekend at Ikos Oceania – but it didn't feel long enough!
As soon as I walked into the hotel lobby (after being whisked from the airport in my complimentary transfer, organised by Sovereign Travel), I felt calm. The reception and bar areas have pale floors and walls, sheer white fabric hanging by the large windows and gorgeous pale blue chairs and sofas with beautiful flowers everywhere. It had a chilled out vibe, similar to a spa, and set the tone for the whole hotel.
I stayed in a one bedroom deluxe suite, which was huge and had a separate living room area with large sliding doors leading out to the sea view terrace. The large bedroom also had a door leading out to the terrace, as well as lots of wardrobe space and (pause for effect) the comfiest pillows I think I have ever slept on. I'm not even kidding. If I could have smuggled one of those bad boys out of the hotel, in my suitcase, I would have been tempted.
The view from my room was breathtaking – vivid purple flowers, the pool area and the sea. As well as the pool near my room, there's a main pool – an infinity pool, no less, which looks out to the sea, and an indoor pool by the spa area. Oh the spa! If the hotel lobby has chilled out vibes, the spa is zen-like. You can head to the spa to sit by their pool, perhaps read a book while the relaxing music plays gently in the background. You can also book treatments at an extra cost… I highly recommend the back, neck and shoulder massage.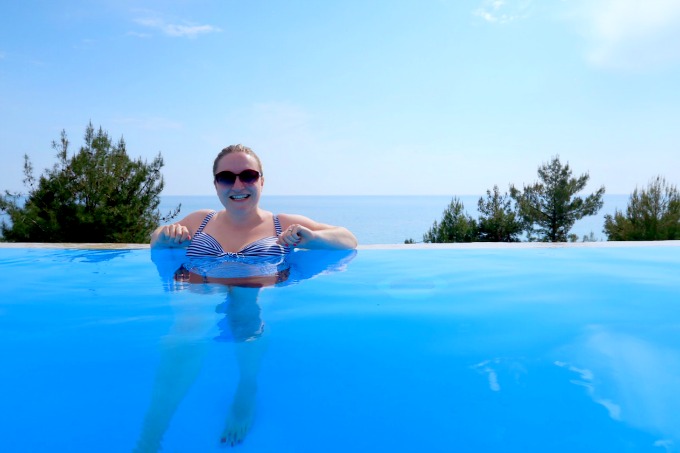 Just hanging out, casually, in the infinity pool
There are four a la carte restaurants at Ikos Oceania – the Italian restaurant Fusco, the Asian restaurant Anaya and the Greek restaurant Ouzo. Plus, Flavours, the main buffet restaurant where breakfast is served.  All of the food I ate was absolutely outstanding. Even the buffet (which can often be a lower standard in many a hotel) was fab. Of all the restaurants, my favourite was probably Ouzo, but then I love Greek food and could eat my body weight in tzatziki! Ikos Oceania also have a great option which allows guests to dine out, at a local restaurant, as part of their all inclusive package. Such a clever idea – and one I think more all-inclusive hotels will probably copy.
Breakfast at Ikos Oceania
Salad at the restaurant we 'dined out' at
Amazing humous and pitta bread, at Ouzo
I didn't take my four-year-old daughter on this trip, but there would have been SO MUCH to keep her busy. Part of the €4million refurbishment that Ikos Oceania has recently undergone was a total renovation of the kids' club. Held in bright, airy rooms with gorgeous murals painted on the walls, the kids' club is run to strict OFSTED standards and ratios and depending on the age of your child, include DJ classes, baking, face painting and pyjama parties. There's also a little soft play area too, which parents can take their kids to in the evening, before or after dinner. Outside, there are specially designed kids' pools and a fab outdoor play area and of course – the beach! Ikos Oceania have a genius service, which is included in every guest's stay: the beachside childcare service, where your kids will be looked after for a short period of time every day, on the beach, to allow you to relax with a book and listen to the waves.
For older kids, you can play table tennis, hire bikes and play board games. There's also a DVD library and a poolside darts board.
A wide selection of children's essentials are also available upon request, at the hotel, including baby phones, sterilisers and bottle warmers. Children's menus and high chairs are available in the restaurants. They've really thought of everything.
My long weekend was just enough time to get a good feel for the place – the hotel is built into a cliff, so at first, it's a little confusing to find your way around (the reception is on floor 6 and you go down to the pool on floor 1) but after a couple of days, we had it sussed. The other bloggers and journalists I was with (Katie from Mummy Daddy and Me Makes Three, Gretta from Mums Do Travel, Tina from Loved By Parents and Mimi from La Vida magazine) all agreed that Ikos Oceania is a special place, and strikes the perfect balance between luxury and family fun.
While we were there, we managed to visit the nearby Petralonas Caves and the Gerovassiliou winery and museum – both were fascinating and if you're in the area, I recommend visiting them. Kids will love exploring the caves – but perhaps do the winery without them! For grown ups, the wine museum is brilliant and the wine tasting experience even better. I'm now a new fan of Gerovassiliou's award-winning Greek wine.
Trust two bloggers to spot a red wall and pose for photos…
We also got a little time to relax at Ikos Oceania – something you can tell the hotel takes very seriously. As we sat by the pool, we were regularly asked by the pool bar staff whether we would like another drink (all included in the price of your holiday, remember!). I spent a bit of time in the spa area too – the pool is adults only for part of the day, which makes it a very calm, quiet place to relax in. Especially if your children are in the kids' club and you want some peace!
It was lovely to spend some time with the fab group – Katie is someone I've travelled with before, since we both work on travel blog Space In Your Case, and it was great to get to know the others. Thanks so much to Ikos Oceania for inviting me over to stay – the staff were so warm and friendly, a real credit to Greek hospitality.
• You can book a stay at Ikos Oceania through Sovereign (01293 731566, www.sovereign.com ), the luxury specialist. They have a week at Ikos Oceania from £1899 for a family of three on an all-inclusive basis.  The price includes return flights from London Gatwick to Thessaloniki with easyjet and private resort transfers.  All Sovereign customers also benefit from complimentary lounge access at No 1 Traveller Gatwick and the premium security lane, as well as a private cocktail on the beach and a farewell gift.  Price based on departures 25 October 2015 with a saving of £411 per family. For further information on Ikos Resorts please visit www.ikosresorts.com. Lounge access provided by www.no1traveller.com.