Fellow mums, did you receive a push present when you gave birth? I don't think they were even 'a thing' when I had my daughter, five years ago, and judging by this news story on the trend coming over from the US, it seems like it was 2013 when British dads started to give their partners big gifts at the birth of their child. I'm not keen on the phrase 'push present' – what about all those women who have given birth by c-section? ("Sorry honey, I was all set to give you a Mulberry handbag, but then you had to have an emergency caesarean….")
I know that lots of people don't like the idea of giving a big gift to a new mum, but me? I actually think that if you've grown and carried and given birth to an actual human being – and dealt with all the complications and effects that comes with it – then you deserve a treat.
I was chatting to a few blogging friends about it, the other day. Gill from A Baby On Board was bought a present by her husband when she had her first baby. "Most people I know had something from their other halves after giving birth and actually, my mum got a present from my dad so it's not a new thing," she says. "I also kind of think, you get presents on your birthday for doing nothing so shouldn't you get one for giving birth? And I know some people say 'my baby was present enough' but I feel that my babies are people in their own right and not a gift to me."
Of course, new mum presents don't always have to come from your partner – Molly from Mother's Always Right says she always buys pampering treats for her friends when they've given birth. "I had lots of flowers and some lovely pamper bits, given to me, when I was a new mum," she says. "It was so nice to be treated at such a special (but exhausting and emotional!) time. I always send a treat to my closest friends after they have babies, as well as a present for their new baby."
Katy from Apartment Apothecary has one – but handed down from her mum, which is such a lovely thing to have! "My dad gave my mum a really beautiful necklace when I was born," says Katy. "She wore it always and I remember her telling me about it when I was a child and thinking it was really special. She gave it to me recently, which was really lovely."
If you think the idea of giving (or receiving!) a piece of jewellery that you can pass on down to your children, take a look at the Circle Of Life collection from SWAG. A beautiful mix of eternity rings, pendants and earrings in a variety of precious stones; SWAG say that each one has been lovingly created with the mother in mind.
The orbital design is there to represent the 'Circle of Life' – isn't that such a beautiful idea? What I love about this collection is how classic the pieces are – you really could see yourself passing these down to your children and grandchildren. The range costs between £595 and £725 and is available in pure Diamond, Diamond and Sapphire, Diamond and Pink Sapphire, Diamond and Emerald or Diamond and Ruby (which one is your favourite?)
The Circle of Life collection has been created to celebrate SWAG's partnership with Your Parent Guide and 20% of proceeds from the sale of these pieces go to PANDAS – a pre and post natal depression charity. I wrote about the new partnership between SWAG and Your Parent Guide a few weeks ago – I went along to their glitzy launch party in Mayfair, to hear all about the new magazine being given out to new parents, and meet the Ferris clan – the lovely family behind London's leading independent jewellers. There was fizz! There was fun! And most importantly, there were lots and lots of sparkling jewels….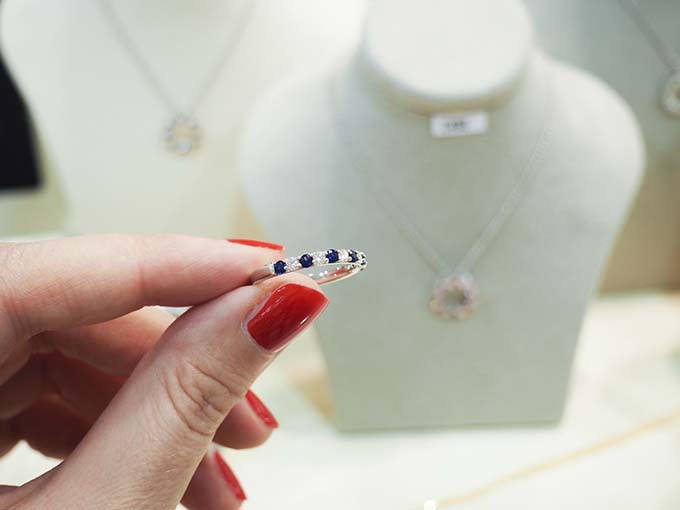 This post was commissioned by SWAG and, as always, all views are mine. Images: Alison Perry and Amelia Allen.