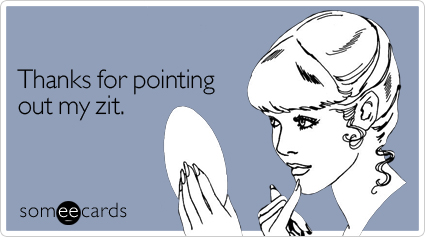 My skin thinks I'm still 14. Which sucks because in a month's time, I'm going to be (gulp) 34. Instead of having a glowing, radiant complexion, I have an oily t-zone and more spots than Mr Tumble's bag.
How I deal with spots has, thankfully, moved on in the past 20 years. Back in my early teens, I'd either apply caked-on concealer that was three shades too orange for my skin, or I'd just leave the spots to shine like a beacon in all their red and white-pus-filled glory. Oh and did I mention I didn't have many boyfriends as a teenager? These two things may be related.
I've picked up many a tip from beauty editor friends that help me cheat a complexion as smooth as Tom Daley's chest…
My Top 5 Spot Sorters
1. There are many uses of tea tree oil, but my favourite is the antibacterial zit-zapping qualities it has. Dab some on to a spot regularly and you'll notice it improve quickly.
2. I also regularly sneak Sudocrem out of my toddler's bedroom and whack some of that on a spot. You can even apply it under make up, of a morning.
3. I've tried every concealer going and MAC Studio Finish is by far the best. But it's not just the product you use, it's how you apply it. Dab concealer on using your ring finger – it's got a lighter touch than your forefinger.
4. To hide acne scarring and red blotches, a decent foundation or tinted moisturiser is key. After a beauty editor recommended it to me, I've been using Laura Mercier Oil-Free Tinted Moisturiser and as long as you don't mind its thick consistency, it's fab.
5. By 5pm, my skin resembles an oil-slick. A quick fix for me is using Kleenex Shine Absorbing Sheets followed by dabbing Smashbox Photo Finish Pore and Line Primer on any problem areas. And Voila! Miranda Kerr with your glowing skin, eat your heart out.
This is a sponsored post